This product is listed here: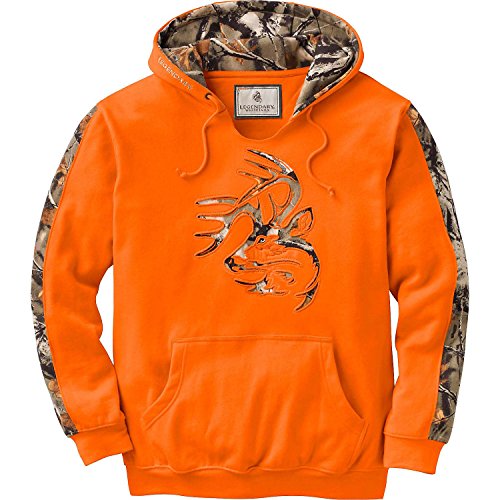 Legendary Whitetails Men's Camo Outfitter Hoodie
If your man is an outdoors type then buy him this rugged Men's Hoodie from Legendary Whitetails. (Even if he isn't an outdoors man he will still love this item for lounging about the house).
The hoodie is made from a mixture of 70% cotton and 30% polyester and is thick, warm and chunky. Usually hoodies always have a problem when pushing a head through the neck hole. It is always tight and often almost impossible to do so. Not these beauties. Each hoodie from Legendary Whitetails has a V opening at the neck to give added comfort when pulling it over the head. The wrist cuffs are elasticated for warmth and draught proofing and there is a kangaroo pocket conveniently placed in the front. You will always know if it is a genuine Legendary Whitetails hoodie because each one has the Buck signature logo on the chest.
There are many sizes and colours to choose from so you can guarantee that there will be one in there somewhere that both you and your loved one will like.
Detailed information about Legendary Whitetails Men's Camo Outfitter Hoodie
The sizes come as: Small, Medium and Large as you would expect but there are more sizes to choose from. There is Large Tall, XLarge, XLarge Tall, XXLarge, XXLarge Tall, XXXLarge, XXXLarge Tall, XXXXLarge, XXXXLarge Tall and XXXXXLarge.
Many reviewers say that it is better to choose one size larger than you think you need to allow for variations in size and any shrinkage during washing. The Large and Large Tall sizes are intended for men over 6'2". Tall sizes add 2" to the body length and 1.5" to the sleeve length. We would think that this manufacturer has thought of everything and is among the minority of retailers that realise that most men are tall and have a broad physique. If you want to buy one for a woman then this manufacturer has a range of sizes to suit a woman's physique as well.
WHY WE LIKE IT?
Huge range of sizes for every conceivable size and shape of man
There are many different shades to suit all preferences
Stylish camouflage flash panels along the arms, in the hood and in the cut-out logo
WHY WE dont LIKE IT?
Washing the hoodie needs to be done with care
What we love about this product
The range of colours is just as varied as the range of sizes.