The Home Improvement Tools Every Woman Should Own, Even if There is a Man in the House
last updated:
Jan 07, 2019
1992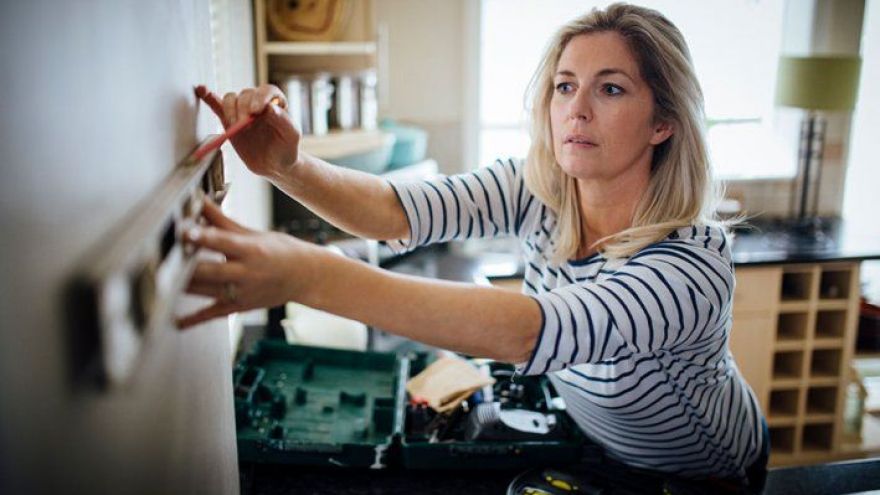 Owning or renting a home is a huge responsibility. Apart from making sure that you pay your bills on time, you may also have to make quick repairs. As a woman, being able to take care of your own home can be quite fulfilling, even if you have a man in the house. We've created a list of the best home improvement tools that every woman should have. This way, you can have your very own toolbox and not need the helping hands of friends or your partner.
1. Step Ladder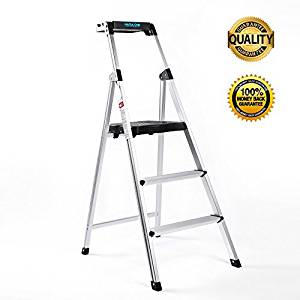 Even though this isn't exactly a "tool", it's one of the most important fixtures in any home. In fact, we recommend having a step ladder and an extendable ladder for everyday tasks. No matter if you need to get to the top shelf in your kitchen cabinets or put up Christmas lights, step ladders are necessary. Most are designed to be lightweight and fold down into thin profiles so they are easily stored.
2. Hammer and Extra Nails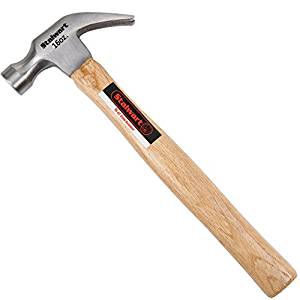 A hammer is easily one of the most important things to have around the home. However, you're also going to want to have different sizes of nails at your disposal. You never know when you're going to want to hang up a new picture or hide a popped nail.
The best part is that hammers come in a wide variety of different shapes and sizes. You can find nails that are meant for stairs, for hanging pictures, or even demolishing countertops.
3. Collection of Screwdrivers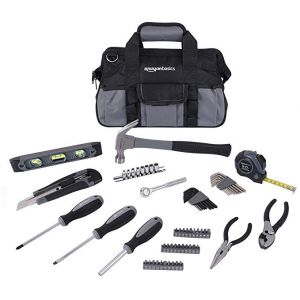 Everyone, no matter who you are, should have a set of screwdrivers. They have an endless number of uses and will be required for relatively any project that you take on. Plus, you'll be able to save your butter knives from utter destruction. In most cases, you can get away with four or five common screwdrivers, but we recommend investing in an entire set.
To make things even easier, consider finding a single screwdriver that comes with interchangeable heads. This will take up less space in your storage room and be more convenient for hands-on tasks.
4. Level
Have you ever wanted to mount something on the wall only to find that it was crooked once you were finished? Levels are an invaluable resource that professional tradespeople and homeowners reach for regularly. They give you the ability to make sure that you're hanging things evenly on the wall. From putting up family pictures to mounting a fireplace, a level will be necessary.
With that being said, there are dozens of different types on the market. If you're looking for the easiest tool, we recommend a laser level. All you have to do is put the device on the wall and a laser will shoot out in a straight (and level) line. You can then mark where you want to put the fixtures to hang anything you desire.
5. Tape Measure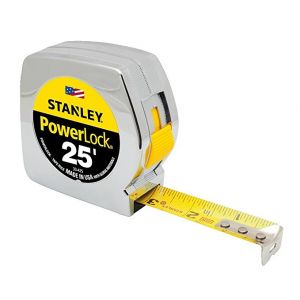 You never realize how important a tape measure is until you don't have one. In fact, most homeowners would argue that it's the most used tool in their toolbox. You can use tape measures for a wide variety of tasks from weighing yourself to measuring furniture. There's nothing more frustrating than finding a couch that you love and not knowing if it will fit in your living room.
You can find tape measures in plenty of sizes but we recommend investing in at least two. You'll want a large one that you can keep in your toolbox at home and a second one that you can keep in your car. That way, you're always prepared no matter where you are.
6. Wrenches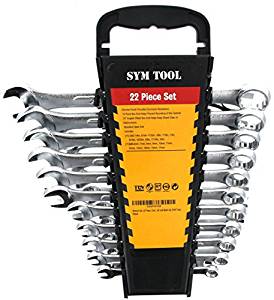 The main job of a wrench is to tackle tightening. You might think to yourself, "I can just use my hands!" but you would be quite wrong. Your hands can only tighten nuts and bolts to a certain point and we can guarantee it will cause your furniture to fall apart. Wrenches, on the other hand, help to make sure that things are tightened as much as humanly possible.
You can use them for a wide variety of projects, but they're one of the best emergency tools to have on hand. For example, if your sink randomly starts to leak, you can use your wrench for tightening the pipes.
7. Power Drill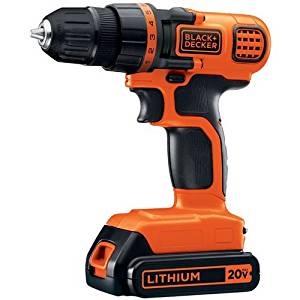 Not a fan of using screwdrivers? Well, you're in luck, as power drills do all of the work for you. These fantastic devices are equipped with bits that have screwdriver heads. All you have to do is attach the right bit, press the trigger, and the drill will automatically screw things for you.
The best part is that you can find cordless ones that you can easily bring anywhere in your home. We recommend finding a power drill that can squeeze into tight spaces and is still strong enough to tackle everyday tasks.
8. All-in-One Tool Kits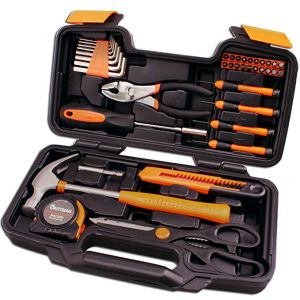 Perfect for people who don't want to find bits and pieces to build their own toolkit, you can find all-in-one packages. These kits are equipped with absolutely everything that you'll need to tackle any project that you might be faced with. In most cases, they can be far more affordable than buying individual products from a hardware store. Plus, you can buy them in a variety of colors.
We love the idea of giving an all-in-one toolkit to a loved one or friend when they buy their first house. They won't ever have to worry about running to the store to buy something when they're setting up their home.
Final Thoughts
With the right tools, you can handle anything without needing to ask for help. It doesn't matter if you have a "man of the house" or if you're a single woman.
Taking the time to find all of these tools will help to make sure that you won't need to hire an everyday handyperson. There's nothing more fulfilling than being able to know that you're prepared for absolutely anything and everything.
Pin for later