This product is listed here: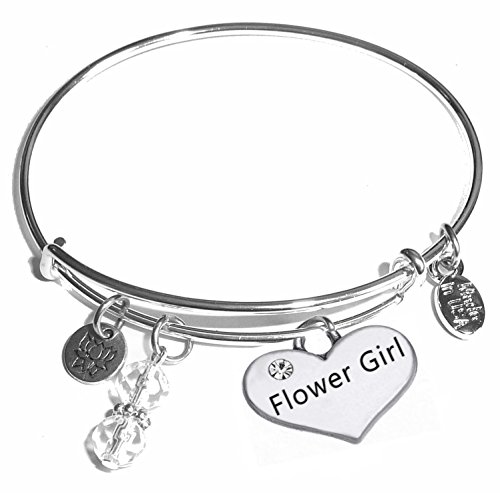 Hidden Hollow Beads Message Charm
Jewelry never disappoints. One of the reasons why is because there is always something for everyone. It gets easy to choose a specific piece that matches the exact style of the recipient. The variety of items in this group of gifts is detailed, and each piece is unique from the rest.
On this note, this charm bracelet from Hidden Hollow beads is one of the unique pieces the jewelry world has to offer. It is designed for the flower girls and suits the event in mind. It can be a gift for the morning of the wedding, engagement party, etc.
Detailed information about Hidden Hollow Beads Message Charm
The bracelet comes in a strong tarnish resistant 14 gauge wire. This is designed to retain the shape and look even with frequent wearing. It does not bend or break, thanks to the quality material. One of the qualities that stand out with this bracelet is the expandable wire feature. It allows fitting different sizes of wrists by just adjusting the wire to the correct wrist size.
The bracelet has four charms which add on to the style of the bracelet. These come in a silver color to match the theme of the entire bracelet. The heart charm with a rhinestone detail bears the flower girl tag. This detail makes it unique for the recipient and also adds a personal touch to it. Indeed, it is the perfect gift for the flower girls for an upcoming wedding.