This product is listed here: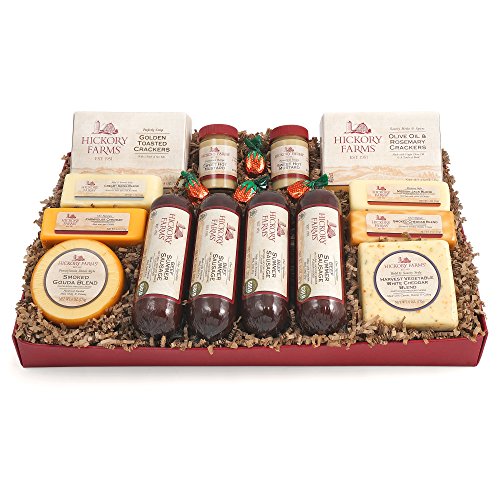 Hickory Farms Celebration Spread
Who doesn't love giving and receiving food for the holidays? This Hickory Farm Celebration Spread will be a welcome gift for anyone and at any time!
Giving or receiving Hickory Farm gift boxes for the holidays is as traditional as mistletoe and leaving milk and cookies out for Santa Claus. And the reason they have become such a holiday tradition is that they are consistently fantastic year after year.
Detailed information about Hickory Farms Celebration Spread
Their beef summer sausage has become synonymous with the Hickory Farms brand and it is loved universally. The variety of cheeses in this gift box is unsurpassed and includes smoked cheddar blend, farmhouse cheddar blend, smoked gouda, white cheddar, with harvest vegetable blend, mission jack blend, and a wonderful creamy swiss blend.
These cheeses are accompanied by two flavors of crackers including toasted crackers along with an olive oil and rosemary cracker, both wonderful paired with any of the cheeses in this gift box. There is also a jar of sweet and hot mustard to serve with the crackers, sausage, and cheese, and for dessert, there are strawberry bonbon candies.
WHY WE LIKE IT?
Four 10 ounce packages of Hickory Farm's famous beef summer sausage
Six different varieties of cheese
Two types of crackers, sweet-hot mustard and strawberry bonbons for dessert
WHY WE dont LIKE IT?
None
What we love about this product
Hickory Farms will also ship this gift box to friends and loved ones who happen to be away during the holidays, thus allowing the love, cheer and a little taste of home and family to find their way to those who can't be there.