Unique Groom's Cake Ideas!
last updated:
Nov 18, 2019
8802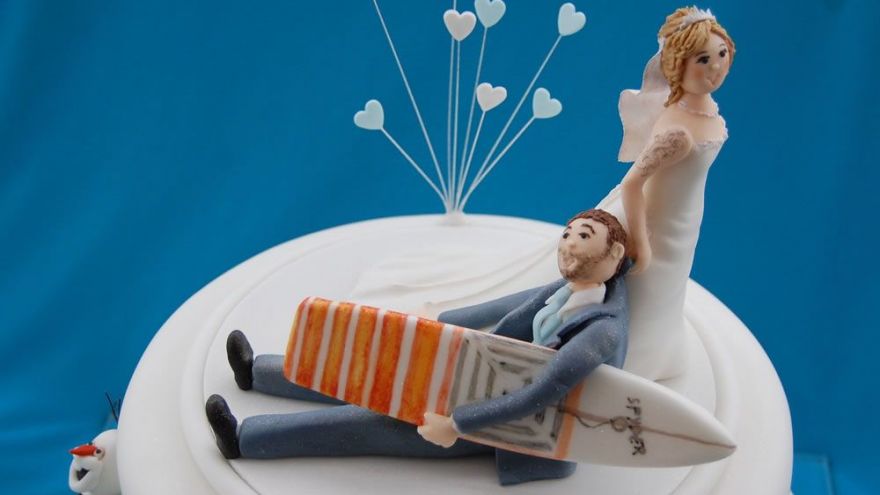 A wedding cake isn't the only thing to look forward to on your special day, as a groom's cake is just as important.
Originally meant to be a way for the groom to have his own unique piece of the wedding, it has become a staple in many relationships.
If you're stuck trying to figure out unique groom's cake ideas that will compliment your personality, we've selected a few of our favorites.
We have also included a couple of absolutely delicious recipes at the end if you want to try making your very own groom's cake at home.
How to Choose a Groom's Cake?
There are two main ways that you can pick the second cake for your wedding. Most often, brides have it created as a surprise for the groom.
In other cases, the groom will give his full input on what he'd like to have added to his special cake.
When you start working with artisans who craft these delicious and luxurious treats, you'll want to know exactly what to look for.
This guide can help you to choose the perfect secondary cake for your guests without as much struggle as your original wedding cake. From the centerpiece to the fondant, there are many choices you're going to have to make.
The main thing to remember when it comes to choosing a groom's cake is that it's not meant to feed all of your guests.
Tradition says that this cake doesn't even get cut into at most weddings. Legend has it that if you cut the cake and give it to your unmarried guests, they will soon find the love of their lives.
Tip 1: Decide on a Flavor
Just like your main wedding cake, the first and most important thing to think about is the flavor you'd like to have.
If you intend to serve your groom's cake, this is an excellent opportunity to choose your second or third favorite flavor from your cake decorator.
Many also suggest making the groom's cake plain chocolate, as it's a beautiful deviation from typical wedding cake flavors.
Tip 2: Focus on a Theme
The central premise behind a groom's cake is to capture his personality in baked form. With that said, you'll want to make a list of his favorite activities and hobbies as your first step.
You can then decide on a cake theme that accentuates his favorite things. For example, if your husband loves video games, why not opt for a groom's cake that looks like a gaming console?
Unless you want the groom's cake to be a surprise, be sure to get his input on what he'd like the cake to look like.
Tip 3: Choose a Topper
You'll likely want to have a topper on the cake to signify its importance, and you can opt for a funnier alternative to the topper you've chosen for your main wedding cake.
It's often that couples will choose a topper that has a bride dragging her groom to the aisle, as an example.
However, there are plenty of different options you can choose from, such as toppers that go along with the theme of the entire cake.
Tip 4: Figure Out Your Budget
You're certainly not going to want to pay as much money for your groom's cake as you would your wedding cake.
Sometimes, cake decorators will have package deals where you can get both treats for a single rate, instead of paying for them separately.
If this isn't available to you, ensure the groom's cake is a fraction of the cost of a multi-tiered wedding cake.
Tip 5: Plan a Tasting
As the final tip, be sure to take the time to plan a tasting. It can be a great idea to taste your wedding and groom's cake at the same time, to help you save some time when planning your special day.
As mentioned, you could also choose a cake that you've tasted previously and enjoyed, just not as much as the main flavor of your wedding cake.
Our Favorite Groom's Cake Ideas
Once you have an idea of what you'll need to do to plan the perfect groom's cake, let's talk about the best ideas you can use for inspiration.
1. Outdoorsman Groom's Cake Ideas
If your beau loves spending most of his time in the outdoors, you're in luck, as there are an assortment of outdoorsman cakes you can display at your wedding.
Some of our favorite ideas include:
Hunter's Cake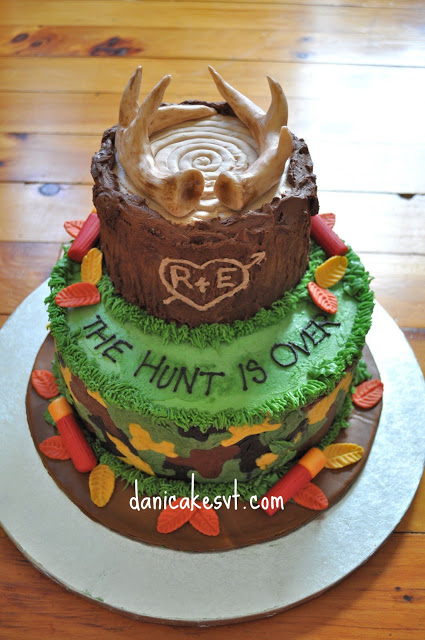 With this cake, you can have two or three tiers, though we recommend having just two. The bottom layer will be a grass-covered slab with several edible leaves surrounding the outside and the bottom of the cake.
On top, you can have your second-tier designed to look like a chunk of a tree trunk. Have your cake decorator "carve" your names into the bark of the faux log for an added romantic touch.
As the finishing touch, have two edible antlers displayed at the very top of the cake.
Find more details at danicakesvt.com.
YETI Cooler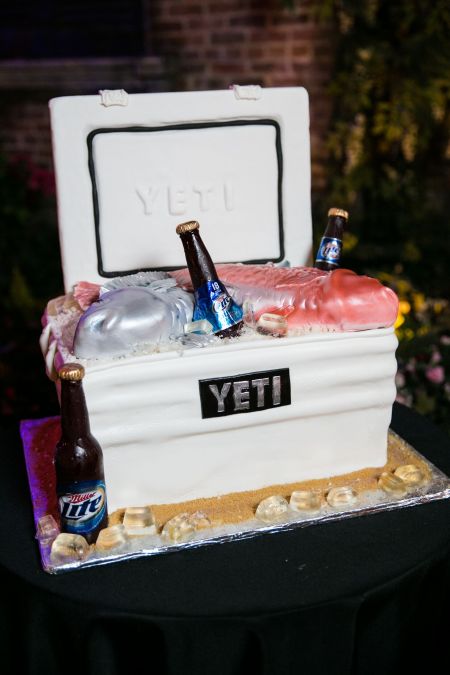 Perfect for fishers and hunters alike, why not opt to have a groom's cake designed in the same fashion as a YETI cooler?
As a quintessential staple for anyone who likes the outdoors, these coolers are for a wide variety of purposes. You can even hollow out the inside of the cake and display some bottles of beer for an added touch.
There are plenty of ways you can decorate the cooler depending on your soon-to-be husband's personality.
Fishermen's Cake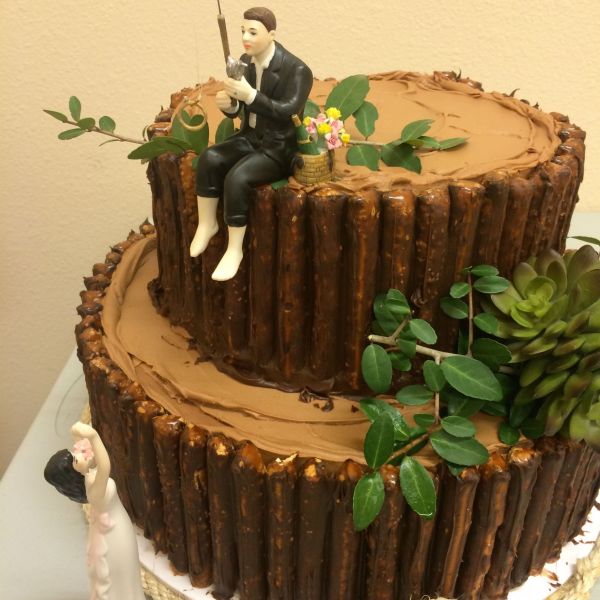 What we love the most about this idea is that it's a rather simple and rustic design, but it works perfectly for any guy who enjoys spending his time on the water.
As a two-tiered cake design, you should have more than enough cake for smaller weddings. Have the two tiers designed in a way that emulates a wooden dock.
You can then find a topper that depicts a man in a suit sitting on the edge of the pier with a fishing rod in hand. As an added touch, add a couple of faux leaves to make it feel even more outdoorsy.
2. Sports Fan Groom's Cake Ideas
One of the most natural things you can do is have a groom's cake designed to capture the real fan inside of your loved one.
With hundreds of sports teams to choose from, you'll always be able to find the perfect way to show him how much you care. These are just a few of our favorite sports fan ideas.
Baseball Jersey Cake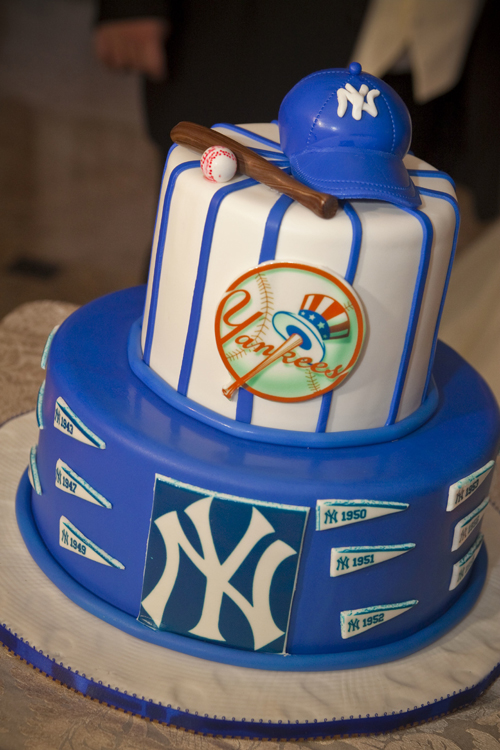 One great way to show off your husband's favorite sports team is to have a cake created in the shape of their jersey.
However, we also love the idea of choosing a more traditional cake design and adding sporty elements to it. Have a two-tier cake, which is typical in weddings, and then have your cake decorator add little details to the outside.
For example, the bottom or top tier could be the design on the team's jersey as well as add in their championship flags.
All in all, be sure to include the logo of the team to really pull the whole idea together. You can even top off the cake with an edible baseball, baseball bat, and team hat.
Multi-Sport Cake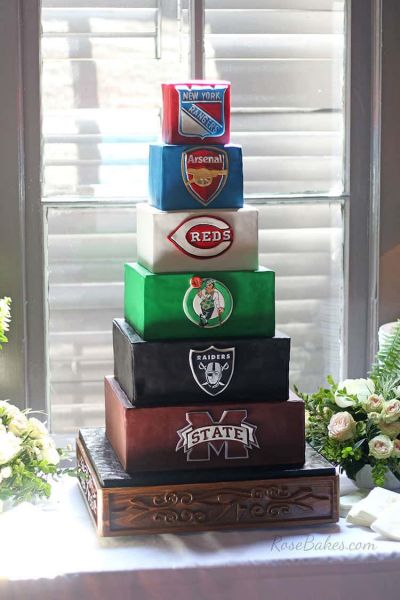 Suppose your husband isn't the type of person to like only one sport. If they're a fan of multiple teams, you can easily combine them all in one unique cake.
It also allows you to have a multi-tiered cake if you genuinely want to serve it to your guests at your wedding. Each tier could resemble a sport or a specific team that he likes.
For example, if his favorite college football team is LSU, an ideal professional baseball team is the Red Sox, and his favorite hockey team is the Maple Leafs, have each tier represent each team.
Similar to the baseball jersey cake, make sure you have the team's logos added to capture the true essence of what it means to be a sports fan.
College Football Cake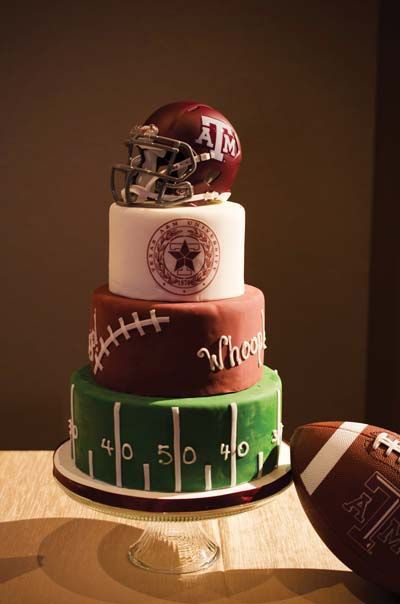 Honestly, this cake idea is something that would work for numerous sports, whether college or professional.
It's meant to be a three-tier cake design, so you'll have more than enough sweets for your special day. We chose football as an example, as it would look absolutely fantastic with the contrasting colors.
On the bottom tier of the cake, have the decorator design a football field with yardage markings. The second tier should be designed to have the same color as a football, as well as its lacing.
For the final layer, make it a plain black or white with his favorite team's logo front and center. As an added touch, you can have a miniature football helmet sitting on top.
3. Nerdy Groom's Cake Ideas
If there's one type of groom's cake that's the easiest to find, it's for guys that are into comics, video games, and fictional realms.
With an assortment of different cool and nerdy groom's cake ideas, you can easily create something that he'll cherish.
Not to mention, it would look phenomenal in your assortment of wedding pictures.
Dr. Who Groom's Cake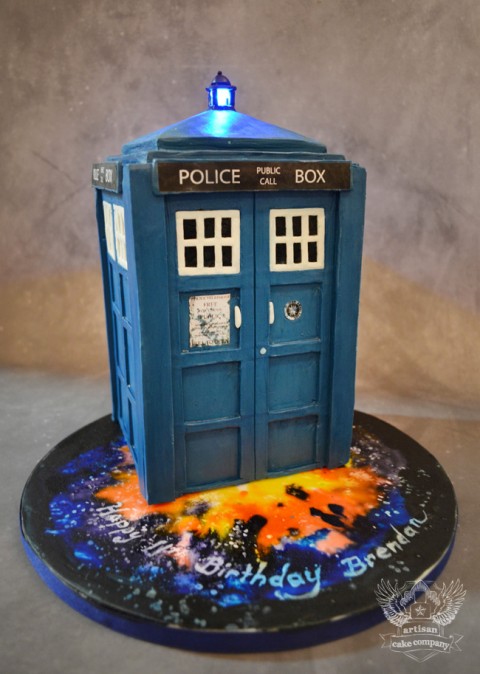 For the men who love Dr. Who, you can opt to have a tardis created just for him. It's important to note this cake will take a lot of attention to detail, but it will be well worth the investment.
It's more of a focal point of your special day rather than a functional cake. He will surely love having it displayed and maybe even trying some at the end of the evening!
Check the full recipe at artisancakecompany.com.
Rubik's Cube Groom's Cake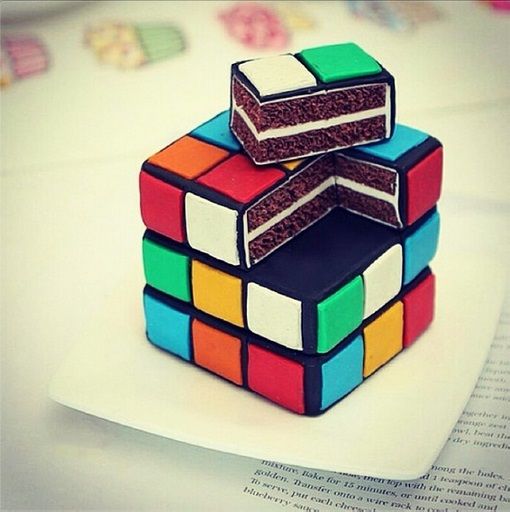 Is your guy someone who has the hidden talent of being able to complete a Rubik's cube in record-setting time? What better way to show off this fantastic talent than to have his very own Rubik's cube cake made?
With multiple layers shifted in an alternating pattern, it'll be the perfect pop of color you'll need at your wedding.
We also love how it doesn't involve too many small details, so you can guarantee it will look professional and delicious.
Motherboard Cake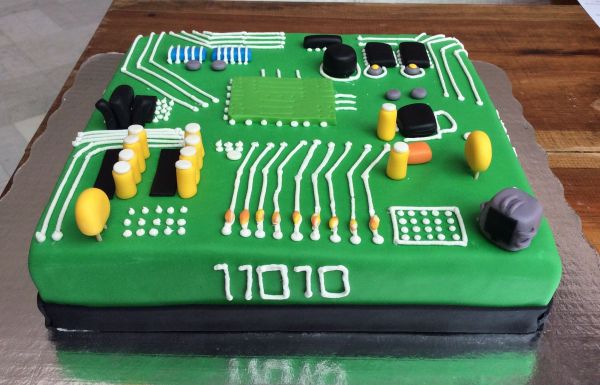 For the brides that really want to go above and beyond, a motherboard cake is a perfect way to show a hardware fan just how much they mean to you.
Not only will it take a lot of effort to have the cake made, but you'll also need to do a lot of research as to where each of the pieces will go.
We love this idea, however, as it shows that you appreciate him so much that you'd go through the process of finding the correct placement for optical drive connectors, expansion cards, and more.
Video Game Console Cake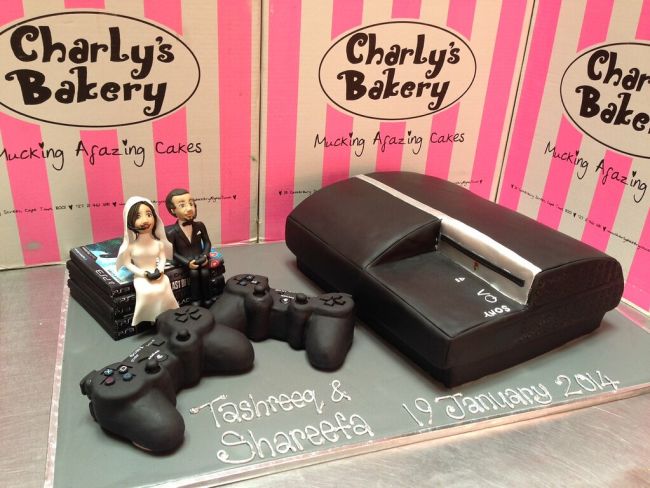 It's likely you and your significant other have been together for numerous years. So, why not show off the longevity of your relationship with the help of video game consoles?
The bottom tier of the cake can be the console that was around when you first met.
You can then continue up until the most recent video game console, for example, starting with the PlayStation 1 and ending with the PlayStation 4.
This idea is excellent, even if your groom is someone who enjoys multiple different video game consoles. You can easily have various tiers that are created to look like PlayStations, Xbox consoles, or even a tower for a PC.
Top the cake off with their favorite video game characters, and you have an entirely personal groom's cake.
Finally…
When sifting through all of the groom's cake ideas, it might seem overwhelming at first. However, it's far easier to settle on the perfect design for this cake than your wedding cake.
Your husband likely has a wide array of favorite activities and hobbies that you can use to create something unique.
Even if you opt to craft and decorate the cake at home, such as a baseball jersey cake, most of these ideas are DIY-friendly.
We highly recommend getting a quote from a wedding menu professional first; however, as you won't want to have to worry about making a cake right before your wedding day.
Pin for later