This product is listed here: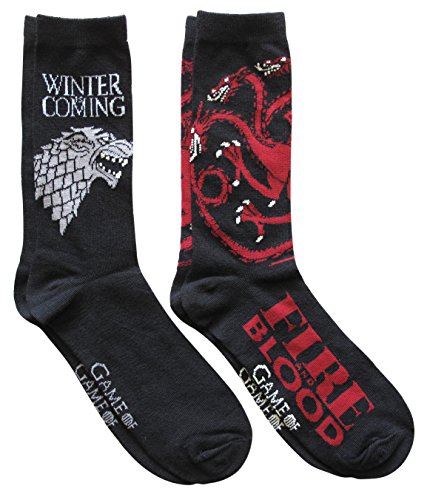 Game of Thrones Stark Targaryen Socks
We bet you have that friend that when they watch a movie, they are hooked on it.
Such people will do anything that resonates with the movie to keep the spirits high and alive. They will walk it, dream it, and talk about it all the time. Now, what if they could "wear it?" Well, this may look impossible, but it can happen.
There is good news to the Game of Throne lovers. If your friend, kid or relative happens to be one of them, then you probably have to surprise them with Hyp Game of Thrones Stark Targaryen pair of socks.
Detailed information about Game of Thrones Stark Targaryen Socks
These types of socks were explicitly designed to keep the Game of Throne fans excited. They want to feel it when walking, sleeping, and when watching the show itself.
With many fans demanding for merch, this was the only way to quench their thirst.
The socks come in different pairs from 6 to 12 sizes, therefore, no age group is left behind as the series itself.
What makes these socks unique are the graphics. They include drawings of Game of Thrones artifacts' like the white walker's ice blades, dragon horn, and valyrian steel and longclaw sword.
These are what a Game of Thrones fans would love.
WHY WE LIKE IT?
Very stretchy and comfortable
Attractive and cute
WHY WE dont LIKE IT?
None
What we love about this product
The socks are officially licensed by the Game of Thrones, making them genuine. If they are collectors, then this would be a big hit. No collector takes a non-licensed item!