This product is listed here: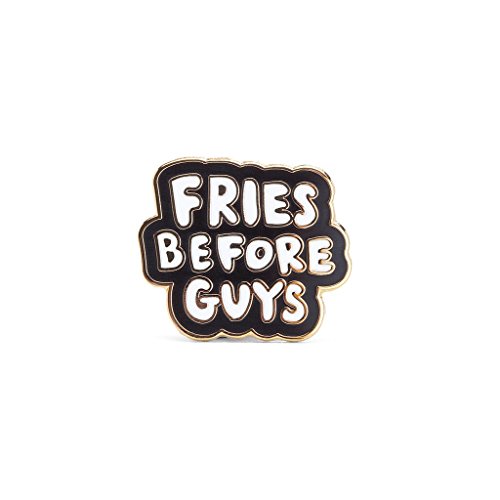 Fries Before Guys – Enamel Pin
Kids and teens love badges or pins but most of the pins available are aimed at the child or young teen. These great enamel pins from Bando are part of the "We Believe in Flair" range of enamel pins and are aimed at the older teen.
They contain the types of slogans and images that we all associate with kids of that age group starting at perhaps 15 years and finishing at say, 23 years. Just look at the images printed on these high quality enameled metal pins and you will see what we mean.
Detailed information about Fries Before Guys – Enamel Pin
First of all though let us look at the pins themselves and see how large they are: All of them except one measure about 1" across but all are made of hard enamel with a pinch back pin for added security. They have a rubberized back face and gold metal edging around the outside.
The slogans are really cool and are just what an older teen would say or feel: "Chill Pill" is in the shape of a prescription drug capsule and shows the words Chill Pill embossed on one half; "Fries Before Guys" is just what you wish your daughter would think about until she has finished her education; "Happy Heart" is just what it says on the tin.
The pin is in the shape of a pink heart with a smiley face embossed in the middle; "Here Comes the Fun" is the only pin that appears to be larger than 1". Unfortunately the pin specifications do not state how big it is; and lastly there is "Pizza and Beer".
WHY WE LIKE IT?
These pins show just some of the cool and fashionable phases and slogans that inflict the kids of today
They are made from sturdy metal alloy with gold edging, a rubberized backing and a pinch back pin
These look so good when pinned onto sweaters or hoodies
WHY WE dont LIKE IT?
None
What we love about this product
All the various pins are priced at different amounts so you can choose whichever one you think is most apt for the gift you intend to give.