This product is listed here: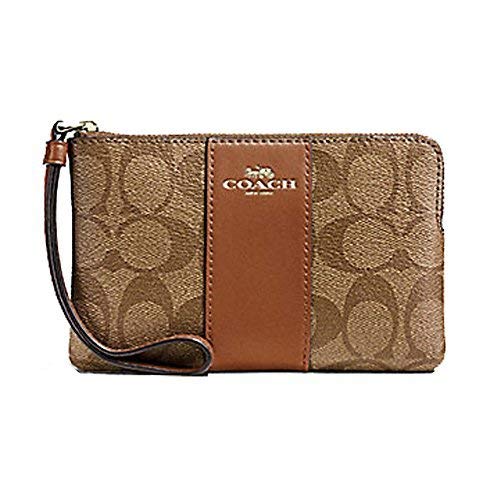 Coach Signature PVC Leather Corner Zip Wristlet
This adorable and classy wristlet by none other than the famous Coach handbag Company would make the perfect gift for that special lady on her 50th birthday, or any day at all for that matter.
The functional wristlet is the perfect designer clutch for taking along on an afternoon shopping trip; not too heavy or cumbersome, so it won't get in the way of all of the shopping bags.
This just might be the best gift for her!
Detailed information about Coach Signature PVC Leather Corner Zip Wristlet
What woman doesn't want a Coach bag? They are considered one of the more classy and distinguished purses on the market.
As far as status symbols go, Coach is one of the most recognizable labels out there.
It has a zipper closure along the top of the bag and down one-third of one side for easy access.
The Coach logo and signature figure prominently on the bag so nobody will mistake it for anything other than what it is…a genuine Coach wristlet!
This bag also has a strap for looping around the wrist, making a safe and secure connection to the user at all times.
WHY WE LIKE IT?
Perfect size for running around town
Secure PVC leather wrist strap keeps bag and contents safe
Classic Coach bag with authentic design and signature
WHY WE dont LIKE IT?
None
What we love about this product
The wristlet is made of PVC (polyvinylchloride) leather, making it animal-friendly for all of the cruelty-free fashionistas out there.
This is the ideal clutch for taking along when carrying a full purse is just too much. The wristlet is done in brown and taupe, again the classic colors of the famous Coach brand.