This product is listed here: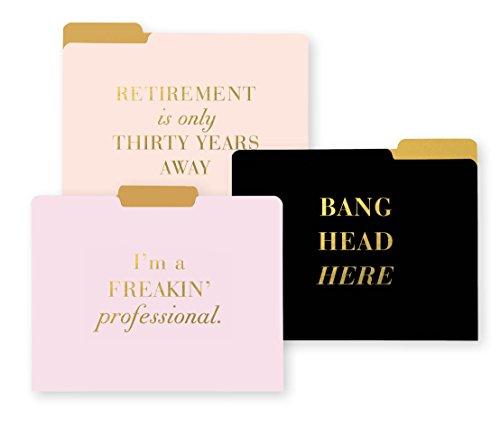 C.R. Gibson 9-Count Coloring File Folders
These file folders bring a fun and unique aspect to a normally necessary and boring part of life. Each color pack has its own sayings. Filing things is necessary for all aspects of life.
From work to school to the home, file folders are used to keep things organized. Students use them to hold homework, homeowners use them to keep documents organized and safe, and people who work utilize them in their desks all the time. It is the perfect gift for any person who likes to stay organized at all times!
Detailed information about C.R. Gibson 9-Count Coloring File Folders
Spice up your school work, home organizing, or office life with fun and colorful file folders. Each package comes with 9 file folders and 10 adhesive labels for keeping things organized. Each color pack has its own sayings.
The neon pack has folders that say, "won't do," "must do," and "don't want to do." There is also a patterned pack with stripes, zig-zags, and polka dots which say 'believe,' 'achieve,' and 'dream'. The fashionista pack has different patterns with sketches of fashionistas on them.
There is also a gold pack which are folders that have a white base and gold foiled polka dots, stripes, or a heart on them. The pastel professional pack has a black, salmon, and light pink color that say, "bang head here," "retirement is only thirty years away," and "I'm a freakin' professional" typed in gold.
The last pack is colored file folders with big gold quotation marks on them.