This product is listed here: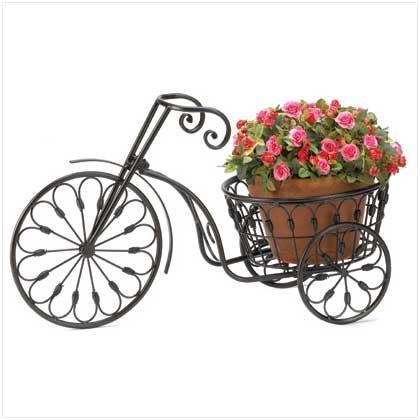 Bicycle Plant Stand
Gardens are so gorgeous, especially in the summer when they're overflowing with plants. They bring so much life and color to any home and are super relaxing to look at. But gardens aren't complete without some accessories like a garden gnome or other whimsical objects. This Nostalgic Bicycle plant stand by Summerfield Terrace is a fabulous accessory for every garden whether big or small! It's such a novel gift to give to garden lovers and homemakers!
Detailed information about Bicycle Plant Stand
Made of iron this bicycle is crafted from wrought curlicues and has a vintage look to it that's perfect for sprucing up the flowers. It's designed to look like an old-fashioned bicycle with a basket in the back. The basket can be used to hold a pot of flowers and can even become a pot itself if something is laid down to hold the dirt.
Summerfield Terrace has really created something special with this antique looking bicycle. Use it in the front yard to add some style and even extra space to the area. People passing by are sure to stop and look at it because of its novel look! Or use it in the backyard to spruce up the lawn and garden. When friends come over they'll be dying to know where you got it and they won't be able to stop commenting on how great it looks!