Wedding Card Box Ideas (DIY and Buying Options)!
last updated:
Nov 12, 2019
15251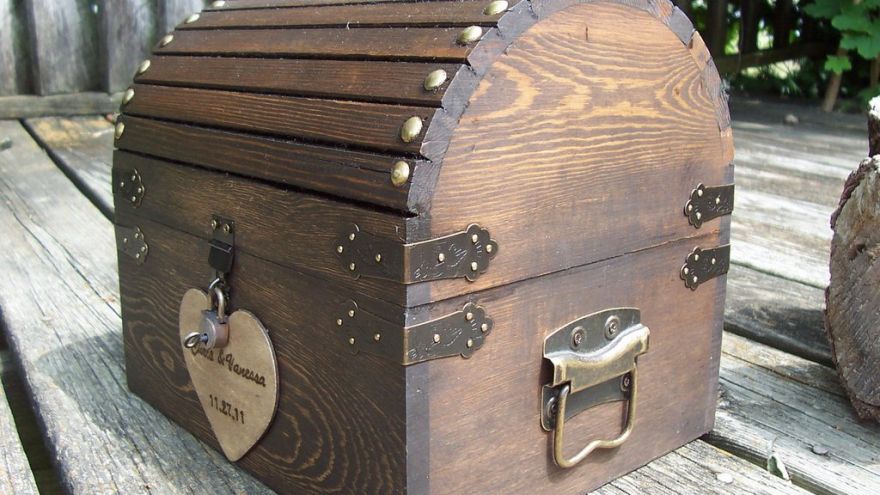 When you're planning your wedding, you're going to need to focus on every detail. Choosing the perfect wedding card box will give your guests a safe place to put their gifts before heading to their seats.
You'll want to make sure its overall design matches the theme of your wedding but that it will also keep your gifts and cards secure.
There are hundreds of wedding card box ideas that you can put to good use. It doesn't matter if you want to make one on your own or buy one from the store!
We've collected all of our favorite ideas, DIY projects, and items that you can buy to help you create the perfect wedding card box for your special day.
4 Card Box for Wedding Designs
First, let's get into the planning stages. You'll want to think about the theme of your wedding and how you can contribute to it with this small yet significant detail.
For example, if you're having a woodland themed wedding, you can create a card box out of moss, wood, and twigs.
Alternatively, if you're hosting a glam and glitz wedding, a simple box covered in crystals and rhinestones would be perfect.
Design 1: Rustic Lantern
This idea seems to be one of the most popular choices for all weddings, as you can typically find lanterns in a variety of different shapes and sizes.
However, you'll want to place the lamp in a visible area, as you won't be able to lock it to keep it away from curious hands. What we love the most about a rustic lantern as a wedding card box is that it's easily accessible.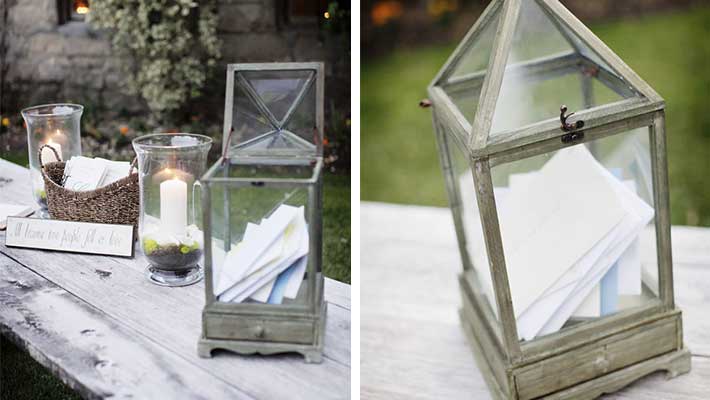 All your guests will have to do is unlatch the hook, put their card into the lantern. There's no need to worry about dealing with complicated locks and closures.
Plus, you can decorate the lamp as you see fit so that it works perfectly with the aesthetic of your wedding. We love the idea of having a very ornate lantern to use as your wedding card box.
Design 2: Cigar Box
Using a cigar box as a wedding card box might seem strange at first, but it's a phenomenal option for a cost-effective and vintage solution.
You can typically find numerous types of cigar boxes with different ornate decorations that will contribute to the style of your wedding.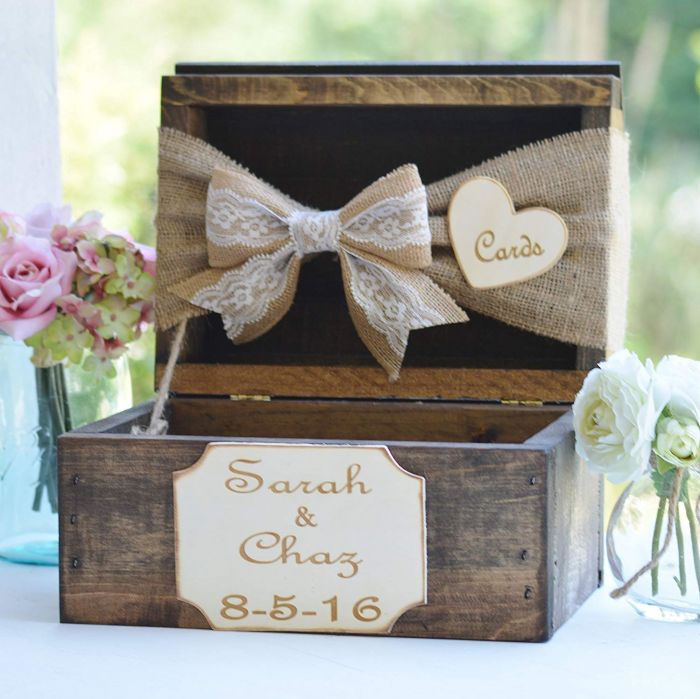 You could even consider designing your own by adding some lace and beadwork to the outside of an existing cigar box.
With a couple of extra steps, such as adding a latch to the front or putting personalized monograms on the top of the box, it will look like something made by a professional.
The best part is that cigar boxes are readily available, and you can find them relatively anywhere.
Design 3: Mailbox
You've likely seen old fashioned mailboxes before. They're unique and quaint while being fully customizable. Mailbox wedding card boxes are a great option for newlyweds that want an extra ounce of rustic appeal on their special day.
We especially love this idea for outdoor country weddings if you need something a little unique to be the focal point of the card table.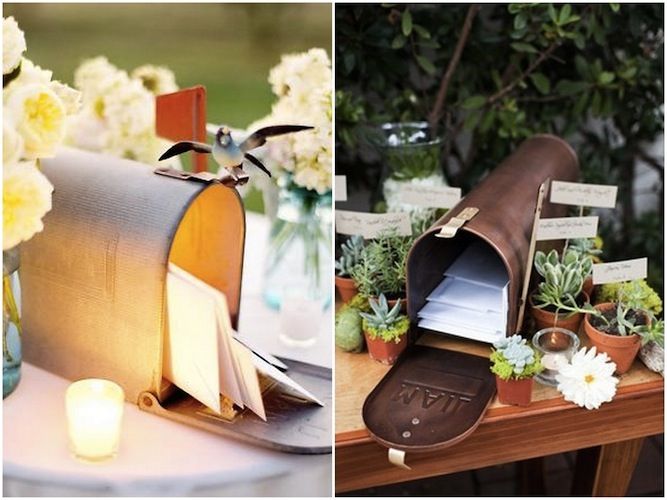 You can either opt to make your mailbox or find one that is already manufactured. You can then paint it as desired to match your wedding colors or leave it as is.
We highly recommend trying to find a vintage mailbox, as it will have far more charm than an ordinary one.
Design 4: Open Platter
Perfectly paired with a vintage glam wedding, having an open platter for your wedding cards is likely one of the most straightforward approaches on this list.
With a tray, all your guests have to do is drop off their cards and carry on with the evening. However, this isn't the most secure option, especially if you're hosting a wedding in a courthouse or convention center.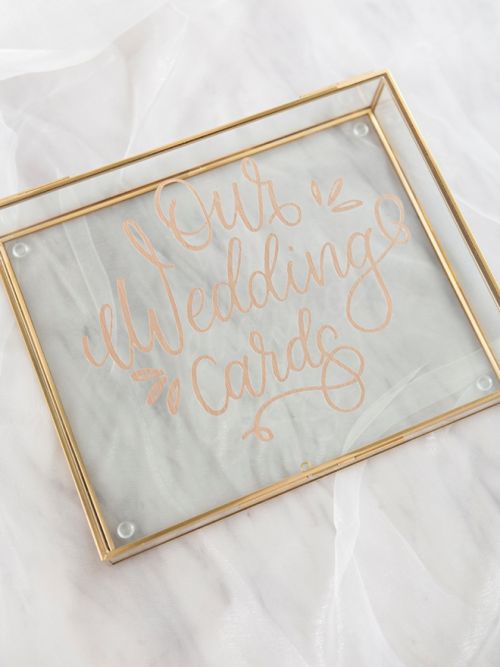 You might want to give a trustworthy guest the task of emptying the tray throughout the night as cards are added.
If you're able to visit a thrift store and find a gorgeous brass platter, it will compliment a classic Victorian wedding.
You can even opt for something a little more natural, such as a live-edge tray to compliment an outdoorsy aesthetic.
There are plenty of affordable options when it comes to platters and trays.
DIY Wedding Card Box Ideas
If you're trying to put a personal touch on everything at your wedding, you'll undoubtedly want to take the time to make your very own wedding card box.
There are hundreds of DIY wedding card box ideas that you can find online to match your other decor. The best part is that they're easy to follow, require minimal materials, and are fun for even the less artistically inclined brides and grooms.
Below are our favorite DIY wedding card box projects that you can put together.
1. Milk Crate
Who would have thought that milk crates could also double as an essential part of designing a wedding? They can be used for relatively anything, from candy jars to centerpieces, and especially as a wedding card box.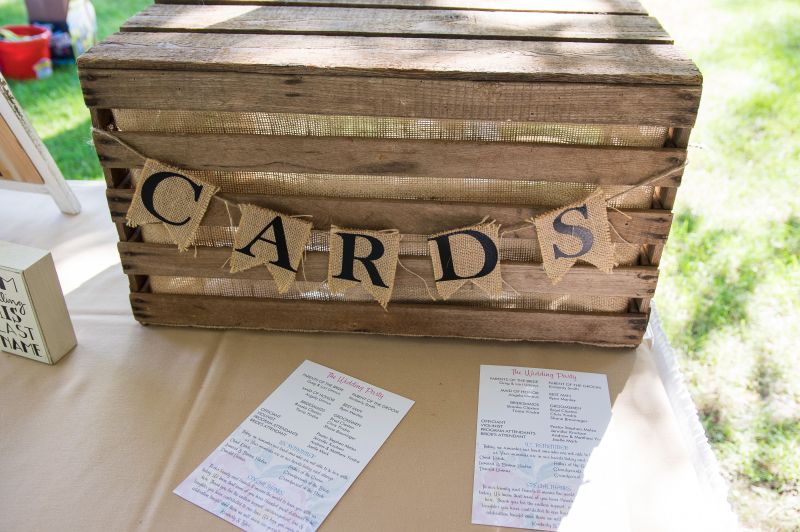 With this design, your guests will have a simple time inserting their cards, and you'll be able to keep them safe and sound. Also, you only really need three items to pull this look together!
What You'll Need
Stain (color of your choice)

Sanding block

Staining brush and rag

White paint

Small paintbrushes

Extra decor pieces

A milk crate
Instructions
✓ First, you'll want to take your sanding block and make sure you sand the interior and exterior of the milk crate. This process will help to give you an even surface when it comes time to staining.
You'll want to make sure any imperfections and sharp points are buffed away.
✓ Using the stain and the staining brush, apply your first coat. After each stroke, follow behind with the rag to help remove any excess stain so that it soaks deeply into the wood.
You may need one to two coats, depending on the depth of color you'd like to achieve.
✓ Once the stain has dried completely, use your white paint and small paintbrushes to paint a lovely saying that instructs guests where to place their cards.
At this point, you can also add any extra decor pieces that interest you, such as fake flowers.
2. Stacked Hat Boxes
We love this idea for a DIY wedding card box if you want something that will truly stand out. Hat boxes are available from any big box store, and they're easy to work with.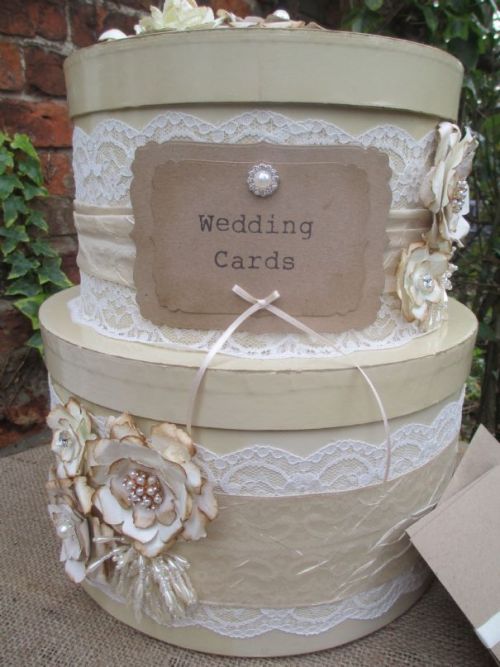 Also, if you choose the right ones, you should be able to easily add any embellishment or artwork that you desire to help make the boxes look more luxurious.
What You'll Need
Box cutter

Scissors

Pencil

Ruler

Lace

Ribbon

Hot glue

One small hat box

One large hat box
Instructions
✓ The first thing you need to do is use your pencil and ruler to map out the slot for your cards on the small hatbox.
Ideally, you'll want the width to be at least eight inches, so there's more than enough room for cards to be inserted.
Once you have the area mapped out, you can use your box cutters to cut a rectangle out of the smallest box.
✓ Retaking your pencil, place the small hatbox on top of the larger one and trace the bottom on the top of the large box.
You can then use the scissors to cut the entire bottom of the small box out and set it aside.
✓ Using the scissors or box cutter, cut the square out of the top of the large hatbox. Make sure the square is slightly smaller than the image you have traced; otherwise, the tiny box will fall into the large box.
Once this is complete, you can move onto the next step.
✓ Prepare your hot glue and then use it to glue the small box onto the large box. Once this has dried, you can begin to use the glue to add any embellishments you desire.
We recommend putting a strip of lace around the envelope slot on the small box as an added feature.
3. Bark Card Box
There's nothing better than being able to use something natural to contribute to your wedding. With this bark card box DIY, you'll have the perfect item to add to your wedding.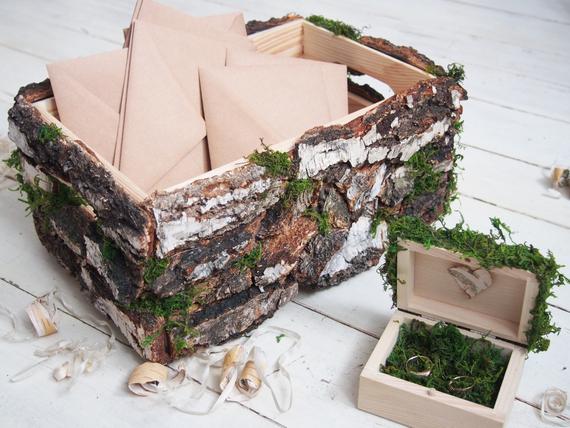 The best part is that it will look great regardless of the design scheme you've chosen.
What You'll Need
Fake bark

Fake moss

Hatbox

Hot glue

Jute twine

Wooden letters
Instructions
✓ The primary purpose of this DIY is to make your wedding card box look as if it is straight out of the forest. With that said, you're going to want to heat your glue gun as the first step.
Once the glue is hot, you'll want to begin adding the fake bark to the outside of the hatbox. Make sure you take your time and allow for each piece to dry before moving onto the next one.
✓ As soon as you have applied all of the bark, look for any pieces of the box that might still be showing through. As the bark arrives in different sizes, it's very likely you'll have plenty of gaps, which is where the fake moss comes into play.
Using the hot glue again, add moss into any areas that need a little bit of extra dazzle.
✓ While the hot glue is drying, you can begin working on the signage that will show your guests where to insert their cards. Taking the jute twine, measure and cut a piece that is the width of the card box.
You'll then want to take the string and thread it through your wooden letters. We recommend using the letters to spell "Cards," as it's the simplest.
Add any extra embellishments that you might want.
Best Store-Bought Wedding Card Boxes Reviewed
If you're running out of time before your big day, likely, you won't want to work on a DIY wedding card box, and that's okay!
There are plenty of unique options available to you if you're going to buy something online instead.
1. Hayley Cherie White Gift Card Box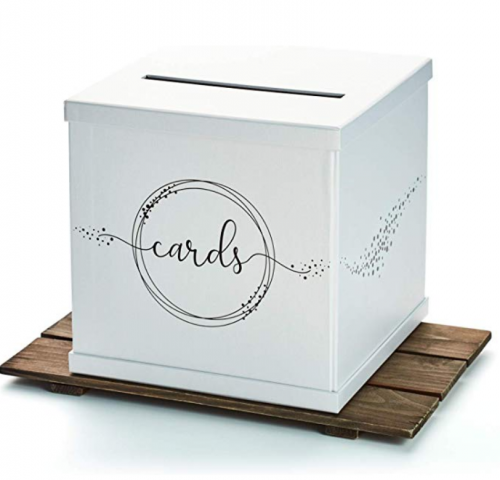 This card box has a beautiful look to it thanks to the textured paper and high-quality finish that it provides.
The stunning silvery white background with black foil printed on the front and sides truly helps to bring the whole look together.
Crafted using highly durable textured paper and cardboard, it's the perfect addition to the card table at your wedding.
Initially designed by Hayley Cherie, putting the box together is simple, as all you need to do is pop it into shape.
You can also take advantage of the adhesive strips included with your order to make the box maintain its shape for multiple occasions during the year. On average, you can hold up to 100 cards with this box.
2. Country Barn Babe Personalized Clear Card Box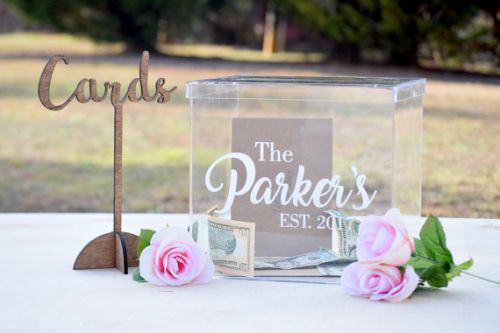 If you're looking for something a little more unique and chic, we highly recommend this clear acrylic card box for your wedding.
With the ability to have it completely personalized with your name on the front, it will look like it was made specifically for you.
Built with a seven-inch card slot and a removable lid, getting access to your cards is accessible after the wedding is over.
We highly recommend taking a look at all of the fonts, font colors, and designs available to be added to your very own acrylic wedding card box.
3. Y&Me Secure Wedding Card Box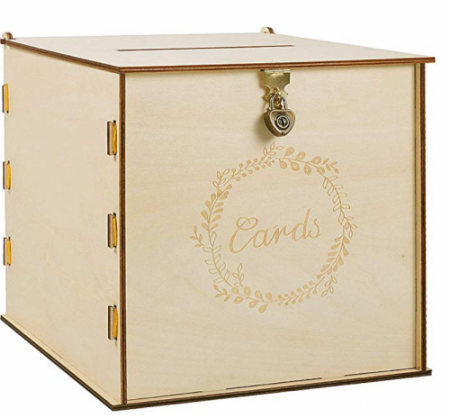 Perfect for couples that don't want to have to worry about their gifts throughout the night, this secure wedding card box comes with a beautiful heart-shaped lock.
Made from natural wood, this box can also be personalized to match your special day, as you can paint it.
On average, you'll be able to hold up to 250 cards in the box, and it is fully reusable for a multitude of occasions.
With its simple and basic design, it won't take away from the decor at your wedding, but can surely add to it!
Finally…
Knowing exactly what to expect from a wedding card box makes them much simpler to find.
With the use of these fantastic wedding card box ideas, you can DIY your own or buy one from a reputable designer to use on your special day.
Pin for later