The Best Grocery List App (Tried & Tested!)
last updated:
Nov 05, 2019
2107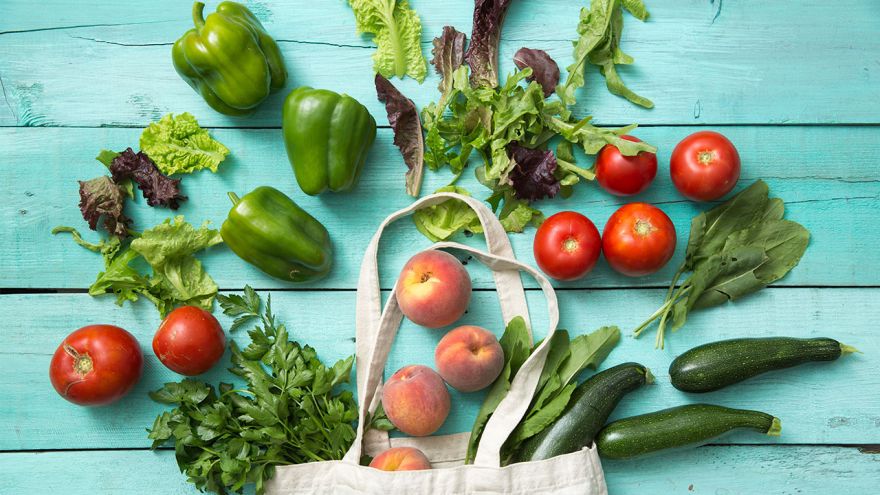 One of the best ways to manage your spending and to make sure you get everything you need from the store is to make a list.
Instead of wasting a piece of paper, you can easily download free apps to manage everything you need to be prepared ahead of your grocery store trip.
After testing numerous apps, we've compiled a list of our favorite grocery list app picks that you're sure to love as well.
The Best Grocery List App List!
1. AnyList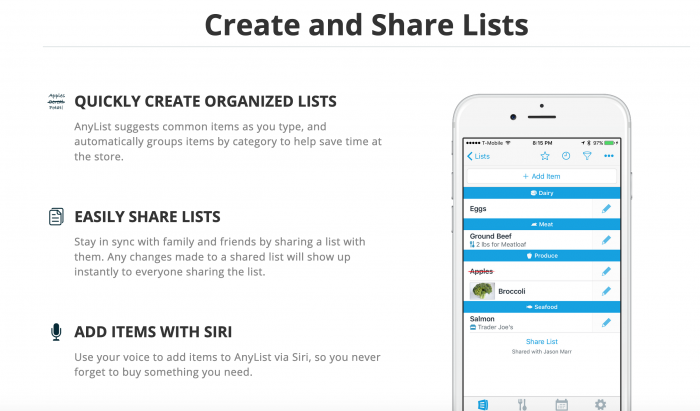 Compared to other list-making apps on the app store, AnyList has one of the most positive ratings, and for good reason.
It's one of the most thorough and best grocery list app options that we've come across, which is ideal for getting into the details of picking up what you need.
Not only does the app organize your items by the sections they can be found in, but it also allows you to share the list with other members of your family.
In addition, once you have created a list of everything you need, there will also be recipes generated based on your selections.
This can help you to come up with a wide variety of new meals that you've never tried before if you feel like experimenting during the week.
We also love the fact that it's so user-friendly and makes it much simpler to create the perfect shopping list.
2. MealBoard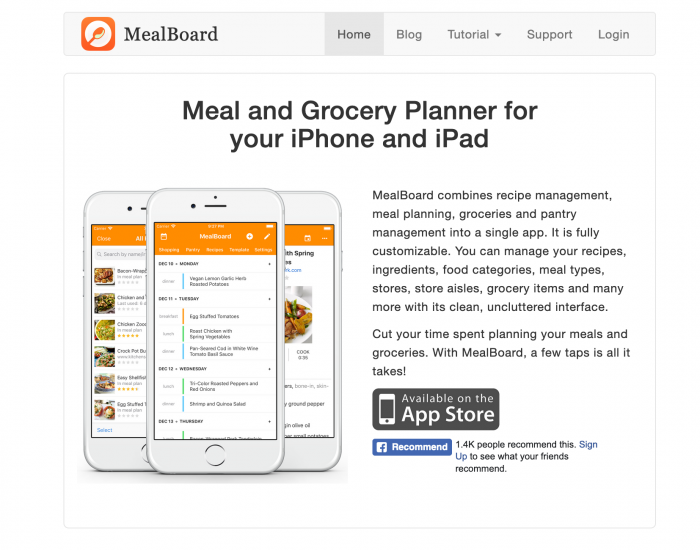 MealBoard is an all-in-one solution for the homeowner that needs to keep track of everything pertaining to food.
It's the perfect choice for you if you want to know what's in your pantry, what you need to pick up from the grocery store, and even if you need help managing recipes. The best part is that it's completely customizable to your every need.
There is a built-in web browser on the app that allows you to import recipes from other websites and you can create a meal plan in under 10 minutes.
With your meal plans, you can add in special notes, adjust the servings you need to make, and set reminders on your meal prep days. We also love the shopping list feature, as it's one of the more intuitive ones we've come across.
The app will automatically sort the items on your list into what aisle they will be found in, even if you shop at several different stores.
It's also highly recommended you use the pricing feature, as it will show you how much everything will cost in total.
The final feature that you'll love is the pantry tracker, as it lets you know how much of each ingredient you still have left in your house.
3. Grocery Pal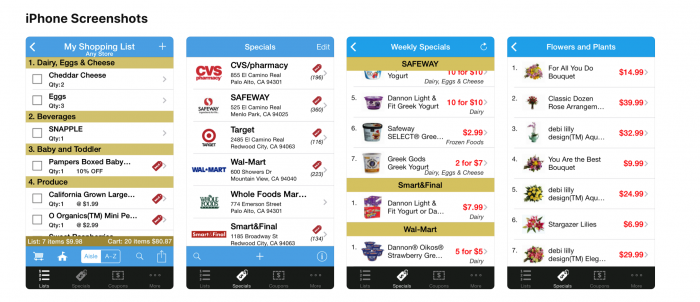 There's nothing quite like picking up the things that you need for a fantastic deal, which is why we love Grocery Pal.
It's the ideal app choice for someone on a budget who wants to know where the best stores are for sales that week.
Each week, the app generates new sales from all different types of grocery-like stores ranging from Kmart to Kroger. In addition, you can compare prices from different stores so you know where all of the best deals are.
In terms of creating a shopping list, it's just as simple as with any other grocery app on this list. You can organize all of the items into aisle and categories and as you add products, the app will generate coupons (if any) for the products on sale.
You can also sync your shopping list across multiple devices, so every member of the family can add or delete items in real-time.
4. Yummly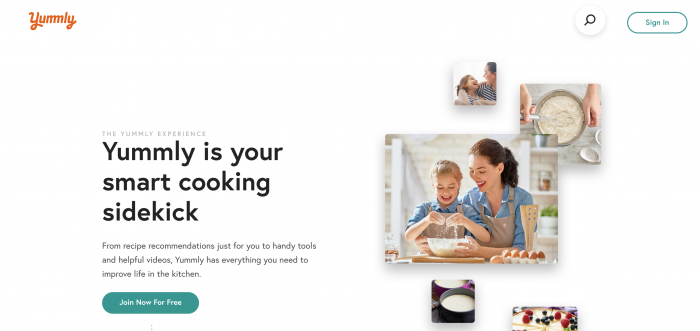 What makes Yummly unique is that it's not an app designed specifically for creating grocery lists, but it's an app that you'll surely put to good use if you're looking for new recipes.
You can browse through hundreds of different ideas for various dietary restrictions in your family to find the perfect meals for the week.
Once you've curated the ones you want, all you have to do is add the ingredients to a shopping list with the push of a button.
What we love about Yummly is that it encourages and inspires homeowners to develop and try new meals they've never done before.
You'll also be able to create an innovative shopping list that will keep you interested in the food you make weekly.
It's possible for users to even add certain recipes to their favorites list, so making your weekly shopping list is even simpler over time.
5. Shopkick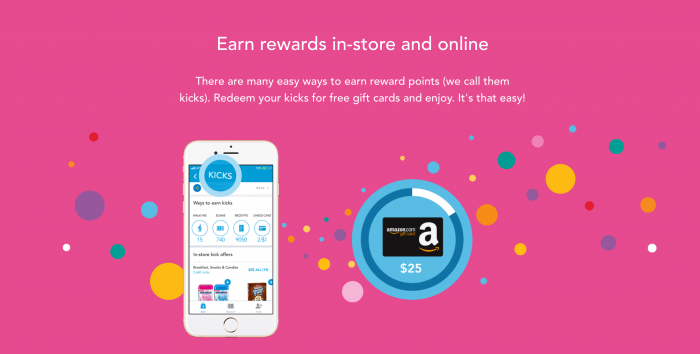 Imagine having the opportunity to shop for groceries and earn rewards at the same time, which is what Shopkick brings to the table.
Not only is it a user-friendly shopping list generator, but it also gives you the ability to earn points that you can convert into gift cards.
All you have to do is visit a partnered store, scan products as you shop, or make a purchase.
Similar to most other grocery store apps, when you create your shopping list, it will be divided up into the appropriate categories so you can keep track of the departments you'll need to visit.
Beside each product, you'll notice an indicator that lets you know how many points you'll earn for the purchase or if you scan the product into the app.
As an added feature, once you make your list, you'll receive information about any deals or sales on the products you need.
6. Flipp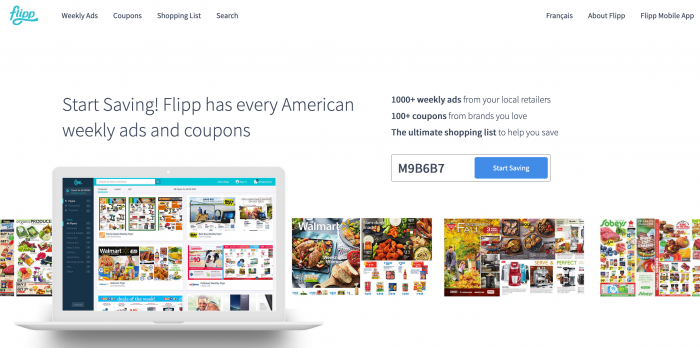 Another option for budget-conscious shoppers is Flipp, which is an app that is based solely around providing you with information about the best deals in your area from a wide assortment of stores.
Even if you have to shop for things outside of groceries, it's a fabulous resource to have at your disposal.
With Flipp, all you have to do is select coupons that you need for the items on your shopping list. You can also browse through the available flyers and automatically add items to your shopping list by selecting them on the screen.
As you begin to use Flipp more often, you'll be able to see what coupons are your favorites and store them for upcoming shopping trips. The app will also notify you if any of your clipped coupons are set to expire soon.
Finally…
Organizing your grocery trips is essential and with a pick from our best grocery list app options designed for every member of your family, you'll always have unique meals at a substantial discount.
We highly recommend all of the ones mentioned on this list to make grocery shopping a more exciting and smooth adventure.
Pin for later