Best Matching Family Christmas Pajamas & Sets to Die For!
last updated:
Nov 12, 2019
5348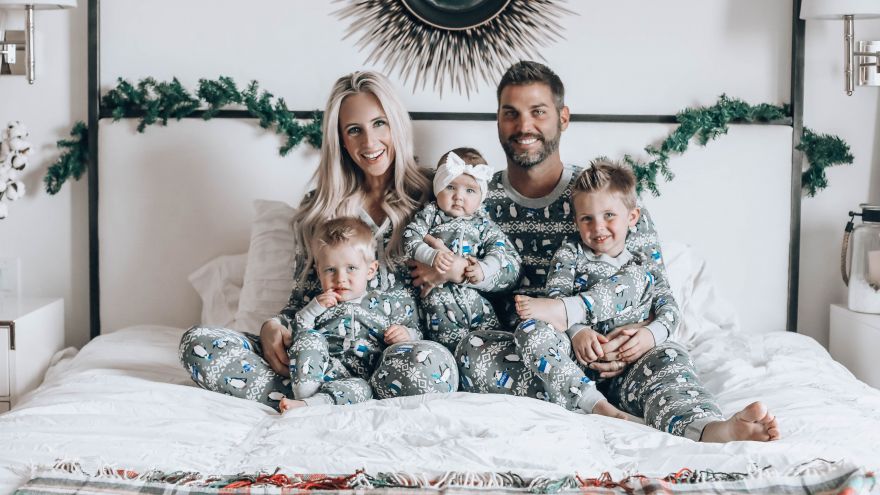 The best way to prepare for the upcoming holiday season is to find the best Christmas pajamas. Even though you can typically find a set for yourself, there are options for the whole family, as well!
Family Christmas pajamas are the number one way to celebrate spending time with each other and all of the fantastic gifts Santa brings the morning of.
Below is a list of our favorite matching Christmas pajamas for everyone in the family – even your pets!
Our Family Christmas Pajamas Selection 2019/2020!
1.

IF Family Matching "Merry Christmas" Pajamas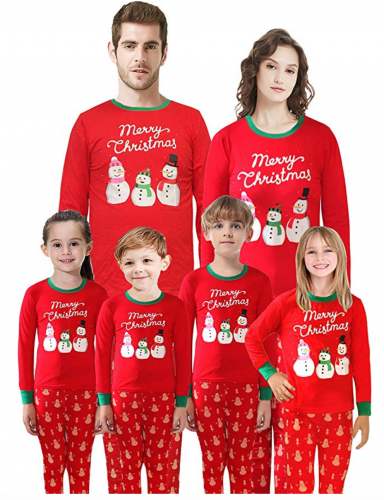 These family Christmas pajamas look just as comfortable as they are festive. With an image of three jolly snowmen on the front and beautiful cursive that reads, "Merry Christmas," they are all that you need!
These PJs come in an assortment of sizes for men, women, boys, and girls, so you can all be perfectly matching during the holidays.
The pajamas are made from 100% cotton and feature a crew neckline, ribbed cuffs along the wrists and ankles, and an elastic waistband.
We especially love the elastic, as it helps the PJs feel more snug so you can fall asleep soundly while waiting for Santa. With these, you'll receive a two-piece set that includes a tagless top and printed knit leggings. Y
ou might find that the adult versions of the sleep sets are made a little less snug than the children's.
2.

Yaffi Plaid Christmas Pajamas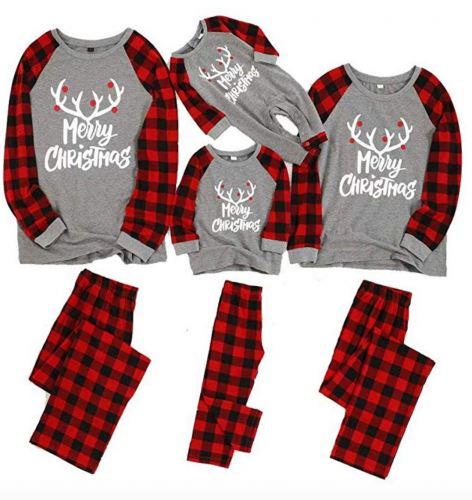 What you'll love the most about these PJ sets is that they're not too over the top and, instead, work correctly with more modern fashion.
With an amazing festive holiday print on the front and comfortable plaid pajama pants, you'll have the perfect amount of contrast.
The front of the shirts has a cute image of antlers with Christmas lights hanging off of them with "Merry Christmas" written in cursive.
What makes these family Christmas pajamas unique is that they come in an even more extensive assortment of sizes compared to the previous set. Not only will adults and kids be able to have pajamas, but infants as well.
However, each pair is sold separately so you can customize the sizes you might need. These pajamas are incredibly comfortable and soft, as they're constructed out of cotton and spandex.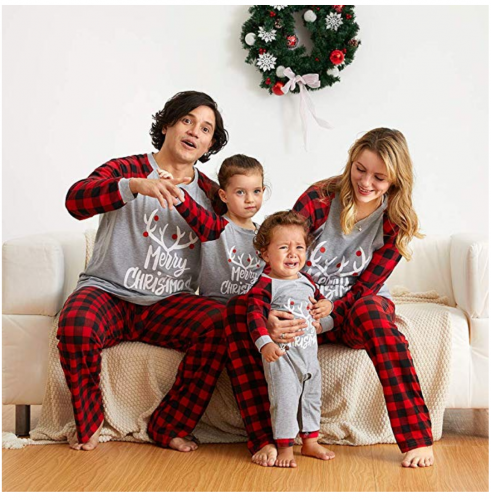 On the children's pajamas, they feature an elastic waistband while on the adult sizes, they have an elastic waistband with an added drawstring.
We highly recommend these PJs if you're looking for something comfortable, easy to sleep in, and easy to lounge around in as well.
3. #followme Matching Buffalo Plaid Pajamas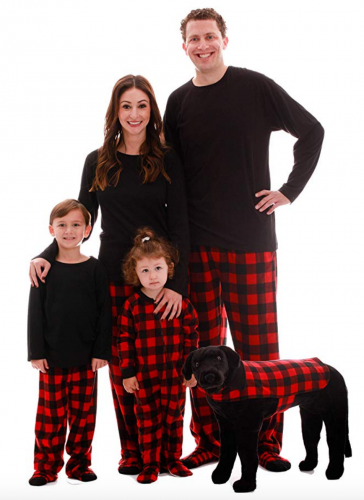 If you're searching for matching Christmas pajamas that are a little more basic and have less of an in-your-face bold print, these are a great option.
With a basic black long sleeve top and Buffalo plaid bottoms, these PJs are great for the holiday season, even if you wear them after Christmas.
You'll easily be able to find all of the sizes you need as these come in newborn and toddler, kid's, women's, men's, and even dog jacket sizes.
The toddler and dog pajamas are the most unique out of this set, as the toddler sizes are available in full sleepers with a high-quality zipper on the front.
For dogs, they will have a customized jacket that will fit them snug to keep them warm. All of the other pajamas feature two side pockets for convenience, and each pair is flame retardant.
4. PajamaGram Matching Family PJs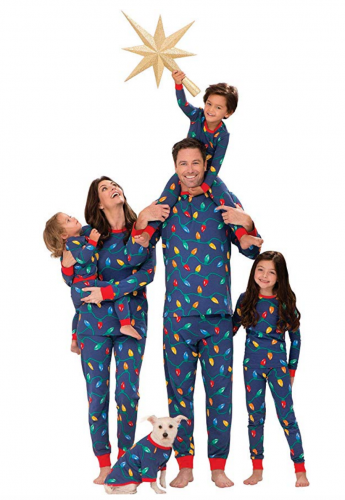 There's something about these PJs that make us feel warm and cozy on the inside, which is precisely the feeling you want during the holidays.
You'll easily be able to create phenomenal family memories together when the whole gang is wearing the same festive PJs.
Each person in your family will be able to take advantage of two-piece matching long-sleeved tops and full-length pants.
The print on the top and pants is a string of Christmas lights that are seemingly tangled, for a fun and unique twist.
Similar to the previous pair of Christmas pajamas that we discussed, these are available in sizes for men, women, and children.
They also have special sizes for toddlers and dogs. You'll easily be able to dress everyone up in coordinating PJs that you'll love to have throughout the year and not just around Christmas.
The quality of these pajamas speaks for itself, as each pair is made from 95% cotton and five percent spandex, which will only get softer after every wash.
This feature also helps to make sure the print on the fabric is bright and vibrant, adding to its high-quality design.
We especially love how thick yet breathable the pajamas are, so you won't have to worry about being too cold in the middle of winter.
As an added benefit, the children's pajamas are designed to be snug fitting for the safety of your kids. They are not flame resistant.
5. Shelry Matching Christmas Sleepwear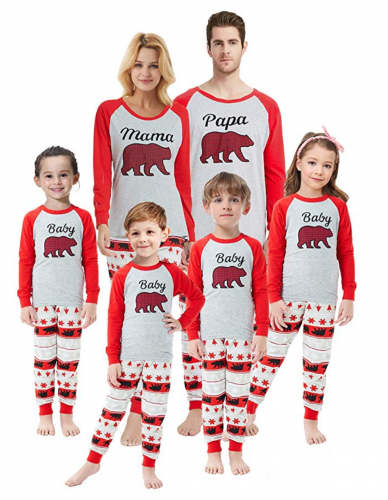 These pajamas are by far some of the cutest we've come across, especially as they show off all of the nicknames that you might have for people in the family.
Each pair that you order will either say "Papa," "Mama," or "Baby," on them with a plaid bear graphic underneath. If you're someone who always refers to your kids as "Baby Bear," these are the perfect Christmas PJs for you!
There are styles for absolutely anyone in the family, even infants who are celebrating their very first Christmas.
The most fantastic aspect of these matching Christmas pajamas is that they are made entirely from 100% organic cotton. You won't have to worry about any inorganic materials coming in contact with your children's skin.
Also, the red on the pants and shirt are yarn-dyed, so the pajamas have excellent colorfastness. When you wear the sleepwear for the first time, you'll understand just how comfortable the double-brushed organic cotton is.
Similar to the other pajamas we've covered, these are snug-fitting in the children's sizes for their safety. The manufacturer recommends buying a size up to ensure they fit comfortably.
6. CoralBee Green Striped Jammies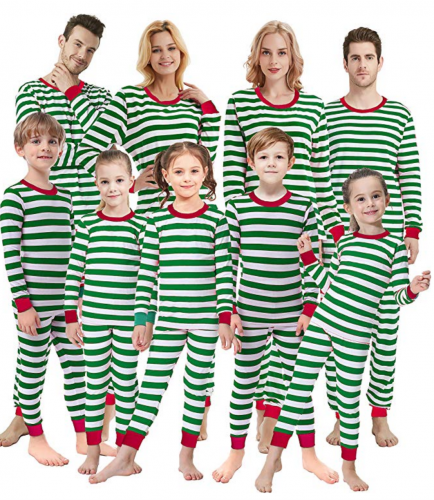 There's nothing quite like getting the whole family together to look like a pack of elves on the eve of Christmas. The CoralBee Green Striped Jammies are an excellent idea for a family who is buying their first set of matching PJs.
You won't have to worry about choosing a design that everyone will like, as these are simple and easy to wear. Each person will receive a long-sleeved top and full-length pants covered in green stripes.
There is a multitude of sizes available to choose from for boys, girls, adults, infants, and toddlers. Unfortunately, these pajamas are not available for pets, unlike a couple of other sets we've discussed earlier.
However, they are made from high-quality and incredibly soft materials. With 95% cotton and five perfect spandex jersey, you won't have to worry about the PJs falling apart in the wash.
This blend of fabric is also highly recommended for keeping you warm yet still breathable in cold weather.
7. IF Family Snowman Matching Christmas Pajamas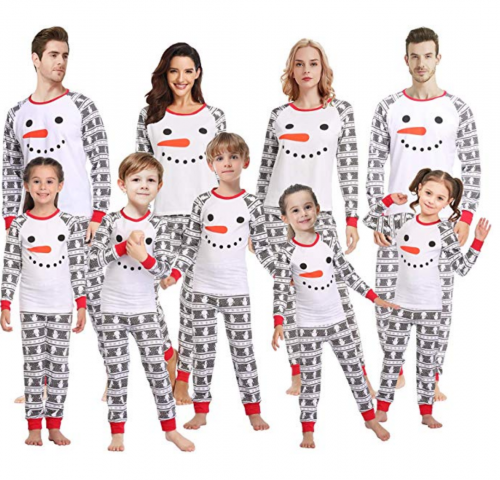 For the family that wants to be bold and unique with their pajamas, we've found the perfect set for you. Everything that we love about holiday sleepwear is included with this set.
You'll have a hilarious image of a snowman on the front of your shirt, with Christmas-sweater-like print on the sleeves.
The pants also have the same print as the sleeves but are contrasted by bright red elastic cuffs at the ankles and wrists. These indeed are great for the whole family, as you'll be able to get sizes from infant to adult.
Each shirt is designed without tags so that you can sleep as comfortably as possible, especially the kids. The pants feature an elastic waistband so you can quickly get the pajamas on and off.
Also, the elastic waist helps to make choosing the right size simpler. It's important to remember that as the children's sizes are designed to fit snug, you will have to buy one to two sizes larger.
By far, our favorite thing about these pajamas is how easy they are to keep clean. You can throw them in the washing machine and dryer, instead of having to hand wash them.
8. PajamaGram Chill Out Pajamas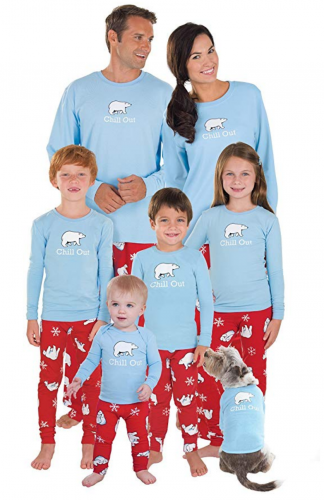 Is your family the type of group that loves to lounge around and relax? If so, these are the best PJs for you. With a cute print of a polar bear on the front and print that reads, "Chill Out," you'll have the best loungewear possible.
What we love the most about these is that they are designed to have a roomier fit than other Christmas PJs. It is essential that you wash the pajamas first before wearing them to get the perfect fit.
These family Christmas pajamas feel luxurious to the touch and great against your skin. They are made from 95% cotton and five percent spandex, so you'll have the perfect amount of flexibility while asleep.
You'll also find that they insulate your heat without being too warm to wear at night. For added comfort, the adult sizes come with an elastic drawstring waist so you can achieve the perfect fit with your pajamas.
9. Yaffi Footed Hoodie Pajamas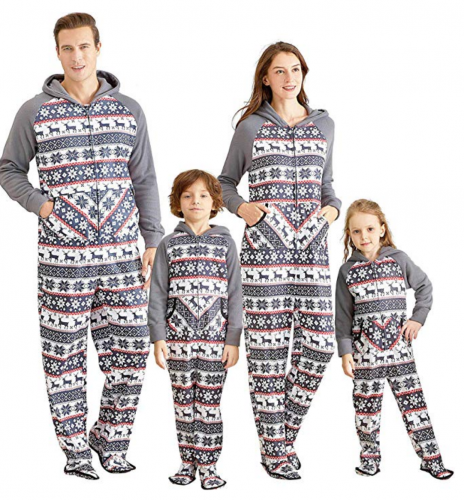 With a slightly different design than the sleeper sets we've seen this far, the Yaffi Footed Hoodie Pajamas are fantastic for families who love onesies.
These PJs come with every feature you would expect from a high-quality pair of pajamas, including a hood and a high-quality zipper.
On the front of the onesie, you'll see a beautiful Christmas print of snowflakes and reindeer against a mostly grey background. It's a style that your whole family will feel comfortable wearing.
Above all else, the onesies are readily available for everyone, including infants and toddlers, children, and adults. You'll have to purchase each size separately, which gives you the best control over how each set of pajamas will fit.
The materials used to make the onesies are strong and durable, as it's primarily cotton and spandex. The combination of fabrics is friendly against sensitive skin, comfortable, and quite breathable.
As an added benefit, the sleepers are incredibly easy to clean by putting them in the washing machine and dryer. They are also stain-resistant.
10. Little Blue House by Hatley Moose Family Suits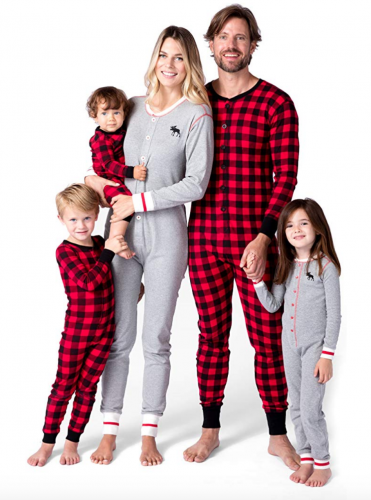 We would have to admit that these are by far our favorite Christmas pajamas on the list. This is because there's an individual style for everyone in your family. You can mix and match while still coordinating with each other.
There are two main designs to choose from, a full Buffalo plaid print and a simple grey moose design. Both of the models are available in onesies, so you can feel extremely comfortable once you fall asleep at night.
Above all else, they are made from 100% cotton, so you know you're getting the highest quality possible.
On the front of the onesies, you'll realize there isn't a zipper, and instead, they are fastened with buttons. This feature adds an ounce of luxury to the pajamas, instead of relying on generic zippers.
There is also a functional bum flap on the back, which is particularly adorable for your kids. What we love the most is that the whole onesie is tagless so that you can feel superiorly comfortable with minimal effort.
Plus, they can be fully machine washed and dried without the concern of shrinking.
Finally..
When you start shopping around for family Christmas pajamas, you'll want to make sure you have a style that suits everyone's interests. We can guarantee that out of the ten matching sets we discussed, there is something for everyone.
Made from the highest quality materials possible and with plenty of exciting features that you'll love, your holiday PJs have never been the same.
It's time for you to find the perfect matching Christmas pajamas to celebrate the holidays the right way this year. What better way to spend family time and decorate your Christmas tree then while wearing a set of family PJs!

Pin for later