This product is listed here: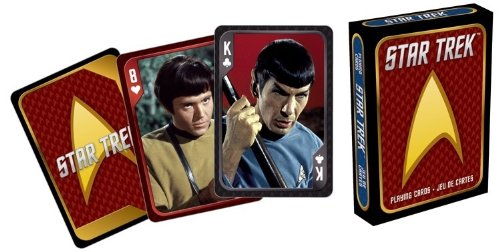 Aquarius Star Trek Playing Cards
Here is an excellent collection of Star Trek playing cards by Aquarius that would make a perfect gift to a diehard fan in your life. It's an ideal opportunity to be in the future and spaceship interacting and riding on 23rd-century gadgets and ships and mingling with the characters and the villains.
This would be absolute bliss to a hardcore fan, so grab a pack and surprise the Trekkie in your life with the 100% officially licensed Star Trek merchandise. The pack contains officially licensed poker sized cards of 52 images. The graphics are excellently and professionally done and feature just about everything in Star Trek Original series including the ships, characters, and lots of other images. The artwork stands out superbly and simply gives this cards life. Playing this card will be a real walk into space and the future generation.
Detailed information about Aquarius Star Trek Playing Cards
These are high-quality cards designed to last. They feature a beautiful design, and each card has a linen type finish that gives them a silky feel to touch. In fact, for an avid fan, they might find themselves fascinated by the images, and they might spend more time looking at the images more than playing with them. Most characters are represented on the cards with different numbers to make the game enjoyable.
Each card measures approximately 2.5" x 3.5," and they are 100% licensed. It's a fun game to play with fellow Trekkies on date nights, family reunions, and as pastime activity with friends. The cards will make an excellent party game any day especially for people who are familiar with The Original Series.
WHY WE LIKE IT?
Star Trek-themed cards
Features 56 different images from The Original Series
Officially licensed
The cards have a nice linen type finish
The graphics and the artwork are superb
WHY WE dont LIKE IT?
None
What we love about this product
These cards are fun-filled and action-packed. They will take a card game to another life that no one has reached before. We can safely say that a Trekkie's collection is not complete without this game cards so make a point of blessing the one in your life with a pack.