This product is listed here: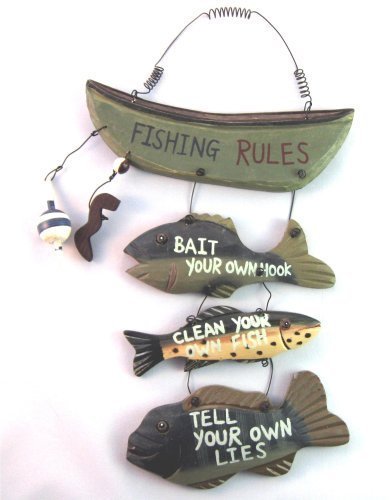 Wood Fishing Rules Sign: Perfect Fisherman Gift
Many people love to decorate their house to a theme, that means all the ornaments and decorations follow the same or a similar theme. Using this wood fish sign from Beachcombers, the decorator could include it amongst a room belonging to an outdoorsman or someone who enjoys fishing.
It could be used in a room belonging to someone who likes retro and shabby chic furniture and also artisan made ornaments. This item is a lovely "must buy" for anyone who enjoys decorating and who has a sense of humor.
Detailed information about Wood Fishing Rules Sign: Perfect Fisherman Gift
This is a fun wall hanging that is suitable for someone to place on their wall. If it is your son or daughter then they can hang it in their bedroom. If it is your partner or spouse then they can hang it in the den or the man cave or even in the living room.
The whole wall hanging measures 8" wide by 14" high but because the wooden shapes are hanging from pieces of curly wire it should be possible to slightly extend or reduce the height by appropriately bending the wire.
WHY WE LIKE IT?
The wall sign is 8" x 14"
Lovely humorous fish carvings
WHY WE dont LIKE IT?
The wood is not sealed so it would be worthwhile sealing as soon as it is received
What we love about this product
Many people collect humorous wall hangings so this would be good to add to a slowly expanding collection or it could be on its own in pride of place. This looks like it could be a really good wall hanging that raises a smile, especially from those who know the etiquette of fishing.