The 3 Best Vegan Cookie Recipes We Tried out This Year
last updated:
Jul 29, 2019
1367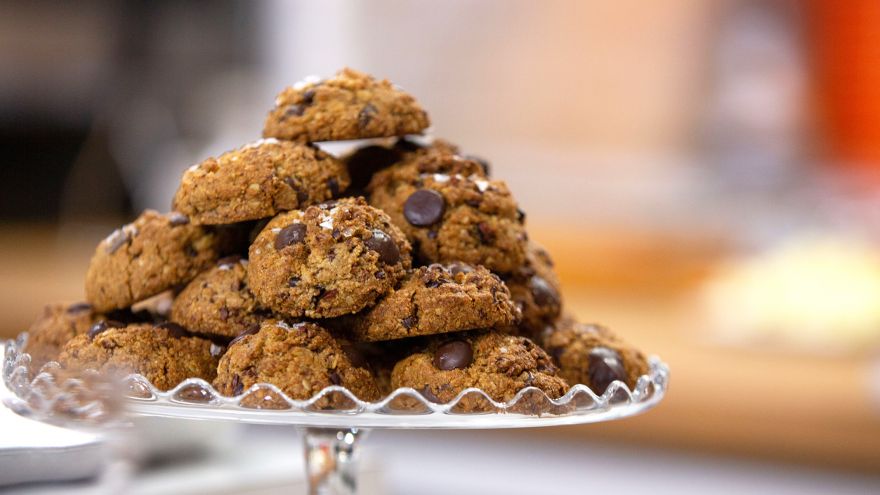 We've found three phenomenal vegan cookies recipes that you can put to good use, whether you're craving something sweet or if you need to make a platter of desserts for an event.
Being vegan is just as much a lifestyle as it is a dietary change, and you might find you won't be able to enjoy the same things as you did before eating plant-based.
With that said, it doesn't mean that you should have to sacrifice sweets and decadent treats, especially when there are numerous alternatives for you to use to your advantage.
The best thing about these recipes? They taste so similar to their non-plant-based variants that no one will be able to tell the difference!
Easy to Do Vegan Cookies
1. Chocolate Chip Salted Caramel Vegan Cookies
This treat is fantastic for the fall season when you want to capture the flavors of caramel and chocolate combined perfectly together. As a twist on traditional chocolate chip cookies, it has the perfect amount of sugar to satiate any cravings you might be having.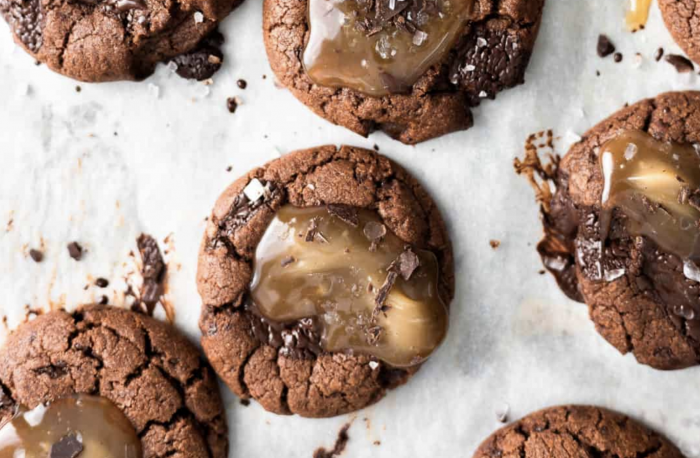 Not to mention they're also spectacularly gooey and will become one of your favorite treats to make at home.
Ingredients
115g vegan butter
1 tbsp baking powder
200g light brown sugar
1 tbsp arrowroot powder
180g plain flour
1 tbsp water
1 tsp vanilla bean paste
3 tbsp cocoa powder
100g vegan milk chocolate
4 tbsp vegan salted caramel
Directions
✓ First, you're going to preheat your oven to 350F and you can begin making the vegan salted caramel.
✓ Combine a ¾ cup of brown sugar, 1 cup of coconut milk, and a ¼ teaspoon of coarse sea salt together in a pot. Boil the mixture until it becomes thick and remove it from the stove.
✓ In a separate bowl, mix the butter and sugar together until it is soft and creamy. Once finished, add the water and arrowroot powder to a cup and mix together while adding the vanilla bean paste and add that to the butter mixture.
✓ Sift your flour and baking powder into your sugar mixture and fold all of the ingredients in. You can then sift the cocoa powder in as well and stir everything together.
✓ Once all of the ingredients are combined, add in your vegan chocolate chips and mix thoroughly using your hands.
✓ Now it's time to start making the cookies by separating the dough into 16 parts and rolling each part into a ball the size of a golf ball.
✓ Prepare a baking tray lined with parchment paper and place the balls evenly apart on the tray.
✓ Place them in the oven for up to 12 minutes.
✓ After the cookies have finished cooking, add a dollop of the salted caramel mixture to the top of the cookies.
2. Old-Fashioned Iced Oatmeal Cookies
If you're searching for a recipe that reminds you of your grandmother's baking, this is one of the better ones to choose. We love the idea of oatmeal cookies as they're relatively healthy and a fantastic treat for kids.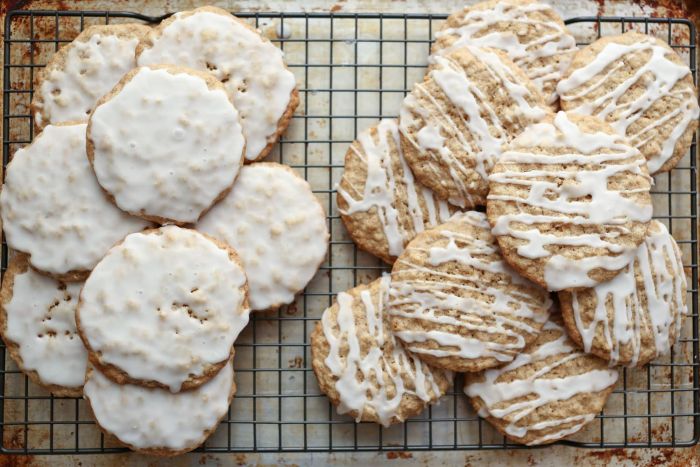 This recipe also requires many items that you likely already have in your kitchen, which makes it even easier to put together.
Ingredients
Cookies
1 ½ cups old-fashioned rolled oats
6 tbsp white rice flour
1 ½ tsp ground cinnamon
1 ½ tsp baking soda
¼ + 1/8 teaspoon fine sea salt
¾ cup pure maple syrup
¾ cup raw cashew butter
Icing
2 tbsp canned coconut milk
1 cup + 2 tbsp powdered sugar
Directions
✓ First, you're going to want to preheat your oven to 350F and take two baking trays, lining them with parchment paper.
✓ Using a large bowl, add in the white rice flour, cinnamon, oats, baking soda, and salt. Stir all of the ingredients together until fully combined.
✓ Pour in your cashew butter and maple syrup, stirring for a few additional minutes. Your mixture should turn into a sticky and thick batter.
✓ Take about 2 tablespoons of your mixture and drop them onto the baking tray. You should be able to fit about 9 cookies on each sheet, but make sure they are spaced at least two inches apart. Using your fingers, press the cookies down so that they create a rounder shape.
✓ Baking one pan at a time, as you'll want to place them on the middle rack in your oven. The cookies should bake for approximately 12 minutes or until they have a light golden color on the top. Once finished, remove the tray from the oven and give them a few minutes to cool.
✓ You can now begin working on the icing by adding the milk and powdered sugar together in a small bowl, whisking the two ingredients until they are smooth. If the mixture seems too dry, add more coconut milk and if it's too wet, add more sugar.
✓ Using a spoon, gently drizzle the icing on top of the cookies and give them several minutes to dry before serving.
3. Whoopie Pie Ginger Vegan Cookies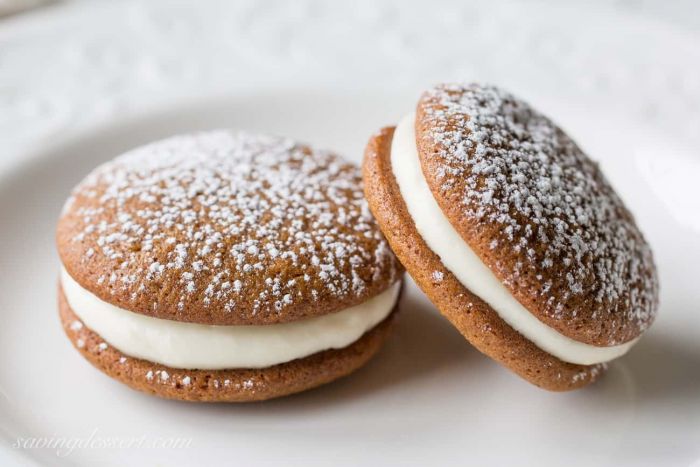 This recipe is perfect for a special occasion, such as a wedding, as they have a more formal appeal rather than something you can throw together in a few minutes. We love the perfect combination of the ginger and creamy icing found in the center.
Ingredients
Cookies
2 cups flour
½ cup maple syrup
½ cup oat milk
1 cup organic peanut butter
2 tsp baking soda
1 tsp baking powder
1 tsp vanilla extract
Pinch cinnamon + salt
¼ cup of coconut oil
Icing
2 x 15 oz canned coconut milk
2 tbsp maple syrup
1-inch piece fresh ginger, grated
2 tsp vanilla powder
Directions
✓ First, you'll want to melt your coconut oil and then combine it with the peanut butter and your milk until the mixture is completely smooth.
✓ You can then combine the other ingredients together and continue mixing until you have created a moist dough.
✓ Wrap the dough in plastic wrap and chill the mixture together for at least an hour prior to baking.
✓ Once the mixture has cooled, slice the cookies into round shapes and place them on a baking tray lined with parchment paper.
✓ Place the cookies in the oven and allow them to cook for 5 minutes. As soon as they are finished cooking, allow them to cool for 10 minutes.
✓ While the cookies are cooling, scoop the cream from the top of your canned coconut oil into a bowl and cream it together with your maple syrup and vanilla. You'll want to make sure this mixture resembles a heavy cream. You can then add the mixture to a piping bag.
✓ Taking one cookie, swirl the icing on top, making sure you're creating a thick filling, and then place a second cookie on top.
Final Thoughts
With these 3 recipes, you'll be well on your way to perfecting the best vegan cookies you'll find online. There's something for everyone, whether you're a fan of chocolate, oatmeal, or ginger!
Pin for later