The Best Sister-Brother Pranks We Could Think Of!
last updated:
Oct 17, 2020
706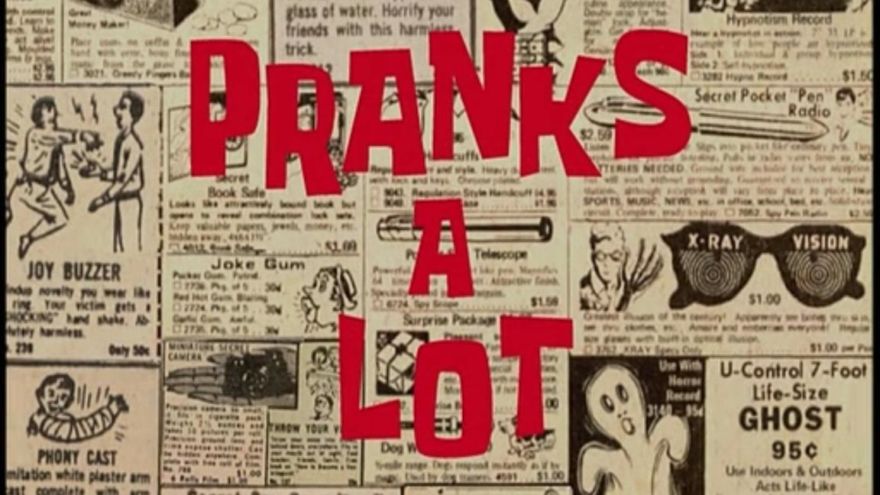 There's always one sibling that unleashes chaos on the entire household once in a while. Who are we talking about, you might ask. Their weapon of choice is a dollar on a string and their favorite day of the year is April Fool's Day.
Yes, we're talking about the family prankster.
Good prank game is key to reaping havoc on your siblings. Whether you're age seven or age 35, a good prank is a good prank, bottom line. If you think you don't have it in you, I wouldn't hold yourself to that high of a standard. We have compiled our list of best sibling pranks below. Pick your poison, and go forth. The power is in your hands, my pranksters.
Salty Toothbrush
There are ways to interrupt a sibling's nightly, hygienic routine. The toothbrush is tool for sanitary use. Ruining someone's brushing experience is a low-blow.
However, we think the bathroom pranks often linger amongst the siblings and can really set the bar high for pranks to come (as a gentle reminder, if you're the family prankster, you will be targeted for a karmic prank, and it will be sour).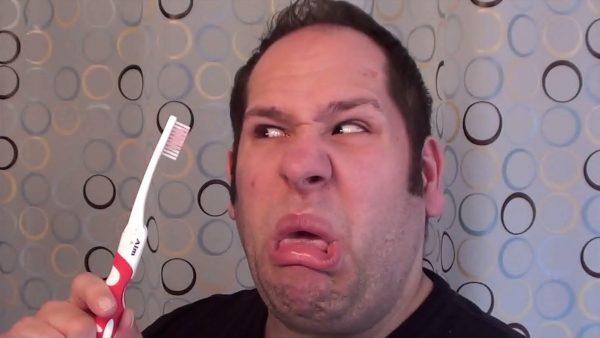 Grab 3 pinches of table salt with clean fingers (try to stay moderately clean, the human mouth is already a nasty place). Next, grab the toothbrush of your victim and wet the brush with water from the sink.
Lightly sprinkle the salt specks in a thick layer on the brustle ends. Slide the toothbrush back into its usual position and skip out of the bathroom.
You're plan is set in motion. Next time your brother goes to brush his teeth, follow him to the door so you can watch and hear the spitting and hacking. Ah. A sweet and salty surprise.
The Sandwich Secret
A gesture of kindness is an excellent opportunity to push your sibling's buttons. The next time you prepare your sib's breakfast or snack for the ungodly reason of just being kind, leave some time and space for play!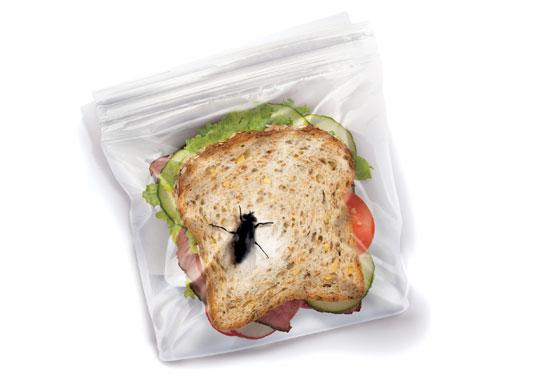 I encourage any and all sandwiches as the most appropriate of foods to incorporate a prank, quite literally. Graciously, offer to make a sandwich for your sibling. When the offer is received, go into your prank bag and grab fake bugs.
You can even put the sandwich in a Ziploc bag to go, with a fake bug already awaiting the moment of terror. No one likes seeing an ant, a bee, or a fly sitting with eyes wide in between a lump of turkey and a slab of provolone cheese.
Pick the bug that might ensue the biggest fear upon your sib, and plop it on the sandwich.
Side note: make sure the bug is either sticking out of the sandwich or is large enough so it will not be swallowed without notice.
Finally, drop the plates on the table and enjoy the meal together. Relish in the moment when you hear the shriek from your sib!
They won't be able to handle a bug in their sandwich, and certainly won't expect it because it was simply such a normal, sweet gesture- to make a meal and share it together!
The Caramel Onion
Halloween is just around the corner, and there's nothing like a caramel apple treat to stir up the holiday spirit! On a trip to the store, grab a caramel kit, apples, and one onion (or a few if you want to nab more than one victim with this prank).
Prepare the caramel apples¦and then take out the onion. Caramelize the crap out of the onion. Cover every inch of the layer-y, smelly vegetable and place it slyly in-between two apples for no trace of the fib.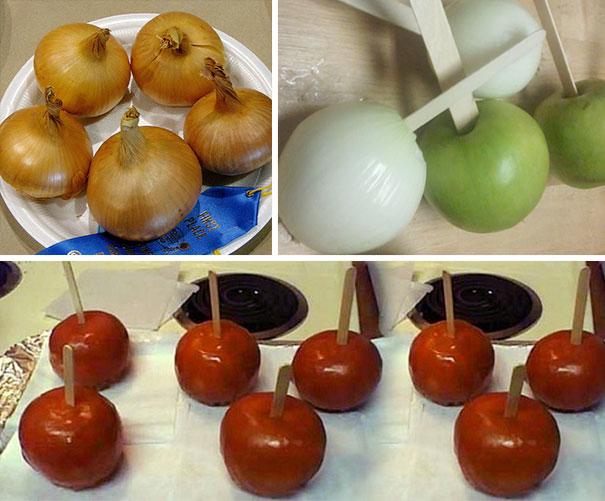 Leave the tray in the freezer with a small sign that says, "eat me!" or simply break them out after dinner with everyone gathered around the table.
This particular prank gives you some options to really utilize your own evil tendencies. You can take the caramelized onion and hand it to a sib of your choice for the death-by-caramel-onion shebang, or you can play a fun game of musical chairs and wait for one of your family members to munch hard into the onion.
Toe Nail Cake
Another baking-themed torture idea! Step 1, bake a cake. Really! Just go for it, chocolate frosting, fruit toppings, anything you freakin' want.
I imagine the more appealing the cake looks, the more likely it is that people will still want to pursue eating it, even with your message in large layers across the top: FIND THE TOE NAIL.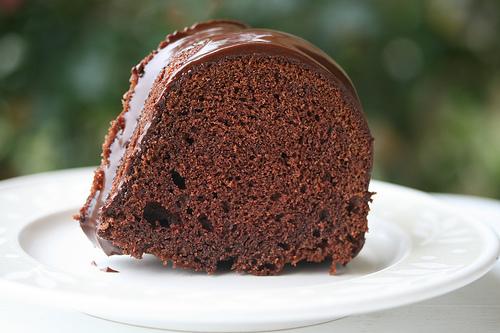 Do I need to say anymore? This classic is a great way to get into the psyche of your victim. Do I really hide my toe nail in the cake? Oh, that's gross. However, this is entirely up to you!
Remember when I said don't hold yourself to a high standard? Case and point, pranksters, case and point.
Caddy Shack Vibes
Remember the scene from the 1980 comedy, Caddy Shack when the swimmers almost fly out of the pool in shear horror of what they imagine is a large turd floating in their summer break pool?
Break out your version of a chocolate bar and float it gently in the toilet bowl or tub of your sib's bathroom, prankster's choice of bowl or tub.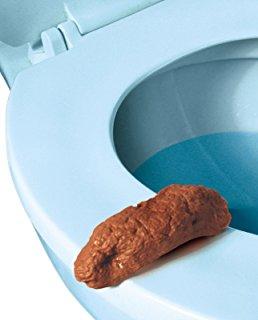 I recommend inserting a tiny flag into the sugary flesh of the candy bar that says, "DON'T EAT ME!" just to toy with your siblings and get a good, communal life going between you all.
Toilet jokes are always funny. There is not mistake in trying out the Caddy Shack scene in your home.
Rainbow the Windshield
A lovely rainbow can cheer up anyone's rainy day. A lovely rainbow in sunny skies or snowy clouds can make people confused.
Let's go for confusing as our end goal with this jovial prank. Tastefully, draw a fake rainbow across the windshield of your sib's car. Make this realistic!
No rainbow is the perfect shape and completely visible. This often works best when you know your sibling is leaving the house just moments before the sun comes up.
Avoid painting the rainbow on the inside of the car; this can be messy and isn't always realistic-looking.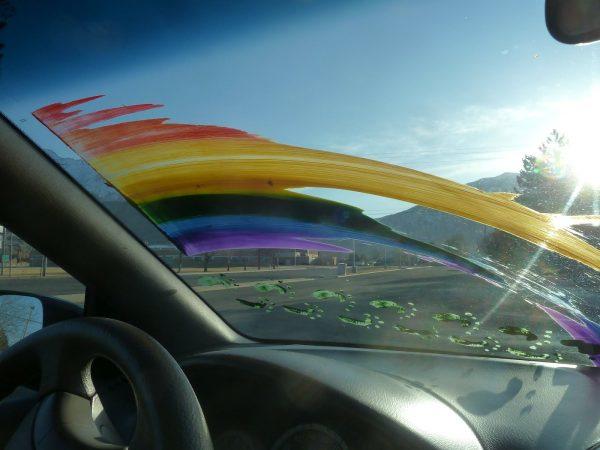 Wait until you receive a text or call: "OH MY GOSH, THE LOVELIEST RAINBOW IS OUT RIGHT NOW! DO YOU SEE IT?!"
Convince them you do. They'll never know…until a day and night passes and their perfect rainbow is still clear as day, no pun intended.
Pin for later