This product is listed here: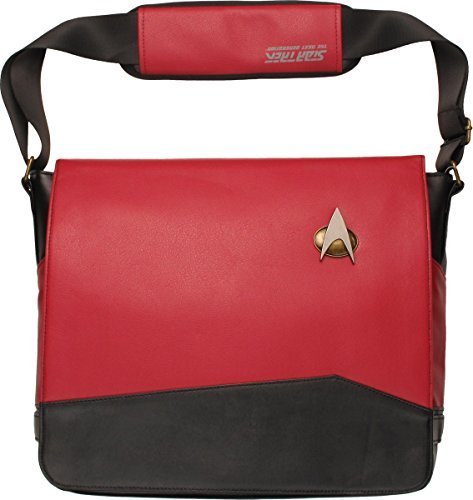 Star Trek Red Uniform Messenger Bag
If for some reason you have not heard of Star Trek, it is an incredibly famous American space opera series following the adventures of Captain James Kirk and his crew across the universe. Because of its futuristic setting and unique plot that involves different adventures, drama, and politics, it has become widely popular from the moment it first aired on television way back in 1966 and is now enjoyed by all generations. It represents a theme of war and peace in a hyperspace theme with aliens and humanoids.
Because of the popularity of the series, a large number of merchandise ranging from outfits to home décor have sprung up just for the Star Trek fan base to consume and enjoy. This allows them to have a wide collection of Star Trek items as well as show people how much they love the series. So for hardcore "Trekkies" who just want to adorn themselves with Star Trek from head to toe, we strongly urge you to get them this Star Trek Uniform bag in Red.
Detailed information about Star Trek Red Uniform Messenger Bag
This officially licensed bag has the Star Fleet emblem you might have probably noticed on the series (you won't miss it, we're sure of that).
This cool bag has a few pockets to store whatever your heart desires and also has a compartment that is the perfect size for your laptop. One of the coolest and most pronounced features of this 14 ¾ inch wide and 11-inch tall bag is the communicator pin emblem or the Star fleet emblem on the outside.
WHY WE LIKE IT?
Made with high quality vinyl
Big enough to carry a laptop
Perfect present for Star Trek enthusiasts
WHY WE dont LIKE IT?
None
What we love about this product
This simple but uniquely designed bag is made with high quality vinyl material that makes it very durable, long lasting and perfect for an everyday commute, travel companion and housing your daily essentials.