This product is listed here: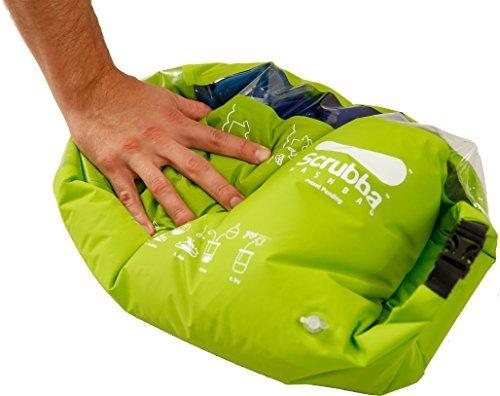 Scrubba Portable Laundry System
It's happened to almost everyone; we go on a vacation to somewhere or even go camping and for whatever reason, we need to end up using a washing machine for our clothes. If we're staying at a hotel or some sort of lodging that does not involve camping, although some, not all campsite have them, there could potentially be a washer and dryer. We could use them, but then we could be spending some money we didn't want to be spending and thus could have used for something else like souvenirs. What if there was a device that couldn't only save you the money you would use to pay to use a washing machine but also be something you can carry with you wherever you go? Well, we Here at That Sweet Gift know just that thing and now would like to present to you the Scrubba Portable Laundry System!
Detailed information about Scrubba Portable Laundry System
We could all use a portable washing machine on our travels. It all happens to us where we will occasionally need to wash something just because it's an emergency. Maybe we didn't pack enough clothes, or something happens to our clothes where it just needs to be washed. The Scrubba will do just that; wash your clothes when we need it in a jiffy. It avoids the costs of using an actual machine and is lightweight at only 5oz. In simple 6 steps, you can easily wash your laundry. All you need to do is 1, fill; 2, roll and clip; 3, deflate; 4, rub; 5, Rinse; and then lastly, 6, dry. All together this process takes only 3 minutes. Inside the bag, there's integrated scrubbing nodules which make washing x2 faster than hand washing. The bag itself will also last a while as the materials consist of microbial- and hydrolysis-resistant polyether thermoplastic polyurethane. The bag's color is green and when you are done using the Scrubba, the bag can easily be folded down into a small pocket-sized bag.