This product is listed here: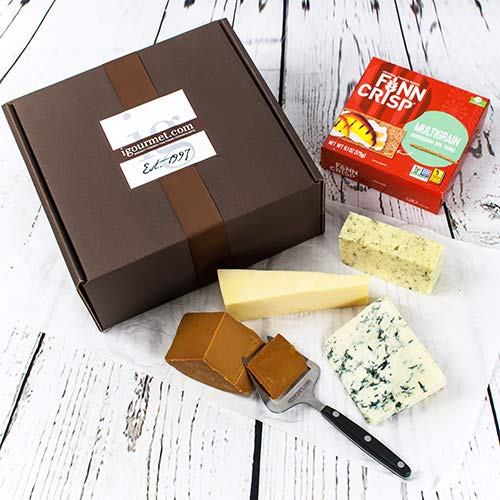 Scandinavian Cheese Assortment in Gift Box
There are many kinds of cheese in the world, some of which, many people have never tried. We have all heard of cheddar, camembert, edam, and gorgonzola but how many of us have heard of any Scandinavian cheeses.
Most likely the only one is Danish Blue, being a strong flavored, crumbly cheese with distinctive blue veins. There are however many more available that the average person has no idea exists.
That is why when you find a selection of specialty cheeses from Scandinavian countries, it is worthwhile trying them out and savoring every single one. You never know you might just find a new favorite.
If you or someone in your family or circle of friends enjoy trying exotic types of cheese, something a bit different from the normal supermarket cheeses that are available, you should have a go at this collection. We cannot think of a better food gift than this one!
The Scandinavian Cheese Assortment by Igourmet is a lovely collection of four different kinds of cheese from the four Scandinavian countries Denmark, Norway, Sweden, and Finland.
Detailed information about Scandinavian Cheese Assortment in Gift Box
The 39-ounce collection arrives in a gift box inside an insulated package so you can be sure that your cheese arrives as fresh as when it left the vendor.
The four kinds of cheese have exotic names such as:
Gjetost (a version of this is currently the second most popular cheese in Norway)
Cream Havarti ( a semi-hard cow's milk Danish cheese)
Vädenost (a Swedish crumbly cheese)
Danish Crumbly Blue
Not only are these (and other) great cheeses in the food gift box, but you also receive a box of Scandinavian crackers to go with them.
WHY WE LIKE IT?
Contains a selection of exotic cheeses from the Scandinavian countries as well as a box of crackers
Arrives at your door packed in a thermally insulated package to keep the cheese fresh
If one type of cheese is out of stock the supplier will substitute another similar cheese
Comes in a lovely gift box
WHY WE dont LIKE IT?
None
Why we like this product
You can't beat a selection of quality crackers and unusual cheeses to make the dinner party go with a bang or maybe a Saturday night snack with your partner will turn into a cheese fest.