Ring Sizes for Women: How to Choose the Perfect Size When Gifting a Ring
last updated:
Aug 20, 2019
3860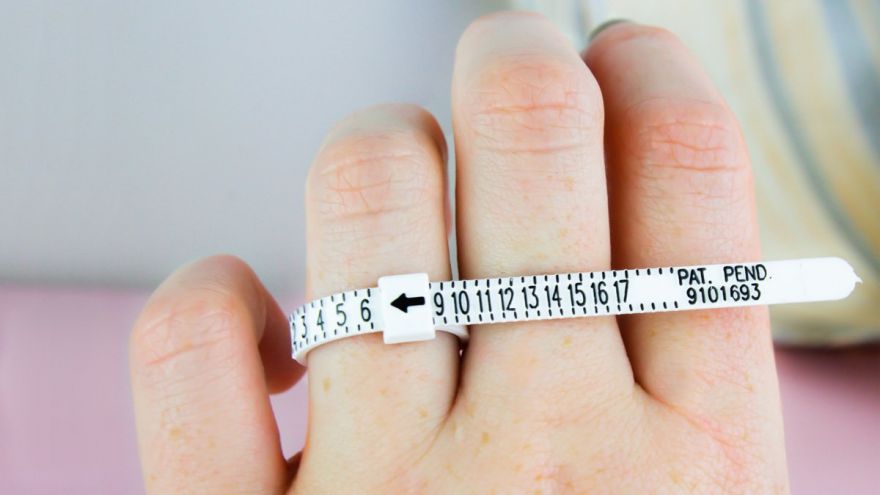 Below are our favorite tips and tricks for determining the perfect ring sizes for women.
You might be thinking the perfect gift for a loved one is a ring, the only problem is that you don't know how to size their finger without them knowing. Whether you're looking at engagement rings or a friendship ring, there are plenty of ways for you to find the perfect size so you can still give them a secret gift.
How to Determine Ring Sizes for Women
✓

Tip 1: Borrow a Ring
The first, and easiest way to find the perfect ring size for someone is to borrow a ring that they already own. If you live with the recipient, this tip is easier to achieve as you likely have access to their jewelry box. However, this isn't always a possibility, especially if the recipient is well aware of the pieces they keep at home.
An alternative approach to borrowing their ring is to ask them if you can wear it yourself. Depending on what finger it fits on your hand, you'll know what finger the jeweler will need to measure when you start shopping. For example, if her ring fits on your index finger, you can use the measurements of that finger to find the perfect size.
The main thing to remember is that regardless of if you're borrowing a ring or trying one on, you have to be able to do so without making it obvious!
✓

Tip 2: Choose Average Ring Sizes for Women

When looking at the recipient's hand, you can likely tell if you think they have an average-sized hand or not. Most often than not, women range between the sizes of 6 and 8 when it comes to rings and as such, choosing an average size can be a great option.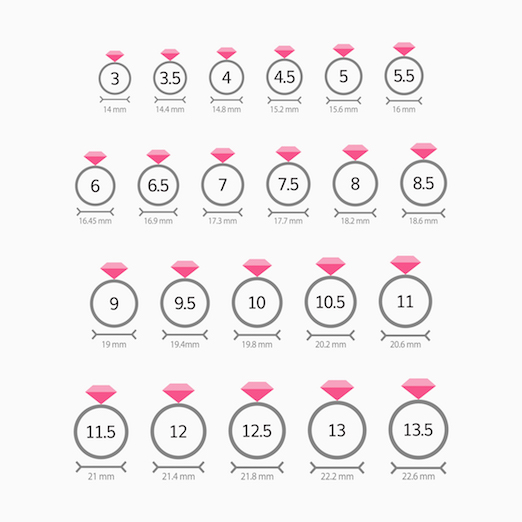 This is especially true if you're buying a friendship ring, as there are multiple fingers for her to wear it on. If you're buying a more serious gift, such as an engagement ring, there is always the opportunity of resizing it at a later date.
✓

Tip 3: Choosing a Larger Size
It's known that decreasing the size of a ring is substantially easier than having to make a ring larger, which is why many jewelers will recommend you choose a size larger than what you think their ring finger might be.
When you first present the ring as a gift, it's very likely she knows that she'll have to get it resized anyway to create a more customized fit. Additionally, if you choose the right jeweler, any resizing may be included with the cost of the ring, so you won't have to worry about paying for adjustments out of pocket.
It's mostly the thought that counts and her receiving the ring as a gift is more than enough. It doesn't necessarily need to fit perfectly the day that she receives it.
✓

Tip 4: Ask for Help
Recruiting friends and/or family members to help get information about her ring size is another fantastic trick, especially if you know someone in her life who is particularly discreet.
They could secretly ask her what size rings she wears, have them try on some of their rings, or even go browsing through a jewelry shop for a girl's day out. Any way that they are able to get her ring size is useful, as long as they are able to do so discreetly.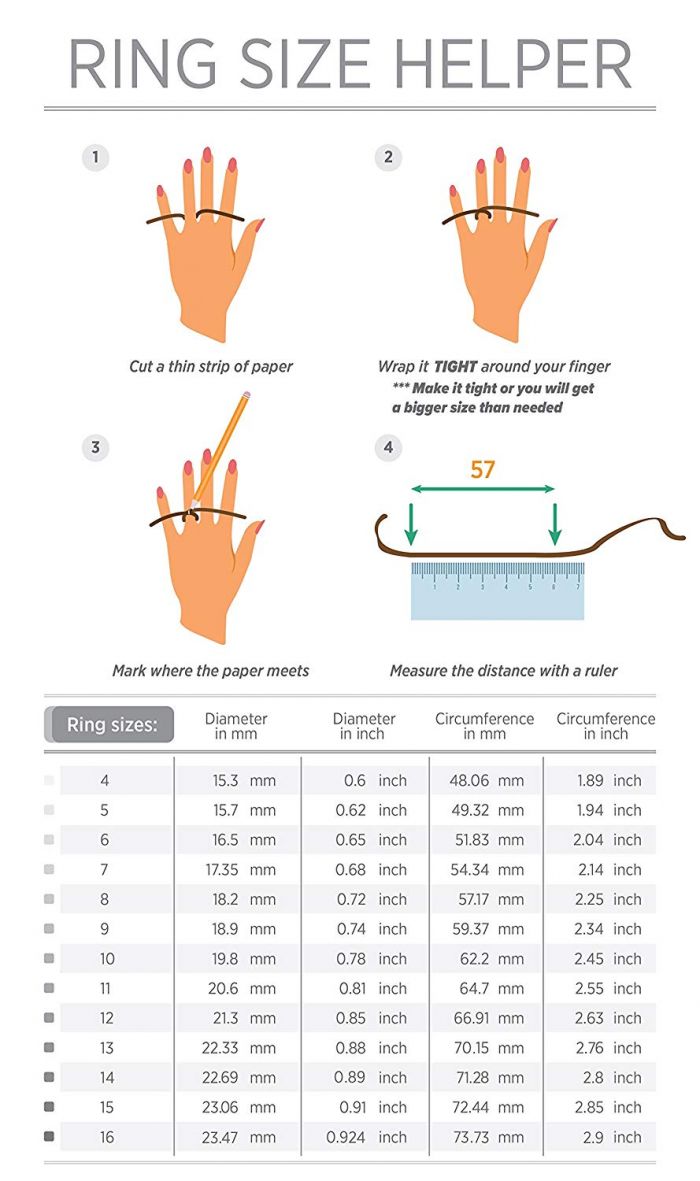 Our recommendation with using this tip is to make sure there's a substantial gap between when they dig for information and when you give her the ring.
You won't want to make her think that you're going out ring shopping, as it can completely ruin the surprise.
✓

Tip 5: Use Costume Jewelry
There's no reason as to why you can't give costume jewelry as a gift prior to their real ring, especially if you don't want to propose on a specific day and are instead waiting for the best moment.
Instead, consider buying her costume jewelry that she'll appreciate and that will give you a clear idea of what her ring size is. You can even take her shopping with you, as it's not for the real ring but instead for a decoy piece of jewelry.
✓

Tip 6: Sneak While She's Sleeping
If you're particularly brave and you know your significant other is a heavy sleeper, there's also the option of measuring her finger while she's asleep. Using a very lightweight string, you can gently wrap it around the desired finger and then tape it off.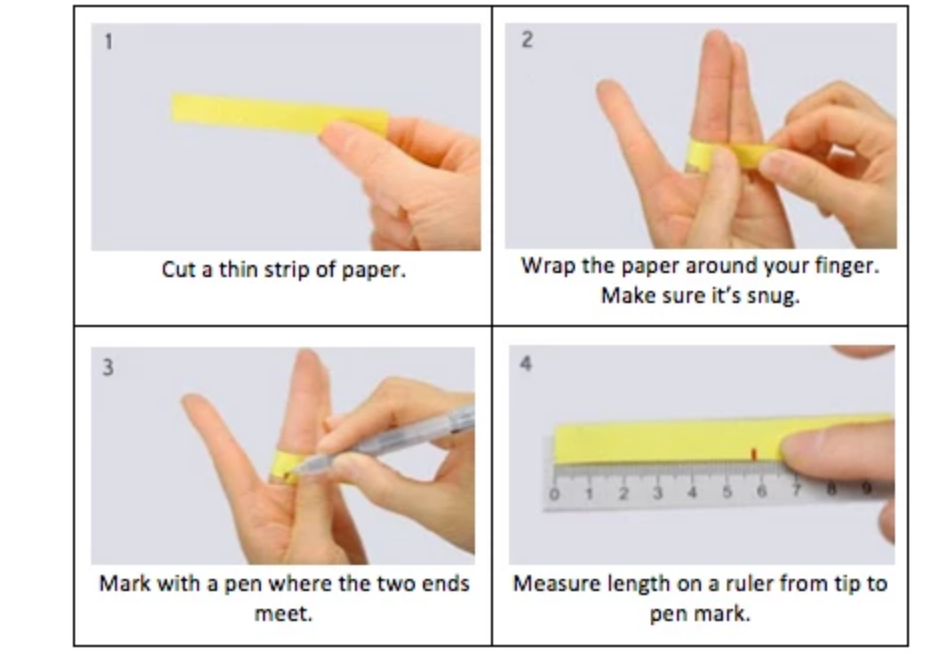 You can then use a flexible measuring tape or a ruler to get the precise measurements of her finger. As this is one of the riskiest tips on this list, we highly recommend considering the others, if you want it to be a surprise!
✓

Tip 7: Shop Together
If all else fails, the single best way to get the ring size of a loved one is to take them shopping with you. There are plenty of women who don't like the concept of being surprised and would rather have a say in the jewelry that you buy for them.
At least with this tip, the two of you can decide on the perfect ring together and she'll be able to select something she'll wear forever. Although it's not the best way to surprise a significant other or a friend, they'll surely appreciate the thought and effort that goes into getting them such a substantial present.
When you go shopping together, you'll be able to rely on the help from a professional jeweler to figure out ring sizes for women. This helps to ensure you're ordering the right ring size from the get-go and you likely won't have to worry about adjustments in the future.
Final Thoughts
When you've decided that you want to give a ring as the perfect gift to a loved one, there are several ways for you to get ring size measurement without them knowing.
All it takes a little bit of discreet conversation or help from friends and/or family members. If you're able to keep it a secret, it will surely be one of the best gifts they have ever received.
Pin for later