6 Best Natural Sunscreen Options That Are as Good as Any
last updated:
Jul 22, 2019
870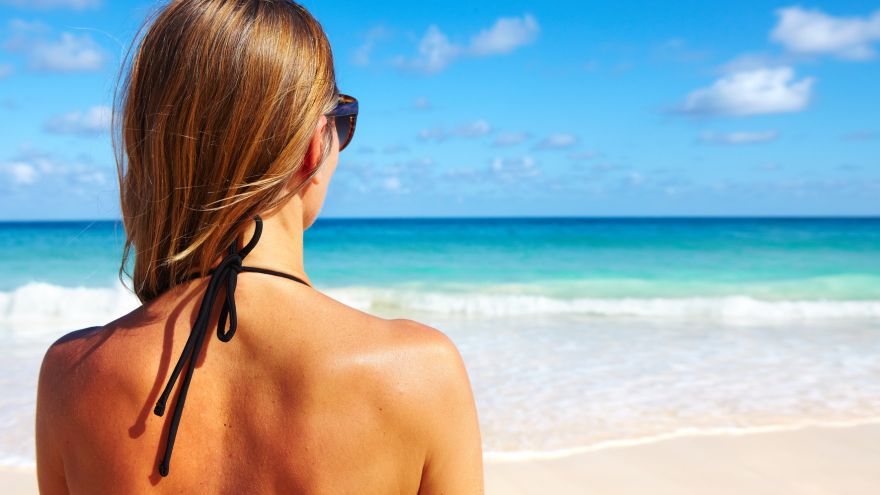 Sunscreen is one of the most important things to have when you're spending time outdoors. However, if you're regularly using it, you're going to want to consider natural sunscreen formulas.
For people who have sensitive skin or who simply want to avoid synthetic ingredients, natural sunscreen gives you protection without harming your body.
Below are our 6 favorite natural sunscreen options that work just as well as regular types.
Best Natural Sunscreen Formulas Tested by Our Team!
1. Coppertone Pure & Simple SPF 50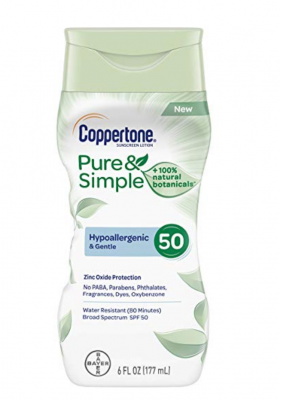 There are multiple advantages to this Coppertone formula, ranging from it being hypoallergenic to the fact that it gives you UVA and UVB protection without skin irritation.
Some other advantages of this sunscreen include:
50 SPF: With 50 SPF, you'll have just as much, if not more, protection against the harmful rays of the sun.
Dermatologically Tested: You can guarantee that this zinc oxide-based solution is ideal for people with sensitive skin, as it doesn't contain any irritating ingredients.
100% Natural: Packed with natural botanicals such as sea kelp, tea leaf, and lotus extract, there aren't any synthetic ingredients to worry about.
Worry-Free Formula: In addition, the Coppertone Pure & Simple sunscreen is free of sulfates, parabens, dyes, alcohol, oxybenzone, fragrances, phthalates, and PABA.
2. Coconut Joe's Sun Care Zinc Oxide Sunscreen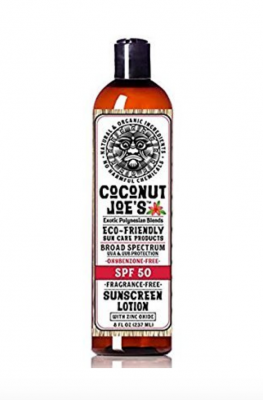 If you're looking for a new and innovative brand, you'll surely want to consider this solution from Coconut Joe's. As one of our favorite natural and organic sunscreen lotions, there are plenty of advantages to be had by using this formula.
The most notable benefits of the sunscreen include:
Natural and Organic: There aren't any harmful chemicals included in the sunscreen, which makes it 100% natural and organic. The main green beauty ingredients include organic coconut oil, organic sunflower seed oil, organic shea butter, and apricot kernel oil.
Zinc Oxide Formula: Similar to the Coppertone sunscreen, this formula relies on zinc oxide to give you superior protection from the sun, including UVB and UVA protection.
Worry-Free Formula: Not only is the Coconut Joe's Sun Care Zinc Oxide Sunscreen free of hormone disruptors but it is also coral reef safe, making it ideal for swimming in populated bodies of water. It is also homosalate, oxybenzone, and octinoxate free.
3. 7th Avenue Products Natural Sunscreen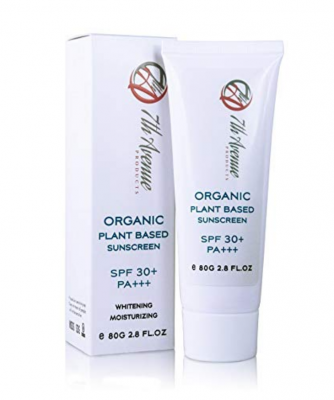 When you're searching for a natural sunscreen, you'll want to make sure the formulas you choose have a plant-based list of ingredients, similar to the 7th Avenue Products Natural Sunscreen. It is fully vegan, non-toxic, and kid-safe.
Some of the other benefits of this solution include:
Broad Spectrum Protection: With protection from UVB and UVA rays, you'll be able to feel more comfortable in the sun without skin irritation.
Moisturizing: In addition to protecting you from sunburns, this solution works its way into your skin, nourishing and moisturizing with every swipe.
Natural Ingredients: There are an array of natural ingredients in the formula such as titanium oxide, zinc oxide, sunflower oil, plant essence, and amino acids. This helps to protect and heal your skin.
Built-in Skincare: This formula is both face and body-safe, with special ingredients designed to help reduce fine lines and hyperpigmentation on your face. You'll be able to work on the condition of your skin while out in the sun.
4. Sunblocz Baby + Kids Mineral Sunscreen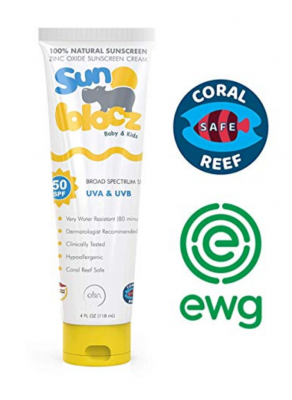 As a parent, it can be far more comforting to have a special type of sunscreen for your kids, as their skin isn't as resilient as an adult's. With the Sunblocz Baby + Kids Mineral Sunscreen, you can protect the younger members of your family from the sun.
Our favorite features of this sunscreen include:
100% Natural: In the ingredient list, you'll be impressed with the sheer amount of natural ingredients including 24.5% non-nano zinc oxide as well as antioxidants, such as grapeseed oil.
Water Resistant: When worn, your kids will have SPF 50+ protection and the formula will stay on their skin for up to 80 minutes when they are in the water. It's the perfect choice for heading to the beach or spending the day by the pool.
Leaping Bunny Certified: This certification means all of the ingredients in the formula are safe for both you and the environment, not to mention the formula is cruelty-free. It's another option for someone looking for reef safe sunscreen.
5. Aveeno Positively Mineral Sunscreen Lotion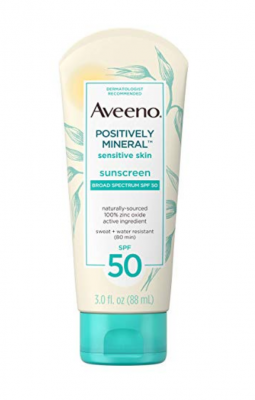 Aveeno is a brand that is known for its skin-safe products, especially if you're someone who regularly deals with sensitive skin.
The Aveeno Positively Mineral Sunscreen Lotion has plenty to offer, including:
Water Resistant: Similar to the previously discussed sunscreen, this formula is also water resistant and sweat resistant for up to 80 minutes.
Broad Spectrum Protection: Protecting your body and face from harmful UVA and UVB rays, this solution won't cause skin irritation as it doesn't have any fragrance.
Fast Absorbing: Instead of feeling sticky after you have applied your sunscreen, this formula absorbs right into your skin.
Natural Ingredients: If you want both protective and soothing ingredients in your sunscreen, this is one of the better formulas to consider. It has 100% zinc oxide that is naturally sourced as well as nourishing oat.
6. Keeki Pure & Simple Broad Spectrum Sunscreen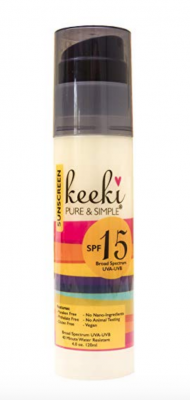 There's plenty to love with the Keeki Pure & Simple Broad Spectrum Sunscreen including the fact that it's safe for pregnant women to use.
Some of its most notable advantages include:
100% Natural: Similar to the other sunscreens on this list, this formula is fully natural and includes plenty of nourishing ingredients designed to improve the quality of your skin.
Water Resistant: This formula is water resistant for up to 40 minutes, which is ideal for adults who will be spending a reasonable amount of time in the water.
Hydrating and Nourishing: With the combination of vitamin E and jojoba oil, your skin will be fully moisturized every time you put the sunscreen on. It also easily absorbs into the skin, so you won't feel sticky after application.
Family-Safe: Every member of your family will be able to wear this formula without any concerns. This includes babies, pregnant women, people suffering from illnesses, and more.
USA-Made: If you're looking for a tested and proven formula, you can rest assured that the Keeki Pure & Simple Broad Spectrum Sunscreen is developed in the United States. It's also gluten-free, vegan, cruelty-free, and non-GMO.
Final Thoughts
Finding the best natural sunscreen is simple, especially as more manufacturers are focusing on naturally occurring ingredients. These 6 formulas are ideal for every member of your family, whether they have sensitive skin or simply want natural sun protection.
Pin for later