This product is listed here: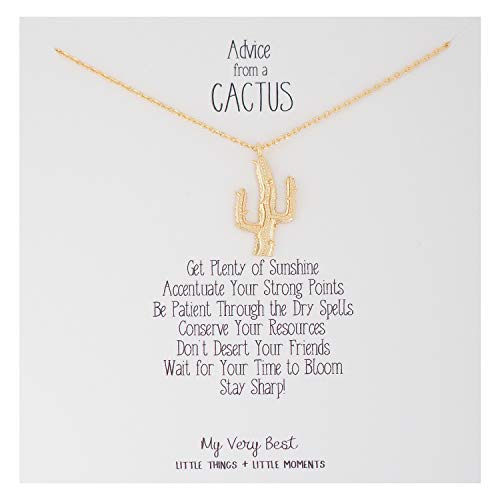 My Very Best Stay Sharp Cactus Necklace
If you are looking for a stocking stuffer for a teenaged girl then you need to look no further. The "Stay Sharp Cactus Necklace" from My Very Best is probably one of the better stocking stuffers you could buy for a girl. The product consists of a pendant in the shape of a desert cactus fitted onto a small linked chain.
The cactus measures about 11mm x 20mm and the chain length measures between 15 and 17mm and has a lobster clasp. The entire pendant and chain are gold plated brass so there shouldn't be any green colored skin or itchy rashes from it.
Detailed information about My Very Best Stay Sharp Cactus Necklace
The price of the necklace is not expensive and remember you get what you pay for. It is an adequate necklace for a teenage girl but probably won't last long if the girl is particularly active or doesn't look after her jewelry. The metal necklace is accompanied by an inspirational message card which is offered as "Advice from a Cactus". In total the manufacturer offers another two versions of this necklace beside the gold plated brass version. There is a rose gold plated brass necklace as well as one made from silver plated brass.
WHY WE LIKE IT?
The dainty necklace is made from brass but is plated with three different metals depending on which version you buy
There is a choice between gold plate; rose gold plate and silver plate
This is a gift just right for a teenaged girl who is learning to choose her friends
The sentimental and inspirational message is perfect for a teenaged girl
WHY WE dont LIKE IT?
None
What we love about this product
The inspirational message is suitable for a "Coming of Age" occasion or for a time when friends and life experiences are changing.