This product is listed here: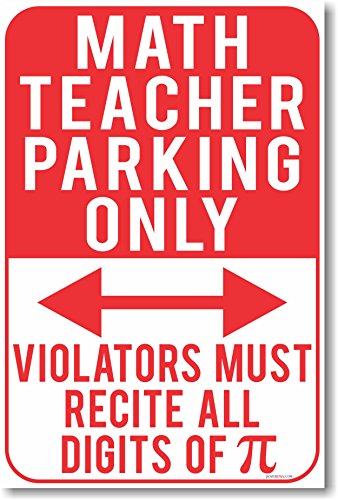 Math Teacher Parking Only – New Funny School Poster
Are you looking for something fancy for your math teacher? Some people would argue that is pretty easy to get a gift for a teacher. To some extent, this makes sense, but will the gifts match up with their day to day activities. As much as books and other related items work well for a teacher, you can always have something fun for them. Think of a funny poster for the school that kids and other teachers would like. This poster from Poster Envy is hilarious and would be such a lovely gift for the math's teacher.
This poster will have the math's teacher feeling themselves with the importance it gives to them. Yes, if you park in the math teacher's parking space, you have to recite all the digit of Pi. We all know how math's jargon irritates and so would be reciting the Pi digits. So, better leave the math teacher parking free even if they do not show up.
Detailed information about Math Teacher Parking Only – New Funny School Poster
The poster is suitable for open school spaces, in classrooms, at the teacher's desk, etc. You could get this for your teacher friend, partner or classmate. This poster is not only fun to read, but also insists on how important the math's teacher is. It comes in a sturdy 80lbs satin cover and measures 12 x 18 inches. It is unique, and you are less likely to find it elsewhere.