This product is listed here: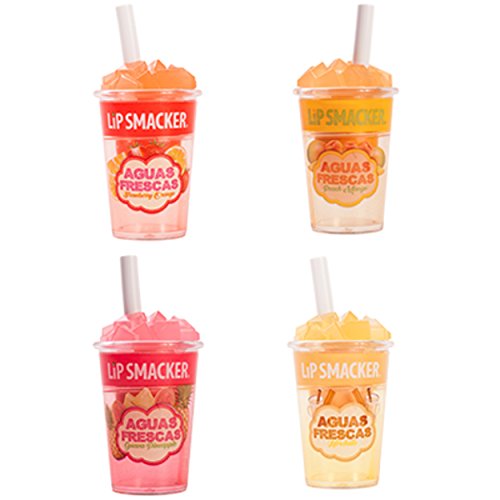 Lip Smacker 4 Piece Aguas Frescas Lip Balm
Are you looking for a gift that will touch a special friend or a loved in a special way? Something interesting that will not leave your pockets with unimaginable dents? Perhaps a gift that will make an excellent stocking stuffer for the holidays? If you nodded yes to each of these questions, worry no more.
Lip Smacked has your back covered with the perfect stocking stuffer that will, without doubt, charm someone in your gift list; a set of 4 pieces of Aguas Frescas Lip Balm. Do you know anyone in your Christmas gift list who would be thrilled to receive these 4 adorable flavored lip soothers to use on their lips when it gets roasty?
Detailed information about Lip Smacker 4 Piece Aguas Frescas Lip Balm
Most people tend to think lips can only get dry, damaged, chapped and battered during the unbearable chilly winter. But contrary to that belief, when the sun is out, and everyone is out there having fun, guess what else is exposed to the beaming UV light? You guessed right! Your skin, which also includes the lips and other sensitive parts around your mouth. The lips will be susceptible to sun damage, sunburns and chapping.
But thanks to these lovelies from Lip Smacker shaped like ice cold, delicious and super refreshing Mexican drinks. They will not only keep the lips pouting beautifully, but they will also keep them extra hydrated.
The balms which are inspired by the popular refreshing Mexican fruit-infused drink, the Aguas Frescas collections, comes packaged in pieces of chubby lip balms.
WHY WE LIKE IT?
Dome-shaped flavored lip balms with a refreshing tropical flavor
The balms moisturize and keep the lips extra hydrated under the scorching sun during summer
The lip balms taste and smell like the actual fruits
WHY WE dont LIKE IT?
None
What we love about this product
Each of these balms features tropical flavors that will not only moisturize your lips, but they will also make your mouth water. These refreshing flavors include strawberry orange, Guava pineapple, peach mango, and Horchata.