This product is listed here: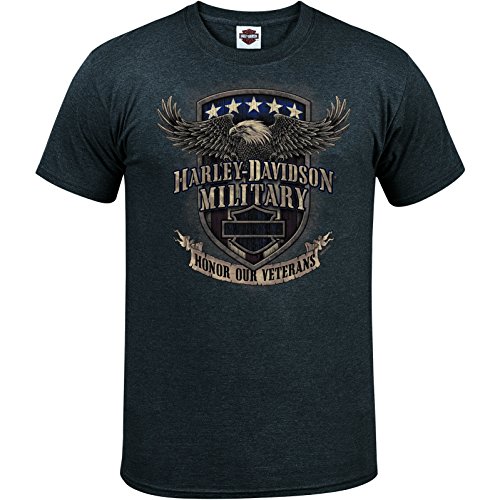 Harley Davidson Military T-Shirt
Show some national pride with this genuine trademarked Harley Davidson gift, crew neck T-Shirt. Owning this T-shirt is a great way to honor and support our troops overseas.
Here is a great way for any grateful American to acknowledge the courage and valor of our veterans and to show how appreciative we are as a country for their dedication and service, especially when it takes them far from home and family!
Detailed information about Harley Davidson Military T-Shirt
On the front of this Harley shirt, there is an American Eagle with its wings spread protectively and majestically, with stars above it and "Honor Our Veterans" written on a banner just below it.
Over top on the center of the front design in bold block print is written "Harley Davidson Military".
On the back, there is a large version of the easily recognizable H-D official logo with "Harley Davidson Military" written over the top of the logo and "Overseas Tour" written underneath it.
All are done in a substantial and easy to read font. This men's crew neck graphic T-shirt has a unique one of a kind design that is trademarked to and is only manufactured by Harley Davidson Military Sales.
WHY WE LIKE IT?
Made from a 60/40 blend of cotton and polyester
Unique design only offered by the Harley Davidson Military Sales
Crew neck with short sleeves and charcoal in color and graphics on both the front and the back
Genuine Harley Davidson trademarked product
WHY WE dont LIKE IT?
None
What we love about this product
This T-shirt commemorates our servicemen and women who have fought for the United States of American on an overseas tour, leaving home and hearth in order to protect this great country we have the privilege of calling home.