The Ultimate Gifts for Guitar Players!
last updated:
Oct 21, 2019
2711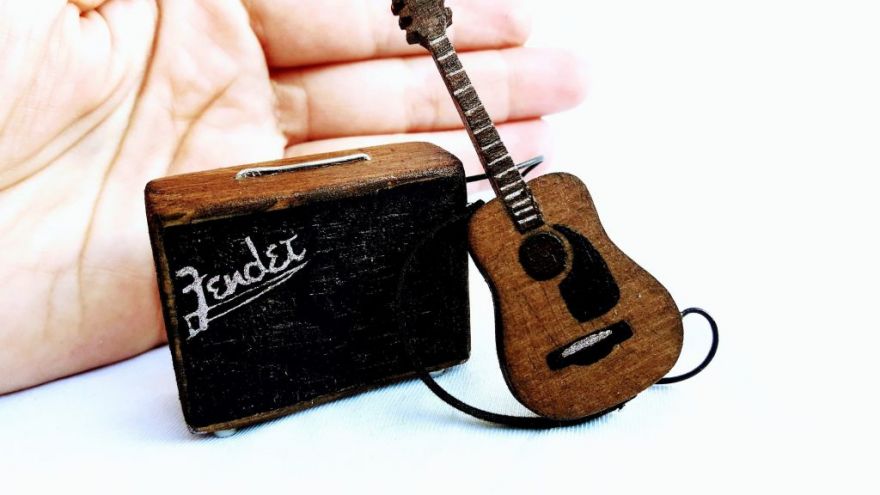 Shopping for gifts for guitar players can be a ton of fun, especially if you're someone who loves music as well.
From personalized guitar picks to funky little toys they can keep in their at-home studios, there is a multitude of options.
When you want to give the most impressive gift to a friend or loved one, we highly recommend the below items.
The best part is they're all affordable, and you can guarantee the particular guitar player in your life will love them!
Our Selection of Gifts for Guitar Players

1.
Auihiay Guitar Accessories Kit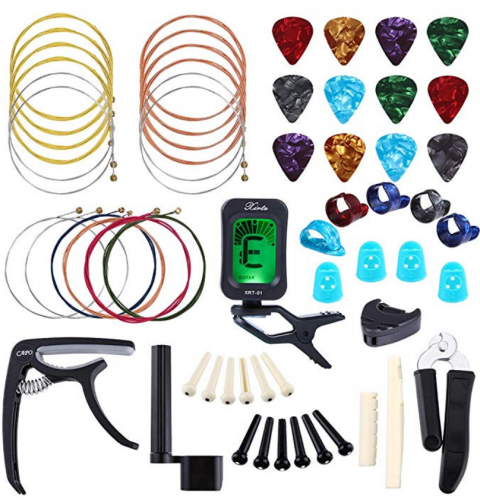 If there's one thing known about guitar players, it's that they're always in need of more accessories.
This 58-piece accessory kit comes with an abundance of items that you can use for jamming at home or playing a live show.
Some of the most essential accessories you will receive include:
✓ Strings: In every order, you will have three sets of guitar strings with six pieces per set.
✓ Tuner: The included tuner can be clipped onto the bridge of the guitar and allows you to correctly tune your guitar as needed. It will fit onto a violin, ukulele, bass, and electric or acoustic guitars.
✓ String Adjusting Accessories: When tightening your strings, you'll want a winder to help. You'll also have a cutter to get rid of any excess string and a guitar capo to change between frets much more manageable.
✓ Utility Gadgets: There are 12 durable picks, five thumb picks, and a single pick holder included. You'll also love the silicone finger protectors to help prevent nicks and cuts from switching chords.
A couple of the other included items are guitar pins and guitar bones.

2.
GIGmate Guitar Tool Kit
When you're getting ready to play a show or if you need to make some adjustments to your instruments, you'll need a tool kit.
This kit comes with absolutely everything you might need to customize the feel of your guitar. It also has plenty of storage for extra strings, so you're always prepared for on-the-go repairs. In the kit, you will receive:
✓ String Cutters: Made from carbon steel, these string cutters are incredibly high-quality.
✓ Convenient Tools: You will also have a two-in-one screwdriver as well as a LED flashlight for making minimal repairs in low light.
✓ Allen Wrenches: Equipped with five separate Allen wrenches, you'll have plenty of options for most saddles. You will also receive a five-millimeter rod wrench.
✓ String Storage: As mentioned, the luxurious carrying case also features plenty of storage for strings. There are six pockets that you can fill, as well as a pocket for business cards and picks.
✓ String Adjustment Tools: In addition to the cutters, you'll also have a steel string action gauge and a string winder with a built-in bridge pin remover.

3.
Pick-a-Palooza DIY Guitar Pick Punch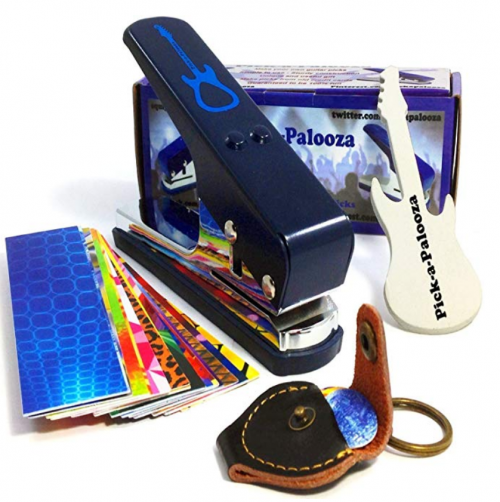 It's easier than you think to run out of picks because you lose them over time. Instead of having to invest more money into hundreds of picks, why not make them out of things you have lying around the house.
The Pick-a-Palooza DIY Guitar Pick Punch is among the best gifts for guitar players that will prove to be their most useful tool. In your order, you will receive:
✓ Pick Punch: The most critical part of your order will be the pick punch itself. This device allows you to make picks from a wide variety of materials, including credit cards, hotel room key cards, or any other type of thin and hard plastic.
✓ Starter Strips: As an added convenience, there are 15 individual sheets of .71mm plastic that you can use to make up to 100 picks right out of the box.
Each of the sheets comes with a unique print that will look stylish alongside your guitar.
✓ Pick Holder: Once you have created all of the picks you need, you can then store them in the included pick holder. T
here is also a keyring attached at the top, so you can always make sure you have your picks with your keys.
4.
Elagon Guitar Pro Care Cleaner Kit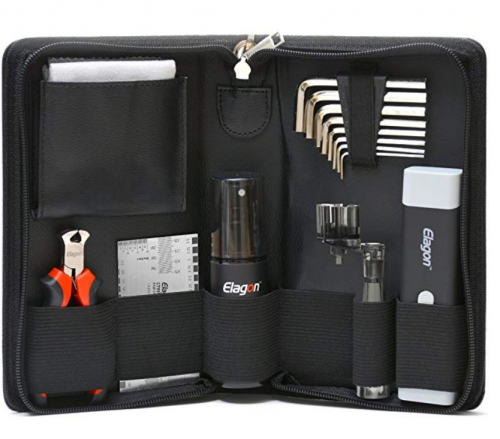 What we love the most about the Elagon Guitar Pro Care Cleaner Kit is that it comes with multiple accessories for repair and maintenance.
When you want to maintain the integrity of your instruments, you will have to clean and maintain them over the years.
Everything you could need, including lubricant, cloths, and even a string winder are included in this set. The most notable items in the kit include:
✓ Allen Keys: You will receive a set of eight Allen keys that you can use on bass and regular guitars alike. You may also find them to be useful for ukuleles and violins as well.
✓ String Tools: Guitar players will have access to a brand new pair of string cutting pliers as well as string cleaner and lubricant in stick form.
✓ Cleaning Equipment: Aside from the string cleaner, this kit also has guitar polish and a polishing cloth. Once all of your repairs are complete, you can buff the exterior of your guitar to its original brand new condition.
✓ String Action Ruler: When setting your strings, be sure to use the string action ruler to make sure everything sets appropriately.
✓ Downloadable Instructions: For more information on how everything in this kit is put to good use, there are printable instructions included with every order.
5.
Hide & Drink Rustic Guitar Pick Holder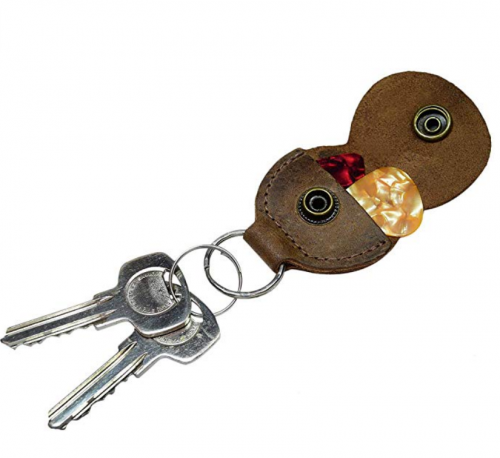 Perfect as a small gift for a friend or coworker, the Hide & Drink Rustic Guitar Pick Holder looks as fashionable as it is useful.
This item is one of the few gifts you can find for guitar players that will surely get a lot of use immediately.
Designed to hold many picks at one time, they won't ever have to worry about making a pick out of random plastic again.
With a keychain ring at the top, the leather pouch allows you to keep up to four or five picks at the same time. It is also secured with a button clasp so you can have easy access to a replacement pick.
This pouch is terrific for someone who frequently loses picks at the most inopportune times. An even better idea is to attach the pick holder to your keys or your guitar equipment.
It will help to make sure you're never caught without a pick.
6.
Art Tribute Embroidered Guitar Strap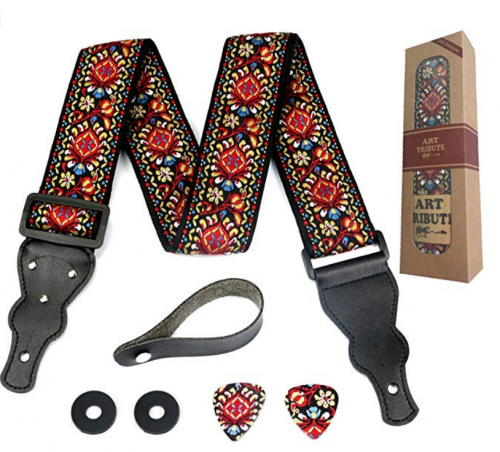 An electric or acoustic guitar isn't the same without a beautifully designed strap. Not only recommended for style, but for functionality as well, this strap has an ornate style that you aren't likely to find elsewhere.
Perfect for guitars and bass guitars, this is easily one of the best gifts for guitar players in your life.
Aside from the ornately designed strap, there are also a couple of other accessories included with your order.
You'll receive two picks, strap locks, wrist strap as well. Everything that you need for the most comfortable playing experience possible is included.
The guitar strap, however, is the most remarkable. Two inches in width, the stylish strap gives you a seamless playing experience as its design is great for years of regular use.
The strap is fully adjustable and compatible with a wide variety of guitars between 37" and 64". We love it for men, children, and women alike.
7.
String Wing Guitar Hanger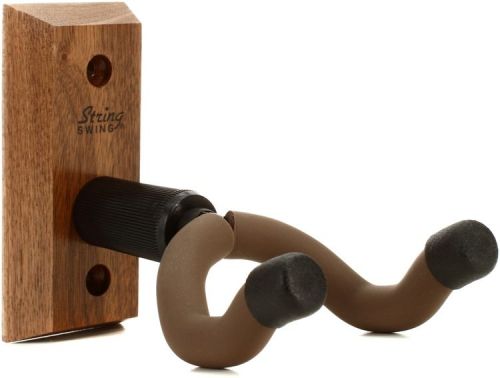 When you have amassed a stunning collection of guitars, of course, you're going to want to display them in your home.
The problem is that with pets and kids, you won't be able to keep your instruments safe outside of their cases.
With the String Wing Guitar Hanger, every player can keep their instruments off the floor and away from hazards. Their rustic and masculine appeal works perfectly with all different types of guitars.
What makes it so luxurious is that it's constructed out of real hardwood and will work correctly with any décor in your home.
With the help of the yoke pivot, the headstock of your guitar will be comfortably held without the worry of damage.
We also love the depth of the cradle that makes sure you hang your guitar correctly every time.
If you're setting up a home studio, we highly recommend buying several so that you can safely store all of your favorite instruments on the wall.
8.
Nordic Essentials Aluminum Guitar Capos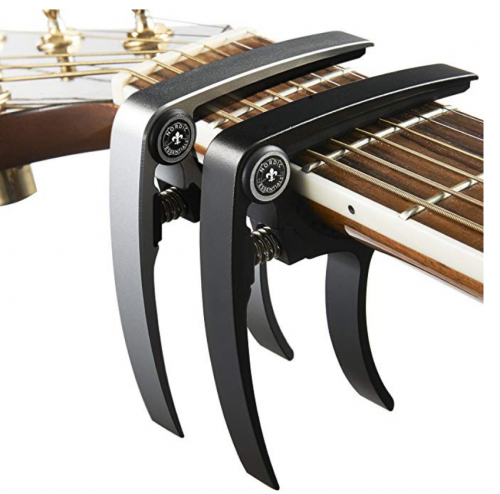 The Nordic Essentials Aluminum Guitar Capos are designed with the everyday guitar player in mind, regardless of if you use an acoustic, electric, or classical guitar.
They are also highly recommended for banjos, bass guitars, ukuleles, and mandolins. In your order, you'll receive two separate capos that you can use on the same or different instruments.
Made with premium quality materials, these capos quickly release and reposition with a single hand. You won't have to worry about knocking the tuning off of your guitar, as the adjustment process is quick and straightforward.
They are also incredibly lightweight yet still durable, as their primary material is aircraft-grade aluminum.
There are a few different colors to choose from as well, including silver, black, pink, blue, green, and bronze. Each order also receives two carry pouches for each of the capos.
The bags allow you to always have your equipment on you and store them safely in your case.

9.

The Guitar Handbook

– Ralph Denyer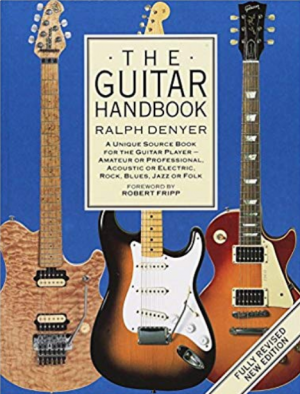 Learning the guitar can be fun on your own, but to truly improve your skills, you may want to consider reading a professionally designed handbook.
The Guitar Handbook is a fantastic resource for guitar players of every skill level. Even if you know how to play, there are a ton of tips and tricks to help you make the most of your abilities.
It's an excellent read for people who love rock, blues, jazz, folk, or acoustic music.
Many have found that this handbook is one of the most comprehensive resources you can get your hands on.
There is a multitude of full-color photos, expanded lesson sections, and plenty of information about the development of guitars over the years.
By the end of the book, you'll not only know more about guitars as a whole but an assortment of genres as well.
10.
Amazon Basics Guitar Folding A-Frame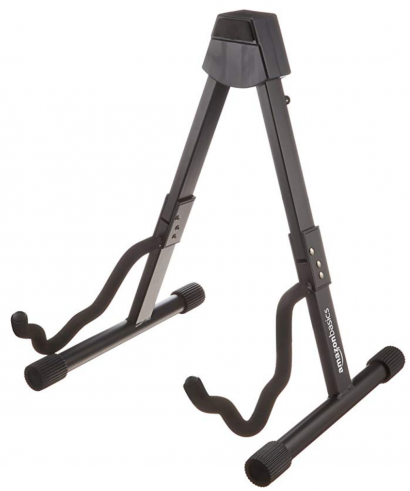 Some organization is one of the best gifts you can give to a musician, especially if they typically play their guitars in a small space.
If you're wary about storing guitars on the wall, opting for a standing a-frame guitar holder is a better alternative. We especially recommend this type of storage for kids who have just received their very first guitar.
This stand is completely universal, as it is fully adjustable in terms of width. You can use it to hold electric guitars, acoustic guitars, banjos, and more.
The three adjustable settings allow you to create a custom fit for most guitar shapes. Also, it's made from durable metal, so you won't have to worry about inadvertently damaging the guitar.
On the a-frame, you'll notice there are soft foam arms where the guitar will rest. The sleeves help to protect the integrity of the beautiful wood, regardless of how you have the guitar stored.
We also love how the entire unit can fold down flat for secure storage, and it has rubber feet to prevent slippage on hard floors.
11. Getaria 2.4GHZ Wireless Guitar System
Among the more technically-advanced gifts for guitar players, they will love the Getaria 2.4GHZ Wireless Guitar System.
This point is especially valid for when they are preparing to play gigs and need as much mobility as possible.
Equipped with a wireless receiver and transmitter, electronic instruments will have up to 2.4GHZ of uncompressed signal transmission. It also features incredibly low latency and low noise, with a range of approximately 30 meters.
With a single transmitter and receiver set, you can support up to six devices at the same time. Above all else, you'll love the built-in lithium-ion battery that is fully rechargeable, allowing you to play for longer hours.
The ¼" plug is rotatable up to 280 degrees and can be input in various positions.
Finally…
Finding the perfect gifts for guitar players can be easy, as long as you think of all of the accessories they'll need over time.
From storage to repairs, there are several items the special guitar player in your life will be able to put to good use.
Pin for later