This product is listed here: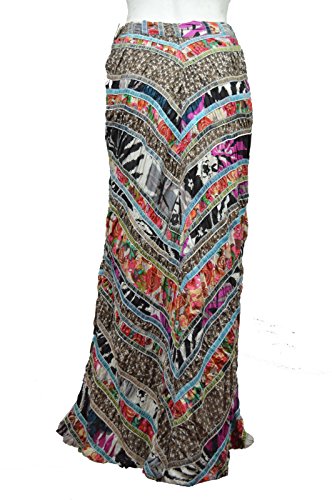 Free People Women's Dark Nature 100% Cotton Long Skirt
When choosing an outfit, one of the factors you ought to consider is durability. Will the fabric last you long enough with minimal care? Can it withstand frequent washing and ironing? These among other factors are crucial, and a little mishap can cost you money.
When buying clothes as gifts, you ought to consider the preferences of the recipient to ensure you get something they like. So, if you are looking for a gift your mom or sister will love, then this skirt from Free People will surely impress.
Detailed information about Free People Women's Dark Nature 100% Cotton Long Skirt
The skirt is made of 100 % cotton to last long while maintaining the necessary sheen. It comes as a print utilizing multiple colors for a floral look. More to this, the design features a unique pattern which makes each color stand out from the rest. It is long and can be a lovely gift for your mom or anyone that loves long skirts. The waistband is fixed and is true to the exact waist sizes available.
Also, the skirt has a hidden zipper on the back that pulls up to the waistline for a neat look. With this skirt, you can bring out a unique yet beautiful look by pairing it up with a neutral top such as white, black or any other color in print. It is super easy to dress it down, and you can wear over the weekend or a casual occasion.