This product is listed here: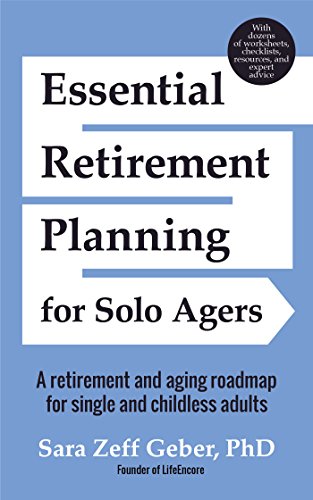 Essential Retirement Planning for Solo Agers
As retirement days approach one of the things the retiree hopes for is to have people they can count on during this time. But, it does not always go like they wish especially if they never had kids or partners. When retirement creeps in, there are quite some changes the retiree has to put up with, and this needs preparedness.
For such individuals that are single and childless, there is a handy tool that can be apart of their journey during retirement. This book compiled by Sara Zeff Geber is an essential tool to help 'solo agers' as she calls them. It can be a great gift package for a friend that is about to embark on life after retirement all by themselves.
Detailed information about Essential Retirement Planning for Solo Agers
This book is a guide on various matters that affect retiree that have no external support for leading a decent life after that. It covers essential parts of the general experience of a retiree.  Some of these include choice in housing, legal matters, relationships, and financial management. These are some of the tasks the retiree ought to manage to ensure they have the peace of mind after retirement.
Also, the book guides such people in attaining physical health, knowing their purpose and living a full life. With the great information in this book, it not only works for solo agers but anyone that is scheduled for retirement.
WHY WE LIKE IT?
Has helpful information for retirees
Focuses on essential matters affecting retirees
Easy structure and outline
WHY WE dont LIKE IT?
It is not more focused on retirees that ought to age alone
What we love about this product
The book delves deep into discussing how the retiree can secure their future without the feeling to depend on people.