This product is listed here: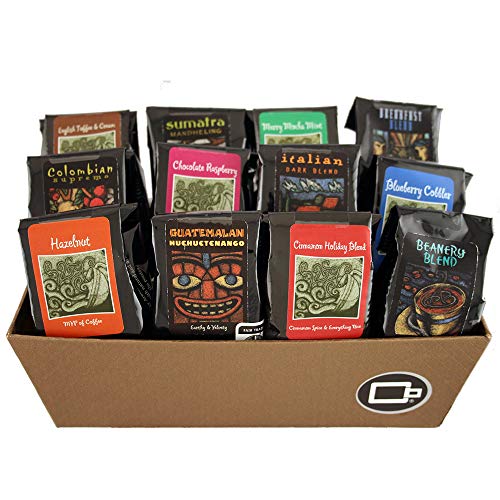 Indulgent Selection Gift Box – Coffee
There is nothing quite like coffee for bringing out the gourmet in just about everyone. There are so many different types and blends and each one is different. The differences are what makes coffee drinking so much fun. Trying out the varying flavors is what makes even the 'instant coffee' drinkers think they know it all. The only problem with trying out all the different types and blends is that the price is often prohibitive for the average person with a mortgage and all the other bills that come calling every month. That is where the coffee gift baskets come into their own.
The Indulgent Selection Gift Box by Coffee Beanery is an affordable way to get to try many different roasts and many different flavors (some of which you may not actually associate with coffee) without breaking the bank.
Detailed information about Indulgent Selection Gift Box – Coffee
The basket is filled with a selection of the best roasts, blends and flavored coffees available. Each sampler sachet gives enough ready ground coffee to make up to 8 cups. All the coffee supplied in the gift basket is freshly ground and is optimized for use with for an Automatic Drip.
Deciding which type of coffee a person likes is such a personal choice and the sampler gift box allows the coffee drinker to get to know the different type of beans and other flavors slowly and gradually and finally decide which ones he or she prefers and which ones to steer clear of.
Coffee Beanery not only provides pure coffees of different roasts, but they also blend various flavors with the coffee for a possibly unique taste experience.
WHY WE LIKE IT?
The gift box contains a delicious range of coffee roasts and flavored coffees
Each sample is enough to make a up to 8 cups
A great gift for both the connoisseur and novice coffee drinker
WHY WE dont LIKE IT?
None
What we love about this product
All the coffees are hand flavored after roasting. The flavor comes from the finest ingredients. And because their flavored coffees are all sugar-free and lactose-free, it is quite safe to indulge the taste buds without any guilt whatsoever.