Christmas Mantel Decoration Ideas: Let's Get Creative!
last updated:
Nov 10, 2020
1658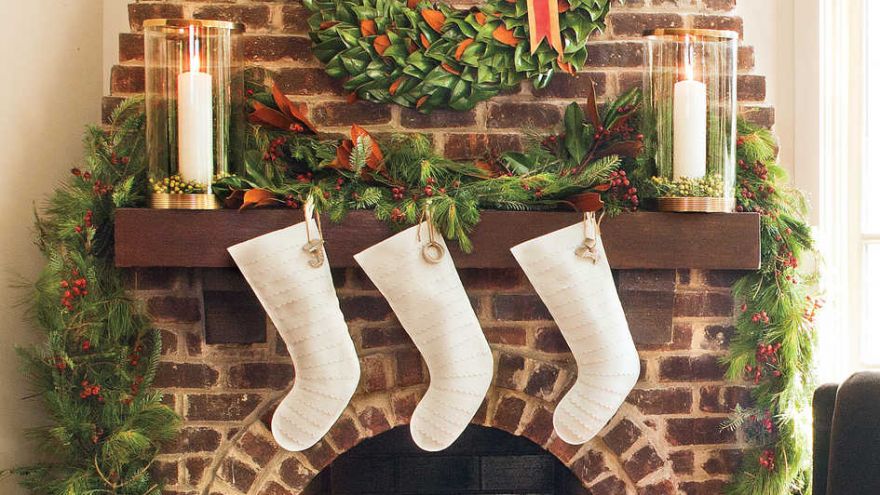 It is officially the holiday season, and one of our favorite things is to get creative with our decorations! If you aren't quite feeling in the holiday mood, there is something about getting crafty and putting together some decorations that can get you feeling festive!
Best of all, putting together some decorations is a great activity that you can share with your friends and family. Are your kids home from school? This is a great, fun way to get them involved, and the end result is some beautiful decorations!
One area of the home we feel is often overlooked when decorating is the mantel! This is typically found right in the heart of your home, and we believe it is deserving of some decorations as well! You might hang your stockings below it, but the mantel itself deserves some love as well.
If you typically stop decorating once you put up your Christmas tree, why not try decorating your mantel as well this year? It can make a big impact and really make your house feel festive and inviting!
Need some ideas? No problem! Here are some great Christmas mantel decoration ideas, and best of all, you can make these all yourself! Let's get creative!
1. The Traditional Mantel
First up, who can resist a classic, Christmas mantel setup? We know we can't. If your house is splashed with red and green all season long, this is an excellent mantel idea that you can actually put together pretty easily!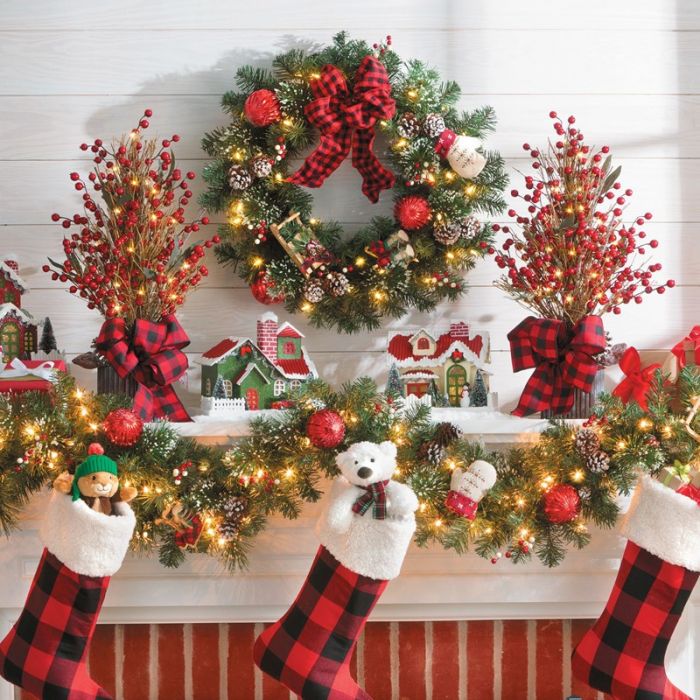 You could buy fake evergreen sprigs, but we recommend getting some real ones. Not only will they look better, it'll make your house smell fantastic! As for the top mantel decor, don't worry about spending any money, just head to your backyard and search for some varying sized branches. Paint them white and attach some berry sprigs to add in some red to the decor. Add in some twinkle lights and you've got the perfect Winter Wonderland display!
2. Fun with Frames
We thought this next idea was such a clever way to come up with such a festive mantel display! All you need are some old pictures frames and some spray paint. Either use some old frames of yours, or consider going to a thrift store to purchase some for cheap. Mix in some fun ornaments and some evergreen sprigs for a bright, fun mantel display. We can't help but think this particular display looks a bit like something out of Whoville in the best possible way!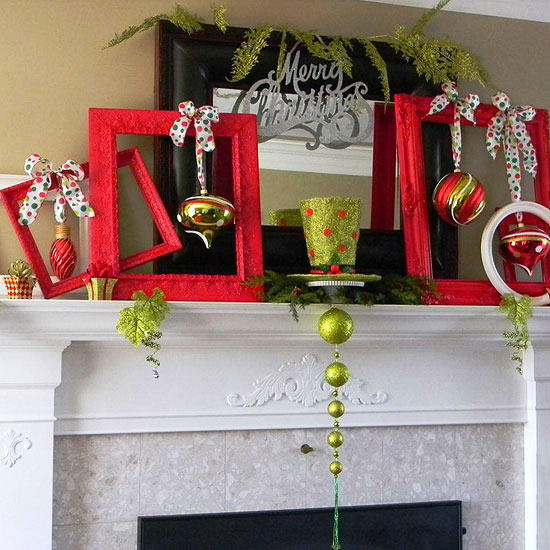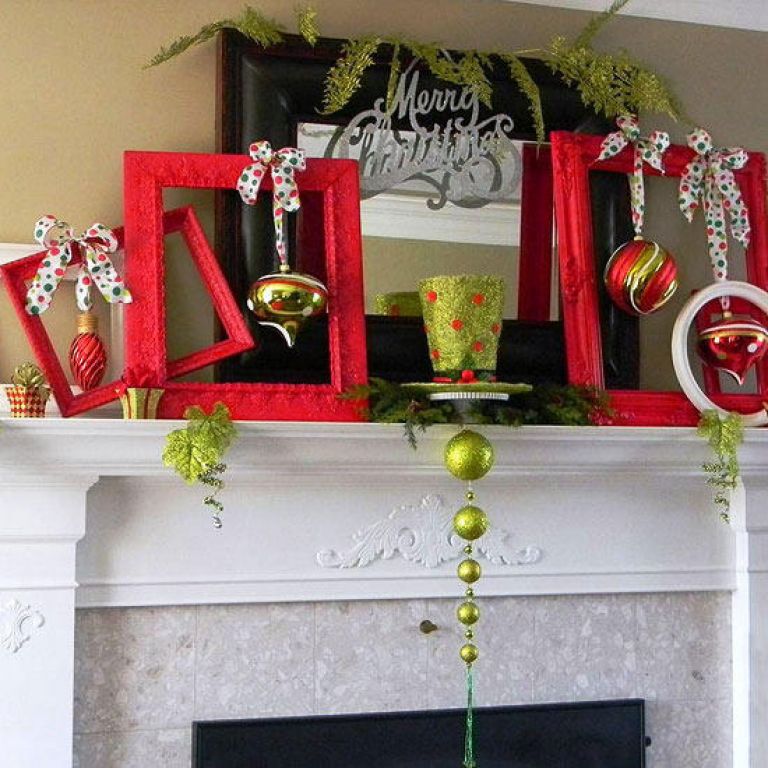 If you want a fun, festive mantel display, try out this setup! Best of all, it is fairly easy and won't take much time to complete, perfect if you are running a bit short on time during the busy holiday season.
3. Let it Snow!
We are noticing that quote wall art is everywhere these days. If you are in love with this trend, you can easily adapt it to fit the holiday season! We love this modern, yet traditional mantel display. The focal point is of course the three canvases that say 'Let it Snow.' You could choose to order these canvases, but we personally think it would be much more fun to make them on your own!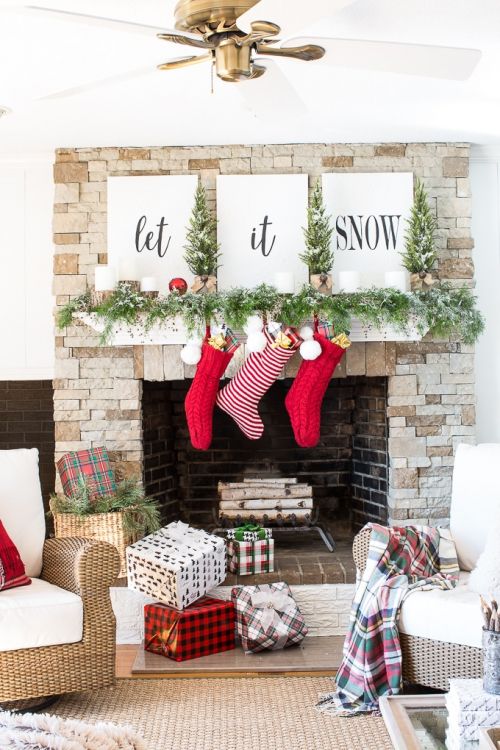 All you need are 3 canvases and some black paint and a brush. If you want, consider writing out the words first in pencil to have a guide to follow, or just freehand it and see what happens! Don't worry about it being perfect- in fact we think it looks better if it looks handmade, it is much more personal and inviting!
In addition to the canvases, add in some greenery in the form of evergreen branches and a few small Christmas trees. Add in some red with some ornaments and your stockings, and that is it! Simple, festive, and unique!
4. Bright and Fun
If you have young kids, this next mantel display is sure to be a hit at your house! Instead of sticking with the traditional red and green colors, why not go with fun bright shades like pink, orange, and turquoise! We absolutely love how youthful and fun this mantel display looks.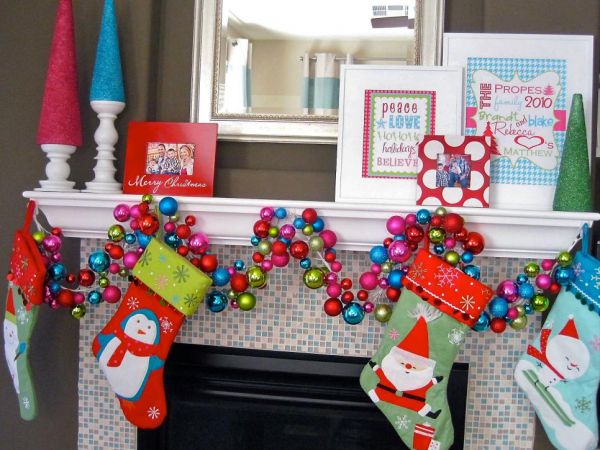 In particular, the colorful garland is easy to make and will make such a big impact. Using some wooden veneer sheets you can easily cut out your circles and attach them to some string. Either paint the sheets or cover them with colorful cardstock! Best of all, you can easily reuse this garland at other events like birthday parties, so it is worth your time to make it!
5. The Modern Garland
If you like to keep things simple and more streamlined, we love this modern take on a Christmas garland! Who says you have to use greenery? Use ornaments instead for a fun, modern piece of decor that will look fabulous as part of your Christmas mantel decorations!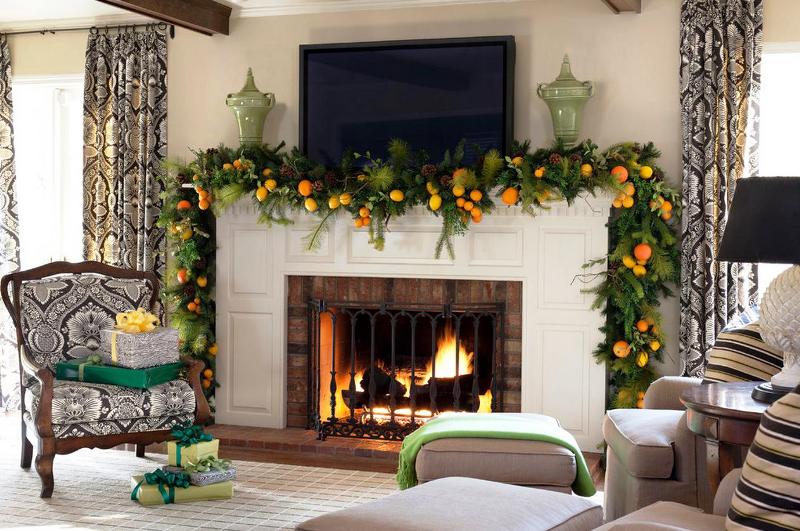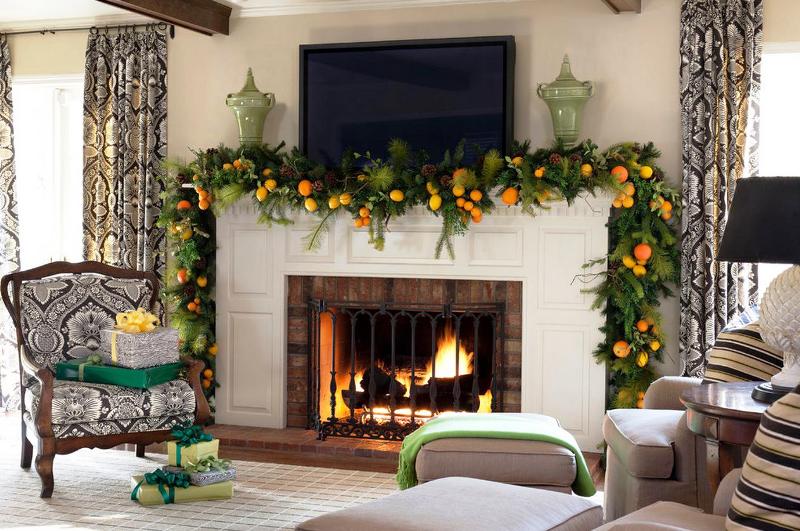 Best of all, you can easily customize this garland to fit any existing decor or color scheme that you want to work with. Go all monochromatic, mess with metallics, stick traditional with red and green, or pick something non-traditional! Combine this garland with some other more sleek decor for a more modern look. Mini Christmas trees add that perfect touch of greenery to this mantel look, and we just love it!
6. Farmhouse Chic
Finally, if you feel like channeling your inner Chip and Joanna Gaines this Christmas season, why not go for a totally rustic, farmhouse chic look for your mantel decor? We absolutely love this look and think it is perfect for anyone who wants to do things a bit different this year.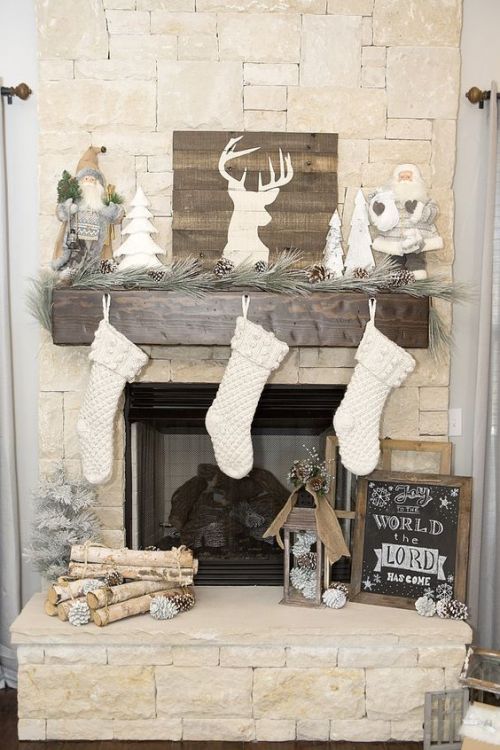 Start off by gathering some gorgeous plaid stockings (or make your own) and accessorize with some simple greenery, candles, and of course- a chalkboard! This is a great way to really put a personal touch on this decor. Stick with the classic 'Merry Christmas' or customize to say something unique and special to your family. Best of all you can let you kids help with this (what kid doesn't like playing with chalk?) and even better, you can swap out the messages all season long!
Get the full tutorial here: Posh Pennies
Wrapping Up
So there you have it! Are you feeling festive now? We love focusing on the mantel and really getting creative with our Christmas decor. Hopefully these mantels have given you some great inspiration so that you can go decorate your own home now!
What is your favorite part of decorating for Christmas? Let us know! And Merry Christmas!
Pin for later