This product is listed here: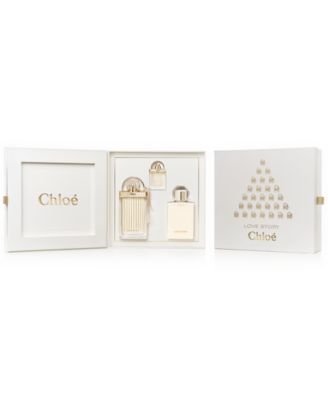 Chloe 3-Pc. Love Story Gift Set
When going on dates, it is a known fact that women take their time getting ready. To us, putting on makeup is an art form, choosing the right dress can make or break the night and lastly, picking the right perfume seals the deal. All this hard work for a night to remember with you, their husband, boyfriend or suitor. These date nights are always something to look forward to, especially if you have been together for a long time.
Having said that, wouldn't it be nice to show your appreciation for their labor of love by gifting them something they can wear the next time you're out? We think it is a good idea, so we bring you the Chloe 3 piece Love Story Gift Set.
Detailed information about Chloe 3-Pc. Love Story Gift Set
This extravagant set includes the Eau De Parfum Spray and Body Lotion in their full sizes – 2.5 oz and 3.4 oz respectively – and a Deluxe Miniature.
The perfume itself is filled with symbolism like you couldn't believe. The bottle is inspired by locks – but not just an ordinary lock. In what is considered one of the most romantic places in the world, Paris France, exists the Pont Des Arts bridge, where lovers from all over the world leave locks on its chain fence, symbolizing their eternal love.
WHY WE LIKE IT?
Beautiful packaging
Set includes two full sizes of the perfume and lotion and a bonus miniature
Floral notes consisting of Jasmine, Orange Blossom, Cedarwood and more make up the perfume
WHY WE dont LIKE IT?
None
What we love about this product
The set has a lovely, floral fragrance that evokes sensuality and feminine strength, very much like what fashion house giant Chloe has always envisioned the Chloe woman to be.