10 Best Running Headphones We Swear By!
last updated:
Jul 22, 2019
3744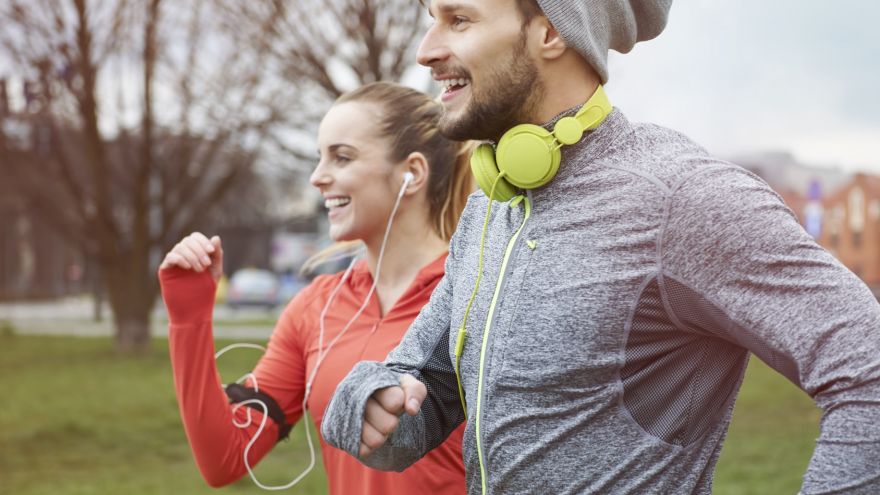 Running or exercising can be a solitary affair. For some people going for a run can be a useful way to think through problems, or clear the mind for the day ahead. But most of us don't have that sort of discipline and find pounding the pavement as dull as a treadmill. One way to alleviate the boredom is to listen to music or the radio while putting in the miles with the best running headphones.
Since the first cassette Walkman arrived in the early 80s, music players have got smaller and lighter, so running with one is no longer like carrying a brick around with you.
And, of course, nowadays our music player is our phone, and camera, and access to the internet. But what gets the sound to our ears hasn't progressed much since; we're still faced with two basic options, full-size headphones or earbuds.
Manufacturers are now catering specifically to the running community with new features that are specific to people who exercise regularly.
The latest innovations include heart rate monitors and artificial intelligence personal trainers to help you get the most out of your running. We have compiled a list of the top 10 best running headphones on the market.
Check out our reviews and choose your favorite.
Our 10 favorite running headphones!
1.VAVA MOOV 28 Headphones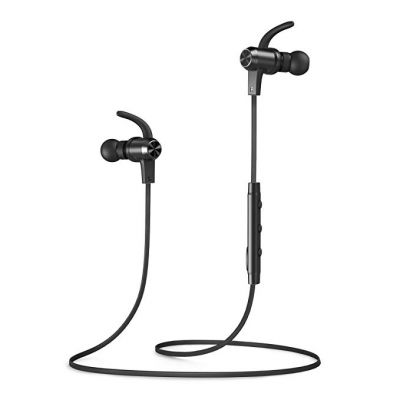 You probably can't get more basic than the Vava Moov ear bud headphones, but at a budget price what can you expect. To make sure the earbuds reach deeper into the ear so they don't fall off when running, an ergonomically designed angled clip holds them in place.
The headphones meet the IPX6 standard of being splash proof thanks to the nano coating which means they will function in light rain or if you are breaking out a sweat. The buds have built-in magnets, so they can be locked around your neck as a secure way to carry when not in use.
The large battery in the headphones take two hours to charge fully, and the Bluetooth 4.2 technology means that power consumption is reduced, so they can stream music for up to nine hours.
2. 66 Audio BTS Pro Running Headphones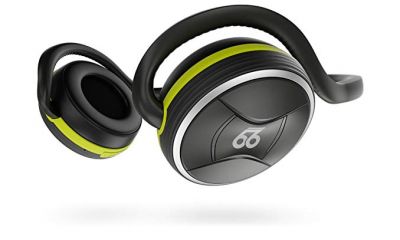 These over-the-ear headphones have an exceptional specification that makes them stand out as one of the most attractive for any runner. The battery life of over 40 hours outperforms most of the Bluetooth headphones on the market today, couple that with a wireless range of 125 feet, then these headphones are truly record-breaking.
Most Bluetooth headphones can cope with about 30 feet, but the aptX 3D antenna technology means you can move further away from your mobile device, making it very handy for sessions at the track. None of these impressive statistics stops the headphones having a quick 90-minute recharge time.
The BTS Pro headphones come with built-in Amazon Alexa, and 66 Audio's own ActiveVoice recognition so that you can use your voice to chose your favorite music using Alexa.
An app for iOS, Android and Apple Watch, means you can directly control the sound quality from your linked device.
3. Aftershokz-Trekz Titanium Mini Wireless Headphones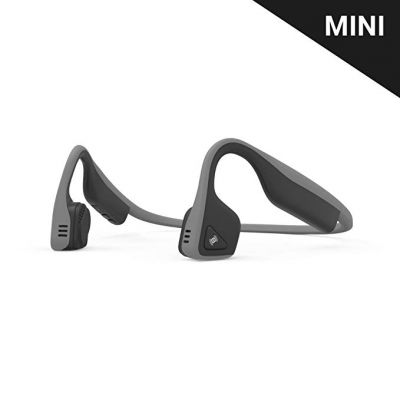 Running can be a lonely business, and when you are wearing headphones, you can become even more isolated. Cocooned in your own world, it can be dangerous if you are running on streets or late at night.
These bone conduction headphones for running allow you to hear your music and the world around you at the same time. The bone conduction technology allows the sound to be transmitted through your cheekbones, with your ears open to the sounds around you.
The wireless headphones use Bluetooth 4.1 technology to link to any iOS or Android device. They're lightweight and with a flexible headband are designed for long-time wear. Once fully charged the headphones will play music continuously for six hours.
The Trekz Titanium Mini has IP55 sport headphone certification, which means they will repel dust, moisture, and sweat during workouts or long runs.
For runners who race, these headphones are legal to be used during a competition in some countries, as they allow you to hear the commands of marshals and the traffic around you.
4. Jabra Elite Sport Waterproof Fitness & Running Earbuds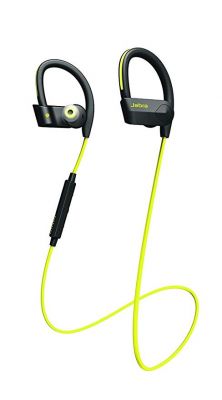 Without a cord connecting the two earbuds, the Jabra Elite Sport Earbuds are truly wireless. What makes them different from lots of other wireless earbuds is the Hear Through technology that allows the user to set how the buds filter out ambient sounds.
This means that at a push of a button you can pick up the surrounding noises as well as your music, making it safer when running in busy urban environments.
Either earbud can be used for making or receiving phone calls, and with two microphones in each unit, it means noisy background sounds are filtered out for the person on the other end.
The earbuds have been certified to IP67 standard so are water-resistant, although they are not recommended for swimming. With just four and a half hours of battery life on a full charge, the time available to listen to music is a little disappointing.
The charging case provides an extra two full charges giving another nine hours of listening pleasure. With a built-in heart rate monitor and accelerometer, connection to the companion app means it can enhance your workouts.
5.Jaybird X4 Wireless Sport Headphones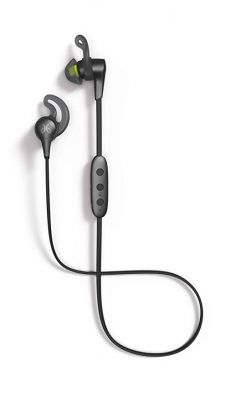 The Jaybird X4 Wireless Sport headphones are an updated version of the popular X3 model. What makes them more attractive to runners is that the headphones are now waterproof to IPX7 standard, rather than just being sweat-proof, so are good to go out in all weathers.
They come with a comfortable sport fit for the ears, which keeps them safe and secure whatever exercise you are doing. Once fully charged the headphones have an eight hour wireless playing time.
Ten minutes of charging will give you an hour of playback. The MySound app for your device provides the user with greater control over the sound giving customized equalization for the highest audio quality.
6. KuaiFit Sport Headphones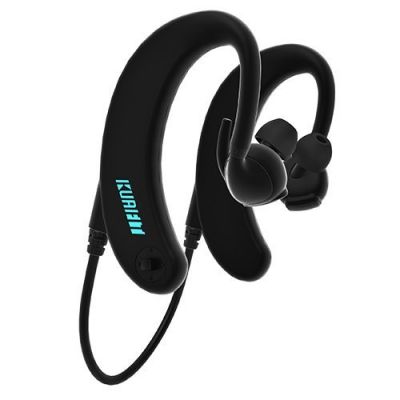 Sometimes when you go running, cycling or visit the gym, the last thing you want is to be disturbed by phone calls. These headphones allow you to leave your phone at home and still have the technology to get the most out of your fitness regime and enjoy every minute of it.
Everything is integrated into the headphones, so you do not need another device. Not only is there an MP3 music player with 8GB of memory, but there is also a heart rate sensor, and an activity/fitness tracker.
It can be linked to bike sensors, power meters and sports watches using Bluetooth technology, creating your own real-time running coach. The sensors allow the headphones to accurately measure your heart rate, your speed and distance traveled, along with the calories used, and cadence.
KuaiFit headphones come with two months of training programs compiled by Olympic athletes for running and cycling preloaded. Additional plans can be downloaded as well as plans for other sports from the KuaiFit platform.
Your training data can be stored on a mobile device using the KuaiFit app for iOS and Android. With all this going on a full battery charge will last seven hours, which is quite acceptable.
7. Bose SoundSport Free Truly Headphones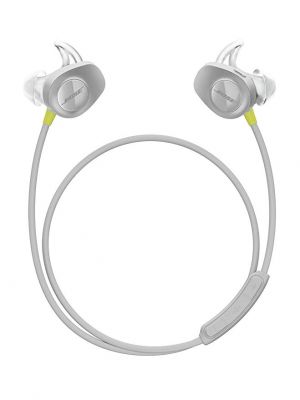 Bose products are known for producing a big sound from small products, and the SoundSport Free continue that tradition. They offer total freedom of movement with no encumbering wires, with the latest technology, and some of the most powerful and clear sound available.
The earbuds have an IPX4 rating and are sweat and weather-resistant, and come with three styles of tips so they will be comfortable in the ear. Each pair comes with its own carrying case and recharge unit.
They will play for five hours before the lithium-ion battery needs recharging. The case can give another two charging cycles before it too needs to be recharged and plugged into the mains supply.
The headphones connect to any iOS or Android device with NFC (Near Field Connection) technology and are good within 30 feet of the device. Because they are so small, the Bose Connect App has a great 'Find My Buds' feature so you should never lose them.
Bose offers regular firmware updates through the Connect app.
8. Powerbeats3 Wireless In-Ear Headphones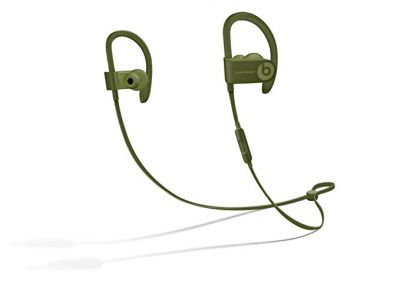 Beats have been pumping out headphones for all kinds of situations, and these are designed with the athlete in mind. What makes these headphones stand apart from the others are the excellent battery life and the short recharge time.
A full charge lasts 12 hours of playing time, long enough even for the slowest marathon runner. The Fast Fuel system gives an hour of playback with just five minutes of recharging.
They are sweat and water-resistant so can handle you pounding the pavements in a rain shower short of a monsoon. The Powerbeats3 incorporates Apple's W1 chip which makes pairing with Bluetooth to any iCloud linked device a doddle.
At the same time, it boosts the wireless range so you should have no problem connecting to your preferred device.
9. JBL UnderArmour In-Ear Headphones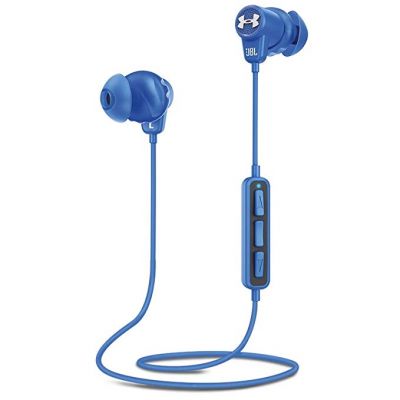 The well-respected speaker manufacturer JBL has teamed up with UnderArmour to produce an elegantly designed in-ear headphone created especially for athletes. The object has been to make the earbuds comfortable and secure during even the most rigorous training programs.
When the battery is fully charged it will last up to eight hours of continuous use, long enough for even the most strenuous of workouts. The exclusive use of JBL's premium dynamic speaker drivers means the user gets a big intense sound with pure bass response.
A built-in heart rate monitor allows the user to constantly monitor their progress. Tapping the right earbud summons a voiced progress update.
Bluetooth technology is used to link the headphones to your iOS or Android device, and the three-button microphone can handle calls and the volume of the music.
10. VI Sense Wireless Headphones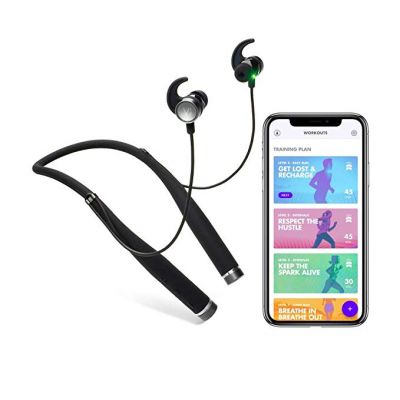 Less a pair of headphones and more a training coach, the VI Sense wireless headphones bring more than sound to running and workouts. These award-winning headphones are also a wireless fitness tracker with AI coaching.
The Harmon Kardon speakers provide beautiful music and are linked to biosensors that detect the heart rate, motion, proximity, elevation and touch, and won the 2018 iF Packaging design award.
The headphones link to the Vi Trainer app providing customized AI training programs. The AI checks your body temperature and heart rate and adapts your goals to your fitness level.
If you are near a personal best, the Vi headphones will encourage you on. It learns your effort levels and offers feedback to improve your pace and challenges you to match your running cadence with a beat. It even takes into consideration the weather and the track conditions when offering advice on improvements.
The headphones can take voice commands if you want to know details such as your heart rate. Users get 12-months free access to the AI-based training programs through the Vi Trainer app, and after that, it is available on a monthly subscription.
Even with all this going on you can expect eight hours of battery life from a single charge.
Pin for later