Best Bird Watching Binoculars Tested by Our Team of Bird Lovers
last updated:
Jun 23, 2019
1646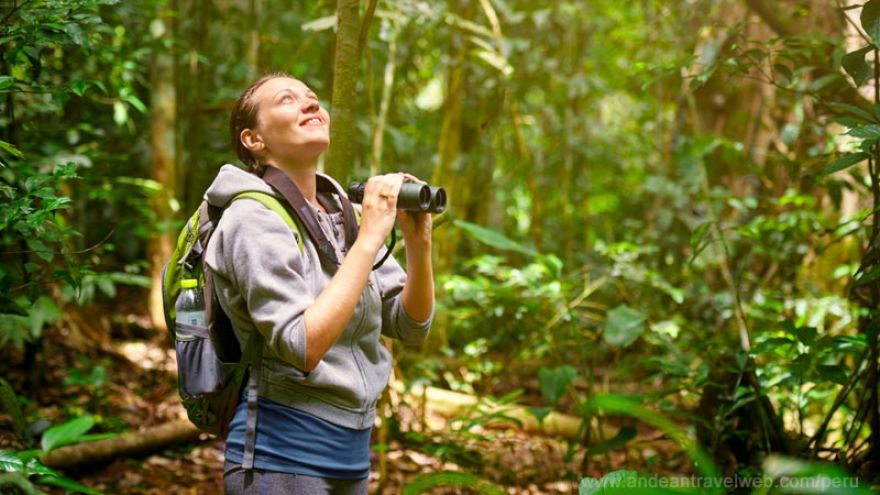 For many, bird watching is more than an extracurricular activity, it can sometimes be seen as a part of your everyday routine. Although our eyes are useful for seeing wildlife up close, they're not as useful when it comes to spotting new and interesting birds hundreds of feet away. With that said, getting your hands on some of the best bird watching binoculars is of the utmost importance.
We've found six different models you'll want to consider for at-home use or your next outdoor excursion.
Best Bird Watching Binoculars Under $50
These two pairs of binoculars are very powerful and available for under $50, which makes them a great option for beginners or first-time users.
1. Adorrgon Roof Prism Binoculars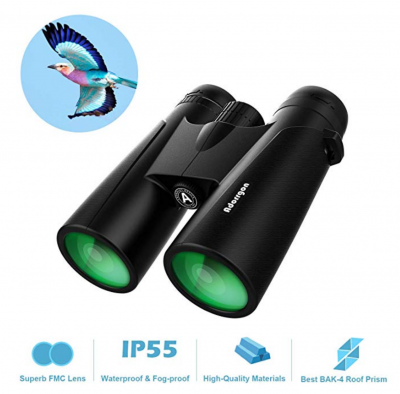 The most notable features include:
12x Magnification: By using these binoculars, you'll be able to experience things up to 12x more magnified than what you'd see with the naked eye. They also feature a 42mm objective lens and a 367-foot field of view.
HD Optics: The large 16.5 BAK-4 Prism and multi-coated objective lens help you to see things far brighter than with lesser binoculars. Birds will be substantially crisper.
Convenient: There are plenty of convenient features including an anti-slip grip and an overall lightweight body. In addition, you'll notice the outside of the binoculars is coated in a rubber armor to offer optimal shock-resistance.
2. Occer Compact Binoculars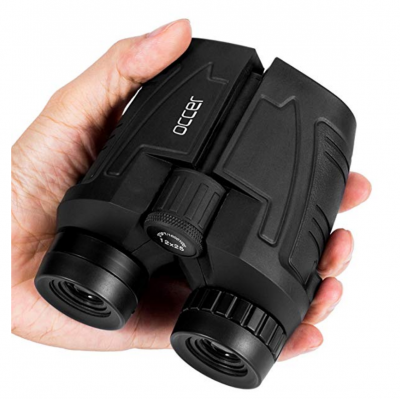 If you're looking for a pair of binoculars that you can easily keep in your pocket or stow away in your bag, these are a fantastic and inexpensive pair to consider.
The best features include:
High-Powered: With 12x magnification and a field of view at 1000 yards with a 25mm objective lens, you'll not only be able to see farther, but wider as well.
Coated Lenses: With a BAK-4 Prism and FMC Broadband coating, you'll be able to experience brighter and clearer images.
Adjustable Eyecups: With the Occer Compact Binoculars, you can easily adjust the eyecups to make them easier to use with or without glasses.
Weatherproof: Regardless of if you use the binoculars in rain or shine, you can guarantee they won't be damaged. They are constructed using ABS plastic and rubber armor, making them waterproof and shockproof.
Best Binoculars for Bird Watching Under $100
If you're searching for a gift for a friend or family member, we highly recommend these two pairs as they are above $50 but still under $100.
They are also recommended for intermediate bird watchers who want to upgrade from an inexpensive pair of binoculars.
1. Gosky Roof Prism Binoculars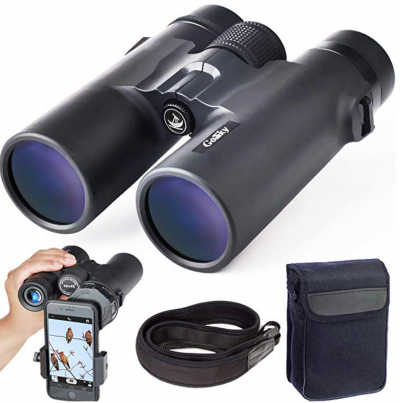 The Gosky Roof Prism Binoculars are one of the most popular pairs of binoculars you'll find online. They're highly recommended for bird watching, stargazing, and even concerts.
The best features of these binoculars include:
10x Magnification: These binoculars offer up to 10x magnification, which should be more than enough for viewing wildlife in your immediate area.
High-Quality Optics: There are multiple layers of green film over the objective lens and it is 42mm in size. On the 18mm eyepieces, there is a blue film to give you brighter and clearer viewing.
Smartphone Mount Included: If you don't want to hold the binoculars to your face, you can easily take advantage of the included Grosky smartphone mount.
This mount attaches to one of the eyepieces and will show whatever the binoculars are looking at through your phone's screen. You can then take pictures and screenshots with ease.
Included Accessories: There are also plenty of accessories included with the Gosky Roof Prism such as a neck strap, lens protection covers, a cleaning cloth, and a carrying case.
2. Gosky Titan Prism Monocular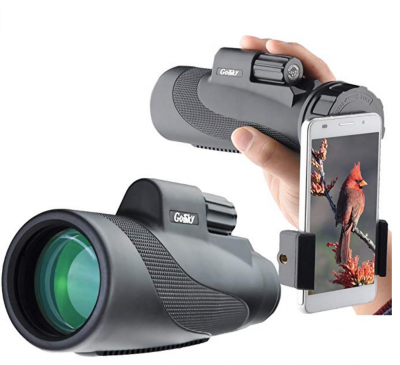 Instead of using binoculars, there's also the opportunity to use a monocular, which can be preferable in many situations.
With an innovative and convenient design, the best features of the Gosky Titan Prism Monocular include:
12x Magnification: With 12x magnification, you'll be able to see plenty of wildlife and you'll also be able to reap the benefits of the 50mm objective lens.
Quick Alignment Smartphone Holder: Similar to the previous pair of binoculars we discussed, this monocular offers a quick alignment smartphone holder. When your smartphone is installed, it will quickly align the lens to your phone so you can view wildlife easily.
BAK-4 Prism: On the inside of the lens, you'll appreciate the multiple lens coatings as well as the BAK-4 Prism, which is perfect for letting the ideal amount of light into the lens for crisper images.
Durable Build: With the solid framework and the shock absorbing armor on the outside of the monocular, you don't have to worry about dropping the device and it shattering. It's also waterproof and dust-proof with the help of the nitrogen-filled and O-ring sealed optics.
Best Bird Watching Binoculars Over $100
If you're interested in splurging on a great pair of binoculars, we have two models that you need to take into consideration.
1. Wingspan Optics Skyview Ultra HD Binoculars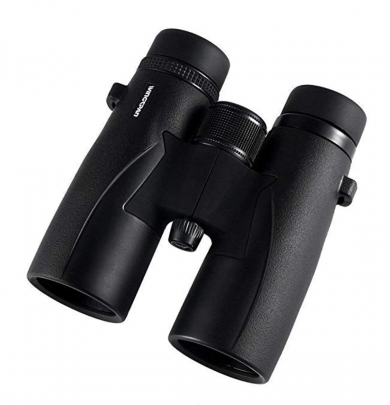 Designed for a better and brighter bird watching experience, the best features of the Wingspan Optics Skyview Ultra HD Binoculars include:
ED Glass: These binoculars are specifically designed for bird watching, which means they have an assortment of features you'll benefit from, including ED glass. The newly added glass gives the binoculars a higher level of power. It reduces chromatic aberration, providing cleaner and brighter images.
Phase Correction Coated Prism: Colors will pop through the lenses similar to how they appear to your naked eye. With the fully multi-coated lenses, you'll have the brightness and color fidelity you'd expect from a high-quality pair of binoculars. The 42mm multi-coated lenses also give you up to 8x magnification.
Durable Build: With the nitrogen purged optics, these binoculars are fully waterproof and fog proof. They are obviously built to last through years of use in a wide variety of rugged environments. You'll also love the DuraTech technology that keeps the binoculars lightweight.
2. Nikon 7576 Monarch 5 Binoculars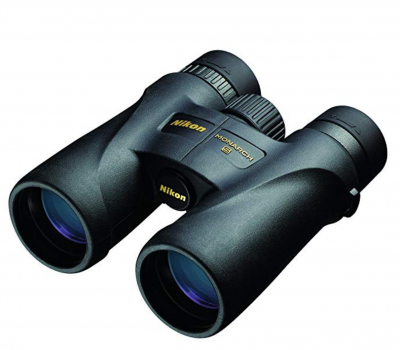 As the final and most expensive pair of binoculars on this list, the Nikon 7576 Monarch 5 Binoculars are the most prestigious as well. If you're simply looking for a high-powered pair of professional binoculars that work perfectly every time, this is a pair to consider.
The best features include:
Nikon Premium ED Glass: With the addition of the premium ED glass, you'll have a far brighter and more brilliant field of view.
Multicoated Eco-Glass: The lenses on these binoculars are multi-coated eco glass to assist with high light transmittance across the entire light spectrum.
User-Friendly: There is an assortment of user-friendly features added to the binoculars, such as adjustable eyecups, flip down lens caps, and a central focus knob.
Durable Build: Similar to other high-end binoculars, the Nikon 7576 Monarch 5 are built with every type of activity in mind. They have a rubber armored body and are designed to be both waterproof and fog proof.
Out of these six pairs of the best bird watching binoculars, you'll easily be able to find the perfect pair for your next bird watching excursion.
From high-end pairs such as the Nikon 7576 Monarch 5 Binoculars to lower end binoculars that still offer a clear field of view, there are plenty of options to consider.
If you are looking to get a pair of binoculars as a gift for a bird watcher, check our gift guide for bird lovers.
Pin for later