The Best Autobiographies to Give the Person in Your Life Who Loves to Read a Good Book!
last updated:
Oct 15, 2019
1791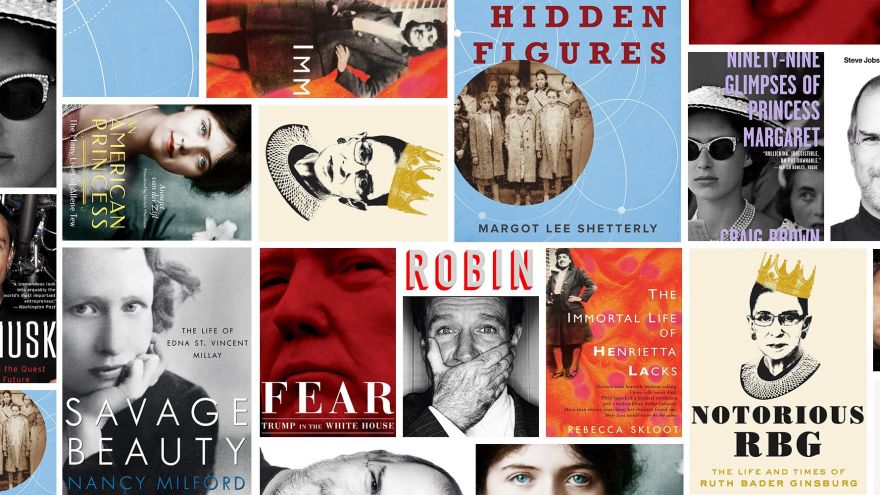 The best autobiographies not only teach you more about a person, but also help you to understand their livelihood, their struggles, and their successes.
With that said, they are a fantastic gift for someone who enjoys reading, as it is written in a non-fiction narrative with truth and realism.
There are several biography books you can find online that will open your eyes to the truth behind people you've never known. Below are our top-rated autobiographies from big names ranging from Phil Knight to Betty White.
Our Best Autobiography List!
1. Shoe Dog: A Memoir by the Creator of Nike – Phil Knight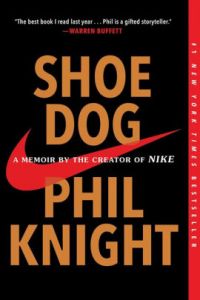 This book is perfect for a reader that is interested in learning how one of the biggest names in the athleticwear industry rose to success.
Written by Phil Knight, this autobiography explains how fifty dollars can go a long way. After borrowing the money from his dad in 1962 to start a shoe company in Japan, Knight went on to create a multi-billion dollar company.
Compared to other major business owners, Phil Knight is somewhat of an enigma that many people didn't know much about.
In his autobiography, it brings you through the risks and setbacks he went through. These events include the most significant triumphs of his career, as well.
You'll read about the relationships he has had with employees and partners and how a group of like-minded individuals created a showstopping brand.
2. Upstairs at the White House: My Life with the First Ladies – J.B. West, Mary Lynn Kotz
We all know about the White House, but there are very few people who know about what happens inside of the White House.
Upstairs at the White House is a New York Times' bestseller, and it gives readers the ability to learn about three decades of presidents and their families.
Written by J.B. West, the chief usher of the White House, he had the responsibility of planning playgrounds, parties, funerals, and weddings, among many other things.
During his time inside, he experienced national triumphs and crises alongside the first ladies and the presidents.
What we found to be most interesting is that West was once called "one of the most extraordinary men I have ever met" by Jackie Kennedy herself.
This experience truly is a once in a lifetime look into what life is like while married to a president. You'll also get a peek inside the responsibilities and choices of a first lady.
3. The Hiding Place – Corrie Ten Boom, Elizabeth Sherrill, John Sherrill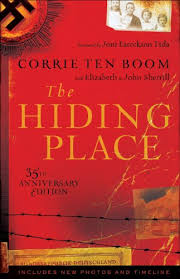 The Hiding Place is a remarkable autobiography from Corrie Ten Boom, who was a Dutch watchmaker during Hitler's rise to infamy.
As a significant part of the Resistance and someone who survived concentration camps, it's a harrowing look at what life was like during World War II.
While risking her life assisting Jewish underground workers to escape Nazis, among many other things, she survived to tell her tale.
This autobiography will teach you a lot about human compassion, hatred, and some of the most challenging decisions someone might ever have to make.
It also has an evangelistic twist on it to teach readers that God's love is ever-flowing. Also, that His power has the ability to heal, restore, and help you to overcome.
4. The Girl with Seven Names: A North Korean Defector's Story – Hyeonseo Lee, David John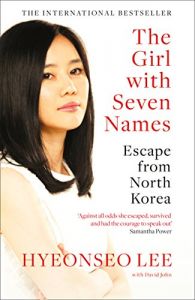 Out of all of the autobiographies on this list, we found The Girl with Seven Names to give the best insight into a highly secretive regime.
North Korea is known to be one of the most ruthless dictatorships, especially if you become a defector. Since birth, Hyeonseo Lee was trapped inside of said regime; however, her home was on the border of China.
This experience gave her a more in-depth insight into what the world is like beyond the walls of North Korea. This information begged her to question, what else is out there for me?
Once she turned 17, she decided that it was time to explore what the world had to offer. However, this would require her to escape.
Little did her family know that they would see her for another 12 years because being a defector is one of the worst crimes in the country.
The Girl with Seven Names is an incredibly interesting read as it revolves around the story of Lee's unforgettable time avoiding repatriation into a communist regime.
5. If You Ask Me: (And of Course You Won't) – Betty White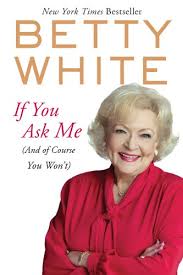 As one of America's sweethearts, who wouldn't love to learn more about Betty White and her incredible life? If You Ask Me is a fantastic autobiography that is much lighter than the previous ones, we've discussed this far.
Readers will be brought through the life of seven-time Emmy winner Betty White and her candid thoughts on absolutely everything. From romantic love to aging to even animals, her observations fill every page.
With a stark focus on the past 15 years of her life, you'll see Betty White's opinions on many things. Including a Facebook campaign that landed her on Saturday Night Live and her rumored crush on Robert Redford.
6. Inside Out: A Memoir – Demi Moore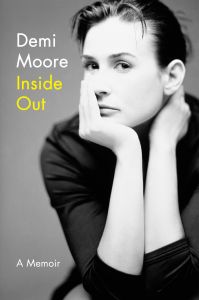 If you've been on social media in the past few weeks, you've likely heard a lot about Demi Moore's autobiography.
You've especially heard things about her relationship with Ashton Kutcher. Inside Out is an intimate look into the life of one of Hollywood's most stunning actresses.
From her high profile relationships to living in the spotlight for her entire career, there is a lot to be learned about Demi Moore.
In Inside Out, she discusses how she tackled childhood trauma, body image issues, and even addiction throughout her years.
All while trying to maintain her A-list celebrity status and being thrown into the spotlight with every feature film.
You'll learn a lot about dealing with adversity, overcoming personal hurdles, and just how difficult it is to balance home life with a work-life in Hollywood.
Many have found that this is one of the most honest portrayals ever seen in an autobiography.
7. In Pieces – Sally Field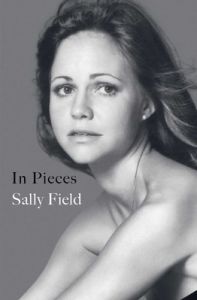 Similar to Betty White, Sally Field is frequently looked upon as one of America's sweethearts.
In this remarkable autobiography, she discusses the brilliant journey that led her to become one of the most notable names in show business.
Readers will be brought through her experience of being cast for the first time at 17 to the Oscar-worthy characters she has played in the past. You will also get a more in-depth look into the woman behind the mask, who Sally Field is.
What we love the most about In Pieces is that it feels exceptionally raw and honest, which might not be the case for any other autobiography from someone of this status.
She approaches every page with a lot of authenticity and humility that has made her as famous as she is today.
Above all else, she explains the truth behind her relationships, even the complicated type of love she had with her mother.
As a compelling read, this is one of the best biography books to buy for a loved one.
8. This Will Only Hurt a Little – Busy Philipps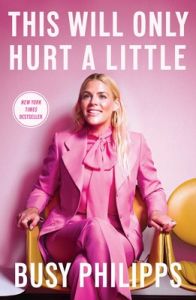 Known for her fantastic roles on Cougartown, Freaks and Geeks, and Dawson's Creek, Busy Philipps also has her collection of autobiographical essays.
If you follow her on social media, particularly Instagram, you know that Busy is one of the most iconic and honest people in Hollywood today.
This Will Only Hurt a Little is no different, as it's a collection of essays written about her life in striking detail and brutal honesty.
She discusses what life was like as a teenager while living in Scottsdale, Arizona, to becoming a working mother and best friend.
If you're looking for one of the best autobiographies that will make you laugh, we highly recommend this one. It's filled with wry humor and is written in the perspective of someone who isn't afraid to bare it all.
9. Long Walk to Freedom: The Autobiography of Nelson Mandela – Nelson Mandela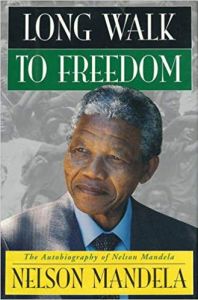 As one of the most revolutionary voices of our time, Nelson Mandela is a name that will never be forgotten.
He is an international hero who fought against racial oppression while in South Africa, which inevitably ended in him winning the Nobel Peace Prize as well as the presidency.
After being in prison for nearly a quarter of a century, Nelson Mandela has been at the forefront of some of the most substantial political drama in history.
While being the head of South Africa's anti-apartheid to the president of the African National Congress, he has seen plenty of things that need to be shared with the world.
His efforts to pass the multiracial government and majority rule moved mountains not only in South Africa but in plenty of other countries around the world as well.
His name is frequently looked upon as one of the most inspiring names in the fight for racial equality and human rights.
Long Walk to Freedom is a detailed autobiography that brings readers through the deep and dark waters that Mandela had to wade through himself.
From his upbringing to a life of ultimate triumph and terrible setbacks, it truly is an inspiring read. This tale is one of the few biography books that we would recommend everyone should get their hands on.
10. A Life in Parts – Bryan Cranston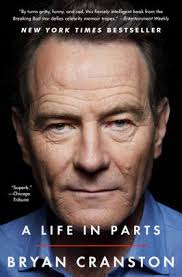 You've likely seen Bryan Cranston in some phenomenal movies and television shows, such as Breaking Bad. A Life in Parts is a riveting memoir from one of the most successful names in Hollywood, who started his path to acting at the age of seven.
Cranston landed his first role through his father, a struggling actor, to be in a United Way commercial. After that experience, he quickly became enthralled by the idea of acting.
Spending all of his time at the local movie theater, Cranston began reenacting the best scenes of his favorite movies and memorizing scripts. He had a passion for the world of acting until his father disappeared.
While trying to maintain a stable livelihood without his father, Cranston decided he would be a law enforcement officer.
That is until he was taking a motorcycle trip cross-country and read Hedda Gabler while at the Blue Ridge Mountains.
It was as if his real destiny was calling, and he finally understood that he could do anything he wanted, which was acting.
What makes this one of the best autobiographies is that it gives you a more in-depth look into what it's like to be so famous that you have a cult-like following of fans.
From his chaotic childhood to his mega-stardom, Cranston has experienced every type of fame in every way.
Not to mention, he has some of the most notable accomplishments in Hollywood, ranging from a Tony to four Emmys.
In A Life in Parts, readers will get all of the deepest, darkest, and grittiest details of Bryan Cranston's life.
These details include how he faced his personal darkness to provide one of the most brilliant performances to date: Walter White.
There's a lot of important knowledge within the pages of this autobiography, which is why it is an exceptional choice.
11. Beyond Belief: My Secret Life Inside Scientology and My Harrowing Escape – Jenna Miscavige Hill
Niece to the leader of the Church of Scientology, Jenna Miscavige Hill, was raised within the realms of this particular controversial religion until she escaped in 2005.
In this autobiography, she explains plenty of the intimate details of Scientology. These details include what life is like in the upper ranks and how she was disconnected from her family.
She even details how she lived as a member of Sea Org, which is the highest ministry in the Church of Scientology.
Beyond Belief is written in a way that is similar to most tell-alls. You'll find it's fascinating for anyone who has been interested in learning more about the Miscavige family and Scientology.
Readers will be brought through some of this religion's darkest parts ranging from rituals to how highly organized they are.
All in all, this is a captivating read that you will love to learn more about, as it's a religion that captured the minds of both John Travolta and Tom Cruise.
Final Thoughts
When you start searching for the best autobiographies and biography books, there are a lot to choose from.
You'll want ones that are exceptionally detailed, close to your heart, and that will teach you more about a person and their incredibly exciting life.
Out of the 11 awesome real life books on this list, we guarantee you'll be able to find the perfect gift for a friend or family member who loves reading.
From Hollywood starlets to defectors, there is a whole world of experiences for readers to explore with the help of autobiographies.
Pin for later