This product is listed here: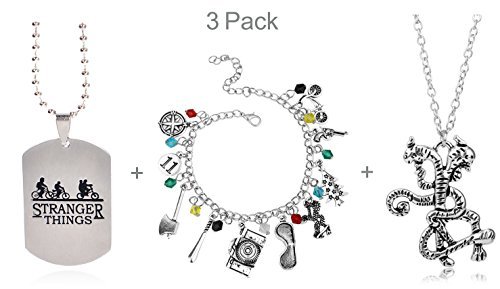 3 Pack Stranger Things Themed Charms Bracelet
This set of three pieces of jewelry inspired from the series Stranger Things is quite possibly the biggest bang for your buck out there! You can have all three quality pieces for under $18.00! Each of these articles is as unique as the show itself and will be a welcome present for any aficionado of the hit Netflix series!
Where to start with this trio? Well, first there is the military style dog tag pendant that depicts the group on their BMXs riding while searching for their missing best friend, Will. Best friends and favorite characters Lucas, Dustin, Mike, and Eleven are depicted riding their bikes over the top of the show's logo. The chain is made up of silver beads and because of the dog tag styling of this pendant, it is appropriate for either the male or female fan in your life.
Detailed information about 3 Pack Stranger Things Themed Charms Bracelet
The second necklace is a beautiful (if you can actually call the Demogorgon beautiful!) metal piece that portrays a twisted and sculpted depiction of the dreaded Demogorgon! This piece is flowing and quite lovely in spite of the subject matter. This necklace comes complete with a silver link chain and is certain to be cherished.
The third item of the trio is a charm bracelet that is chock full of memorabilia from the series. There is a camera to remind us of Jonathan's hobby, a bicycle to represent the gang's preferred mode of transportation, and the sleep mask that Eleven uses in order to achieve the total sensory deprivation needed to communicate with the Upside Down or to locate persons of interest here in the real world dimension.  There is a Demogorgon charm, a bat for killing the Demogorgon, and a gun to use in case that doesn't work!
WHY WE LIKE IT?
All three pieces for less than $18.00
Beautifully detailed with items from the show
A perfect gift for the avid fan
What we love about this product
These three pieces of jewelry will be the perfect offering for any Stranger Things fan in its entirety or may choose to break the group up and give one to three different people on your shopping list.