This product is listed here: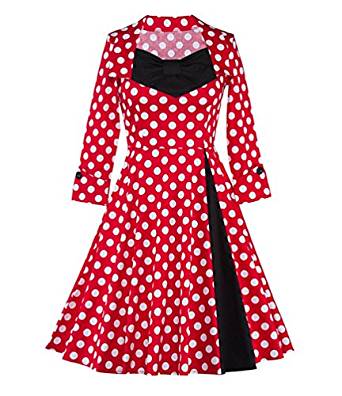 V fashion Women's Vintage 1950s Halter Neck Polka Dot Dress
In search of the ultimate vintage inspired gift? This 1950s inspired polka dot dress is the perfect gift idea to get for your wife, girlfriend, or sister! Fully vintage in style, this is a great gift for any woman who loves true vintage clothing.
Staying true to all the classic elements, this dress has a halter neck, fitted high empire waist, a flared bottom, and of course, a sweetheart neckline. In the back, check out the beautiful lace up detail that the dress has-very feminine!
Detailed information about V fashion Women's Vintage 1950s Halter Neck Polka Dot Dress
Coming in a variety of colors and patterns, you still have some choice in selecting the perfect dress. Choose from options like a black, white, or light blue cherry design, red polka dots, a bird pattern, or several classic colors like red or black. If you want to stick to the true vintage charm of this style, go with a solid color or a classic polka dot design. If you want something a bit more updated, go for a unique print.
Any woman would love to add this dress to her wardrobe, as the cut and style are universally flattering! Do you know someone who is going to a vintage themed party? Or are they looking for the perfect dress for their Halloween costume? This is the perfect dress to give as a gift for them to wear for the occasion!