Unique Desk Accessories & Cute Office Supplies You Need Right Now!
last updated:
Sep 16, 2019
7601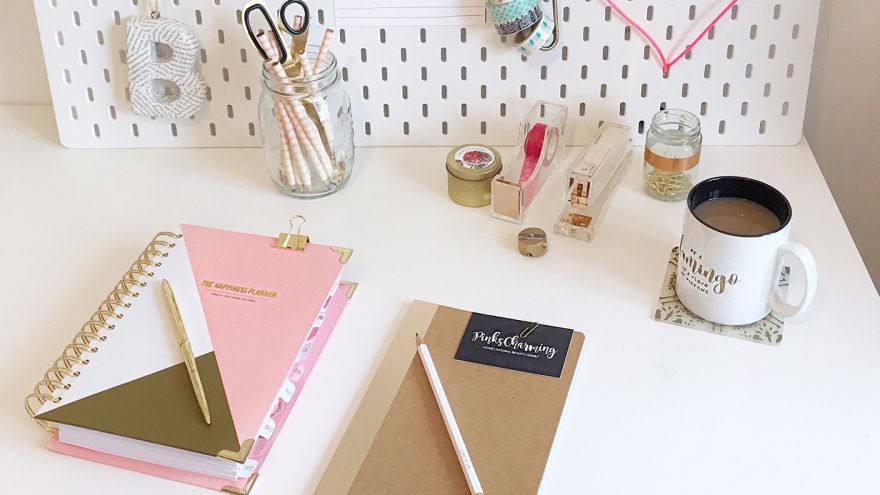 Desk accessories and cute office supplies are the perfect way to transform a boring and ordinary workspace into a place that you can call home. For people who work in an office or if you're lucky enough to have a home office, you'll want to add a little bit of personality to your desk to help you get through the day.
We've found a collection of our favorite super cute office supplies that you'll love to have for not only looks but organization as well!
Unique Desk Accessories & Cute Office Supplies
1. Elephant Pencil Organizer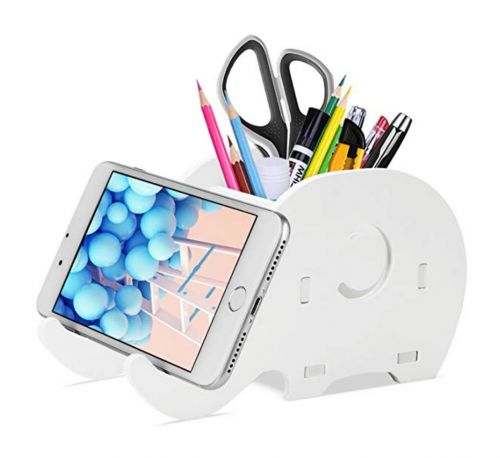 When you look at this organizer for the first time you can see how adorable it is! With all of the cute features, you would expect a small elephant to have, it's the perfect little touch to add to the top of your desk.
In addition to helping organize, the Elephant Pencil holder also features a useful stand for your smartphone or tablet to be displayed horizontally.
A couple of the other most notable features include:
Eco-Friendly Materials: Designed using environmentally-friendly sourced wood and plastic board, there's no need to worry about toxic substances and chemicals. All of the products used to create the elephant are safe for the environment and your workspace.
Easy Assembly: It looks fantastic and only takes a couple of minutes to put together. Also, disassembling it is simple as well as you won't have to worry about any screws or bolts.
2. Superbpag Metal Desk Organizer Set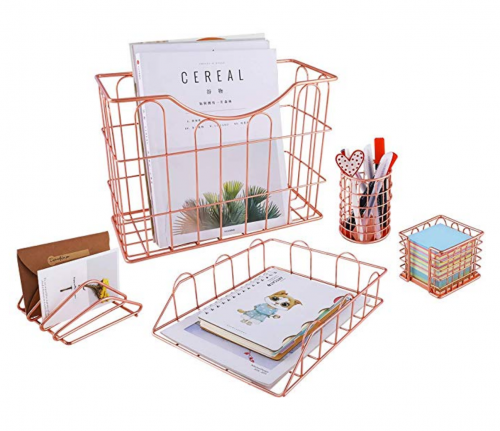 Keeping yourself organized at the office is your number one task, especially if you're someone who hates having a mess on their desk. With the Superbpag Metal Desk set, you'll have a special place for all of the most important items in your office so that you know where everything is at all times.
In the set, you will receive a letter sorter, a letter tray, a hanging file organizer, and a sticky note holder.
A few other interesting features include:
Fashionable Colors: You can choose from silver, gold, and copper/rose gold depending on the aesthetic of your office. We especially like the gold and rose gold as it adds a little bit of luxury to an otherwise boring desk.
Durably Designed: When the streamlined aesthetic of the baskets was designed, the manufacturer used a process known as electroplating. This helps to prevent any corrosion around the edges of the metal and also helps to prevent scratches over time.
Multi-Purpose Use: There is a multitude of things that you can organize with the five pieces in this set ranging from appointments to envelopes. They are highly recommended for business tasks as well as personal things.
3. Julianne & Co. Daily To-Do Planner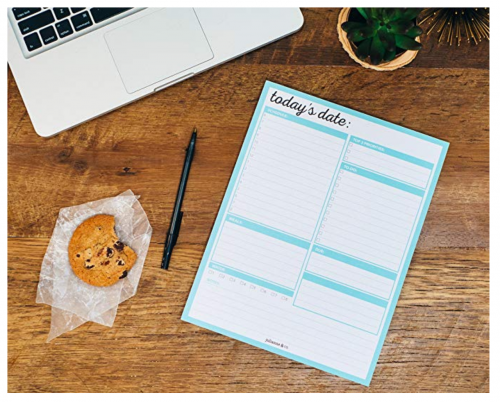 Planners are a fantastic way to stay up-to-date with all of the latest events and responsibilities you have on your plate. From business meetings to date night, it's important you can put everything down into writing so you won't forget anything.
With the help of the Julianne & Co. Daily To-Do Planner, you'll be able to easily organize your day. There are sections on the planner for your top three priorities, different items on your daily schedule, and even things that are due.
For a more in-depth planning experience, you can even write down your meals and water consumption throughout the day.
A few of the other interesting features of the planner will include:
Plenty of Space: If you're someone who loves taking notes and adding footnotes beside planned events, this is one of the best planners for you. It comes with a lot of space for you to take your notes to keep you highly organized. Also, there are checkboxes to keep you up-to-date with the items you have completed.
Convenient Design: With its user-friendly design, you'll easily be able to find all of the proper columns for planning your day. We even love the idea of personal assistants using this organizer, as it can keep you up to date with ease. Each order arrives with 50 planning sheets.
4. C.R. Gibson Professional File Folders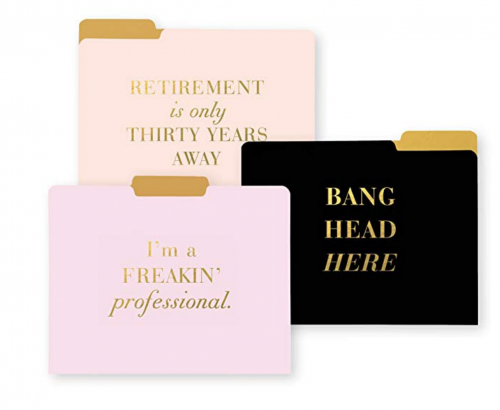 No one ever said that filing can't be cute, especially when you have the perfect super cute office supplies such as professional file folders. We especially love these folders as they capture the true essence of what it feels like to be in the office day in and day out.
With sarcastic sayings such as, "Retirement is only thirty years away" and "I'm a freakin' professional", you'll be able to add a little bit of humor to the office.
Some of the other interesting features are:
Multiple Designs: There are plenty of options for you to choose from in terms of colors and designs for the file folders. There is the feminine pink, black, and rose gold foil, but there is also neon, striped, ornate, and fashionable designs to choose from as well.
Adhesives Included: With every order, you will receive nine file folders and 10 adhesive labels that you can use to stick to the top of the file folders. It's recommended you invest in extra adhesives so you can change the purpose of the files over time.
Highly Versatile: As with any other type of file folder, there are plenty of uses you can use them for. In the office, they can be great for managing customer files or you can even use them to hold your tax documents at home.
4. Post-it Pop-up Note Dispenser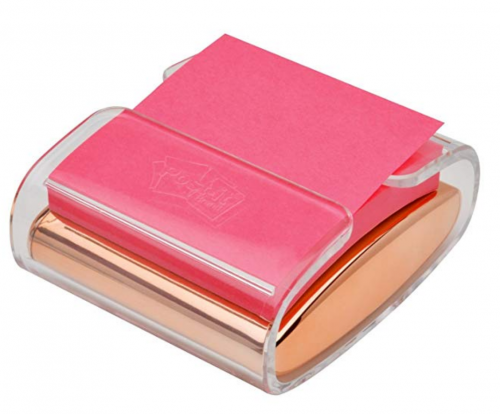 We all know how important Post-its are to an office and many would say that a professional space is incomplete without sticky notes. Instead of displaying an entire stack of them on your desk, this dispenser helps you to keep them organized and in theme with the other cute desk accessories in your office.
This particular dispenser holds notes up to three by three inches, though you can find dispensers in varying sizes. When you order the Post-it Pop-up Note Dispenser, you'll receive the dispenser and you will also have a pad of notes that come with 90 sheets in total.
Replacing the sticky notes is incredibly simple, especially when you use the instructions on the back of the refill package for assistance.
5. Rosework Desk Organizer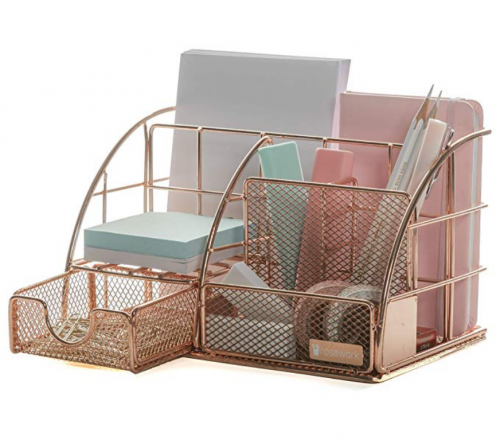 Not everyone has a giant desk they can use to organize all of their important belongings, this is especially true if you are in college. With an all-in-one organizational solution, you can keep all of your most valuable items in one convenient location.
Compared to other desk organizers, this one is far more compact which makes it perfect for study desks and small offices. The best part is that it has everything you need and will take up very minimal space.
Our favorite features of the Rosework Desk Organizer include:
Six Compartments: In the organizer, you will find there are six different compartments that you can customize any way you desire. You can store your pencils and pens, notebooks, tape rolls, and more. Also, it comes with a convenient little drawer that you can use to store paper clips and smaller accessories.
Compact Design: With all of the storage it has to offer, you'll be surprised to see how small the organizer is. You will easily be able to place it on any surface without having to worry about it taking up too much space. It's one of a kind design that you'll be glad to have at your disposal.
6. YSAGi Multifunctional Desk Pad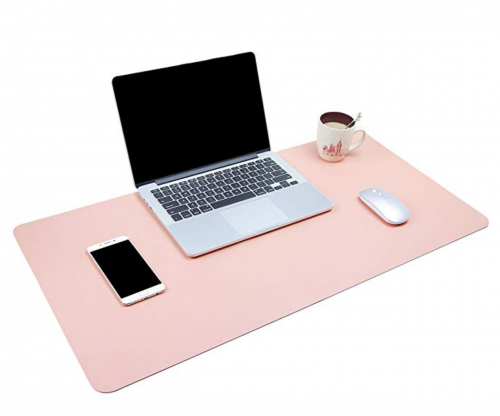 If you've spent the time, effort, and money designing your own office, you'll want to make sure you protect the furniture you have selected. Considering your desk is probably the most expensive piece of furniture in the room, aside from your office chair, a desk pad is highly recommended.
Designed to not only be protective, but convenient as well, this is an office accessory that is often forgotten but is very important.
The most interesting features of the YSAGi Multifunctional Desk Pad include:
Multiple Colors: There are plenty of colors for you to choose from depending on the style of your office. You can select black, navy, lime green, pink, periwinkle, and more. This allows you to create a seamless aesthetic so you can have the most adorable office possible.
Dual Sided: On either side of the mat you'll realize they are both colored and made from the same material. This gives you the ability to use both sides, so as one side becomes more worn, all you have to do is flip it over and begin using the other side.
Easy Maintenance: As the pad is constructed out of PU leather, keeping it clean is very easy with disinfectant wipes or a gentle soap solution with warm water.
Desk Protection: By far, the largest selling point of the desk pad is that it helps to protect your desk. The PU leather helps to prevent stains, spills and scratches on glass and wooden worktops. It also doubles as a giant mouse pad and a comfortable surface to place your wrists while typing.
7. ONUEMP Cool Mist Humidifier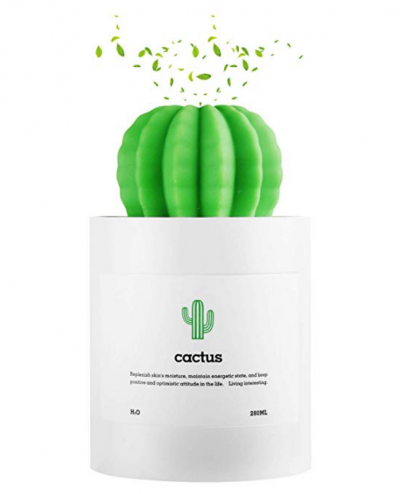 You'll never realize how convenient it is to have a humidifier in your office until you've used one for the first time. Not only will you notice a substantial difference in the air quality in your office, but you can also make it a more soothing environment for better concentration.
The ONUEMP humidifier is one of our favorite cute office accessories because it looks like a potted cactus and will easily contribute to any aesthetic you've designed.
Our favorite features are:
Several Styles: There are four unique styles for you to choose from including white and grey solid pots. There is also a transparent pot, which is highly recommended for more modern offices, and a nightlight pot that transforms the base of the humidifier into an ambient light source.
Ultrasonic Misting: With the addition of the ultrasonic cool mist technology, you won't have to worry about any sounds interfering with your workday once you have powered the unit on.
Auto Shutdown: If the humidifier is running for more than four hours, it will automatically power itself down and it will also shut off once it runs out of water. This helps to preserve the integrity of the humidifier so that it doesn't overwork the sensitive components inside of the cactus pot.
Battery and USB-Powered: You have full control over where you want to place the humidifier as it runs off of batteries but can also be powered via USB. We love the idea of placing it at the corner of your desk and plugging it into your laptop to improve the air quality in your office.
8. Motivational Daily Flip Calendar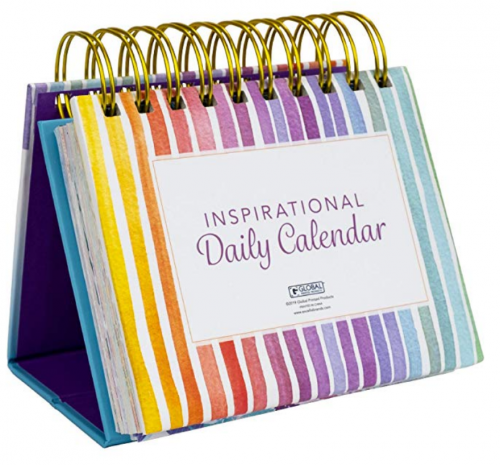 Sometimes you'll find that getting the motivation you need to make it through the day is tougher than you had imagined. This is when you'll need to seek guidance or counsel from a loved one, or even a calendar that you display on your desk.
This motivational flip calendar is a fantastic way to remind you of your goals and to help get you ready for the workday ahead. We also love the idea of giving this calendar as a gift to your new employees to help lift their spirits on, particularly difficult days.
The most interesting features include:
Built-in Stand: There is a built-in easel stand that helps to display the calendar with ease, regardless of where it is placed. You won't have to worry about it collapsing under the weight of itself and the solid metal ring at the top is designed for long-term use.
Perpetual Design: There aren't any years inscribed onto the pages, so you can guarantee it's the type of calendar that you can continue using year after year. Packed with inspirational quotes from innovative leaders in today's day and age, it's the perfect reminder to put your best foot forward every day.
Final Thoughts
With the help of these eight fantastic and unique desk accessories, you'll be able to create the most adorable and personal office space imaginable. By focusing on the organization with a little bit of interior decorating, you'll create an office space that is just as comfortable as home.
Pin for later