This product is listed here: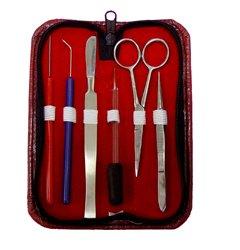 Fine Zippy Dissection Kit
Medical students need more than just a book and pen for their classes. There is so much that goes into the training hence the right tools have to be in the picture. Some of their sessions involve practical lessons which will require the tools of the trade. That is scalpels, scissors, rulers, droppers, etc.
Well, such a set would be the perfect gift for someone joining medical school as they will need it soon. This set from Dr. Instruments will come in handy for dissection procedures which are essential to the course. Why not have one as a gift to a loved one that is about to start the medical practitioner's journey?
Detailed information about Fine Zippy Dissection Kit
What is in the set? There are seven pieces of essential items for dissections and other medical procedures. They include a 1.5-inch scalpel, a glass dropper, 4.5 inches scissors, 4.5 straight forceps, two teasing needles, and a simple plastic ruler. These items come in sturdy stainless steel which is designed to last long despite the frequent usage.
The kit will help a student with necessary dissection plans and lessons. The good thing is that all the items fit in a vinyl case equipped with a zipper to carry around. It is perfectly sized so it can fit in a large lab coat pocket, a backpack or purse. Also, the inside of the case has elastic bands to hold each piece in place.