This product is listed here: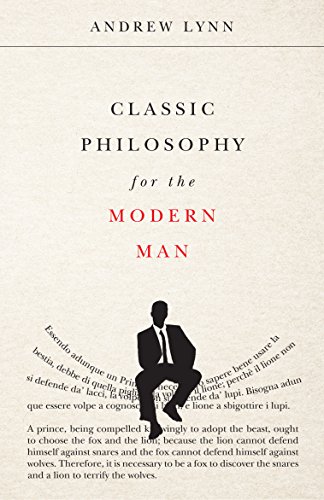 Classic Philosophy for the Modern Man
At first glance, the book 'Classic Philosophy for the Modern Man' may seem like it has been written with the male gender in mind and in fact it also contains extracts from some of the great classical, male philosophers. But look a bit deeper and you will find that the author, Andrew Lynn, intends the term 'Man' to be the inclusive noun for both male and female.
This book contains lessons from classic philosophers of the past (and there weren't many, if any classic and published female philosophers, it was a product of the unenlightened past). There is nothing unenlightened about these great minds anyway. Whether the minds belong to males or females makes no difference to the knowledge imparted to the reader.
Detailed information about Classic Philosophy for the Modern Man
This is like no other philosophy book you may have read and it would be perfect to buy for the person in your life who is struggling to find their way in the hum-drum modern world. This clever book answers most of the questions that everyone comes up against when dealing with and living in the modern world but from a classical perspective.
Classical Philosophy for the Modern Man introduces the most powerful and enduring works by some of the greatest thinkers of history into simple and bite sized chunks so that they can be easily assimilated by the modern mind that may be new to philosophical thinking.
WHY WE LIKE IT?
Contains extracts and lessons in living from some of the greatest minds that ever lived
This great gift will help anyone, both male and female
This book is a great primer for those who want to learn a bit about some of the greatest philosophical minds of history
WHY WE dont LIKE IT?
None
What we love about this product
Andrew Lynn has a PhD in Renaissance Literature from Cambridge University and brings together his researches into a handbook for modern living for a human being, not just a man. This book is a varied account of how some of the greatest minds from history can teach us all how to be a better person and how to grow and prosper in today's modern world.