Best Alarm Clock Reviews: We Tested 10 of the Best Options on the Market!
last updated:
Aug 20, 2019
3263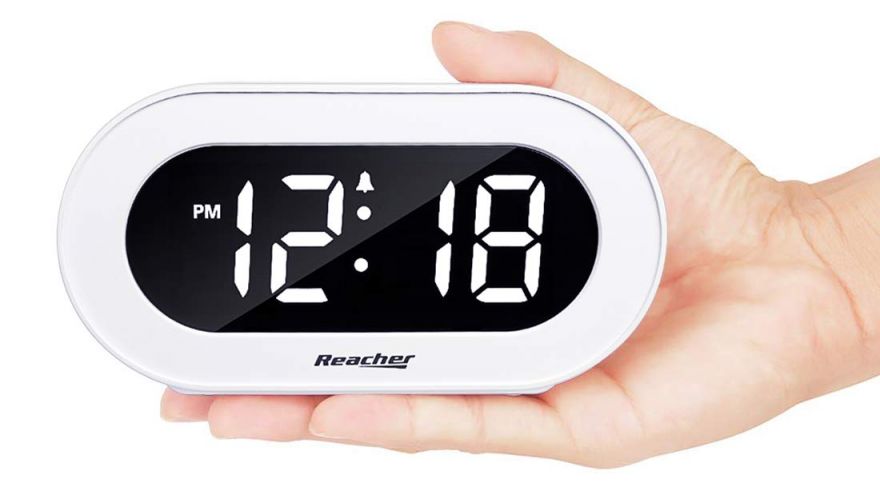 Alarm clocks come in all different shapes and sizes as well as plenty of features you might find to be incredibly useful. In order to find the best alarm clock, we tested out 10 different models with varying features that you might be interested in.
There are an assortment of different materials, designs, and amazing components to take into consideration.
Best Alarm Clock Reviewed by Our Team!
1. JALL Digital Alarm Clock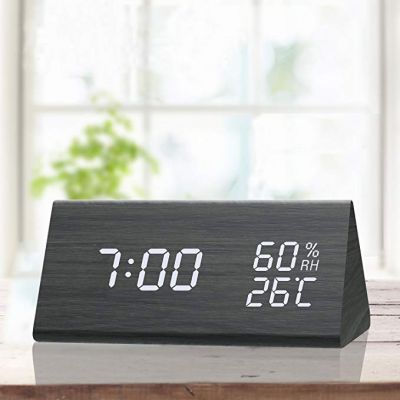 What caught our attention with this clock was its sleek and modern wooden appeal that would look fantastic on any bedside table or dresser and made on the list as the best alarm clock.
Not to mention it boasts an array of useful features, including:
LED Display: LED displays are common amongst alarm clocks, but the brightness and clarity of this alarm clock's display is something to write home about. There are also three different alarm settings to choose from to help you wake up with ease.
Weekday Mode: An additional mode on the clock is the "Weekday" mode where the clock will only sound off Monday through Friday, letting you sleep in on the weekends.
Brightness Settings: The brightness of the LED display is adjustable as there are three brightness settings to choose from. You can even opt to turn the LED light off entirely for a more peaceful night's rest.
Humidity and Temperature Detection: As a unique feature, the clock also includes a humidity and temperature sensor that keeps an eye on the conditions of your bedroom for the best possible sleep.
2. DreamSky Alarm Radio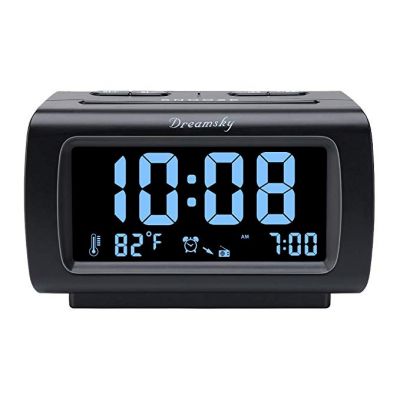 Out of all of the alarm clocks on this list, this model is most similar to a traditional clock. There are plenty of convenient features it offers, including:
Adjustable Brightness: You can easily adjust the brightness of the display from 0% to 100%, depending on your preferences. In addition to the time, the clock also displays the indoor temperature of the room.
Digital FM Radio: You'll easily be able to fall asleep to your favorite radio stations or wake up to a fantastic tune first thing in the morning. It comes with a fully functional 10 to a 120-minute timer with volume adjustments between 0 and 15.
USB Charging: To help keep your devices ready to use the following morning, there is a built-in USB charging port for all of your smart devices.
Adjustable Alarm: There are multiple adjustments you can make with the alarm including the volume of the sound and how it begins to alert you to wake up.
3. Tinload Silent Clock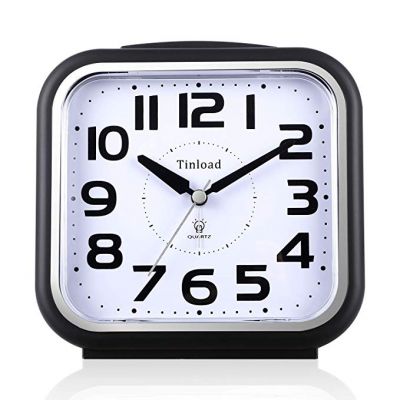 If you're not particularly a fan of digital displays, this authentic analog clock is a great alternative as one of the best alarm clock.
It is fully battery operated, which makes it ideal for travel, and has plenty of customizable features, including:
Silent Operation: Instead of hearing the consistent "tick-tock" sounds associated with analog clocks, this one is completely silent so you can have the best night's rest.
Light Function: You can opt to have the clock face backlit using the built-in lights or you can turn the lights off entirely so you can fall asleep in complete darkness.
Gentle Waking Function: Instead of waking up to a blaring alarm first thing in the morning, the gentle waking function slowly ascends in volume over four stages to gently ensure you are fully awake and ready for the day ahead.
4. Reacher LED Digital Clock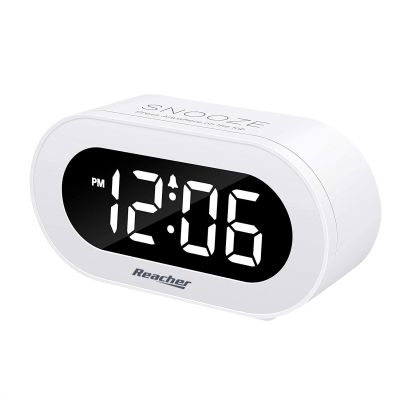 Another modern designed option that you'll love the look of is this model. Designed in white with a stunningly bright display, its sleekness is something to take note of.
Our favorite features include:
Easy-to-Use: There aren't any difficult functions associated with this clock, as you can even snooze it with the push of a large button on top. It's likely you won't even need the instructions to operate it.
Adjustable Features: With the ability to adjust the brightness of the display from 0% to 100%, you'll be able to customize the look of the clock once it's in your room. In addition, you can change the loudness of the alarm from 30 to 85db.
Battery Backup: In case of a power outage, you can easily install two AAA batteries so your alarm is always ready and set for the day ahead.
5. SMARTRO Projection Clock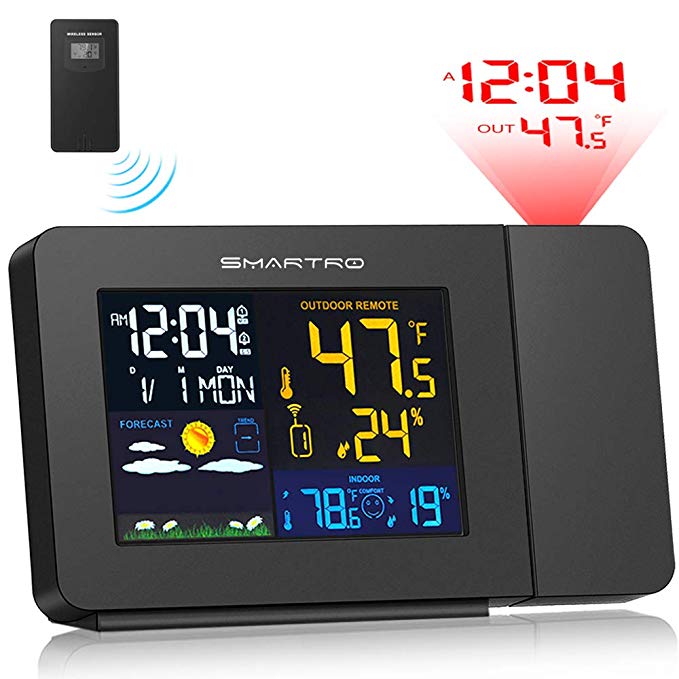 Ideal for people who are looking for an option with plenty of innovative and modern features, this model has everything you could ever ask for and more.
The most interesting features include:
Time and Temperature Projection: The current time and temperature will be projected onto the ceiling through the clock in a soft red color, so you'll always know what time it is. You can also fully adjust the positioning and brightness of the projection.
Thermometer and Humidity Monitor: Inside it is a professional-grade thermometer for both inside and outside, keeping you fully aware of the conditions in and outside of your room.
Built-in Weather Station: In addition, you can easily keep track of the weather with the help of the 4.5" LCD display that also keeps you up-to-date with information about weather alerts and risks throughout the week.
Dual-Alarm Settings: You can easily program two different alarms for different schedules throughout the week.
6. Meross Digital Clock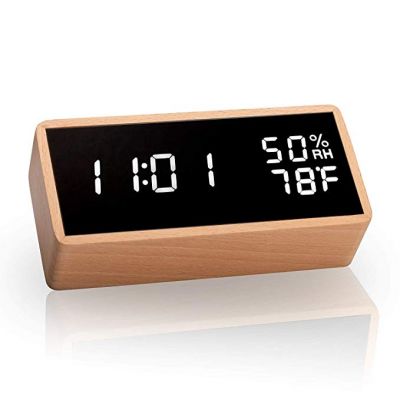 With an aesthetic that would fit perfectly into any home, this digital pick is one of our favorites on the best alarm clock list for the way it looks.
It has many of the same features as other models we've mentioned, including:
Adjustable Features: You'll be able to adjust the brightness of the display up to 3 levels as well as the loudness of the alarm in the morning. As an added benefit the display automatically turns off after 30 seconds, so you can have a dark and peaceful night's rest.
Dual Power Supply: By adding 4 AAA batteries, you'll always have backup power to make sure your alarm is still set, even after a power outage.
Temperature and Humidity Display: You can monitor the temperature and humidity in your room with this alarm clock, which makes it perfect for kid's rooms as well.
7. iHome IBT29 Alarm Clock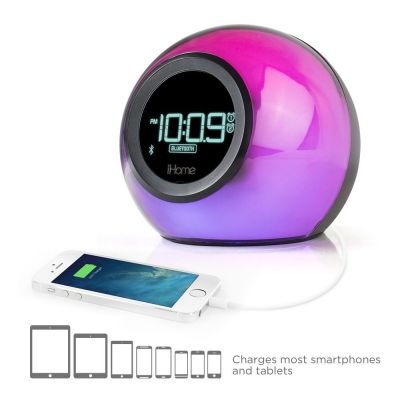 We love the idea of using this alarm clock in a kid's room as it's cool, funky, and highly customizable to suit their interests.
Some of its best features include:
Multiple Alarm Options: You can set the alarm to Bluetooth audio, FM radio, or use the built-in tone to wake you up in the morning. This alarm clock also works as a Bluetooth speaker, so you can listen to your favorite tunes throughout the day.
Bluetooth Cellular Functions: If you receive a phone call, you can answer it through the alarm clock as well, as it is enabled to work with smartphone functions and comes with a microphone, talk, and end buttons.
Color Changing: There are 5 different changing colors that you can cycle through to create your own personalized wake-up modes.
8. ANJANK Alarm Clock Radio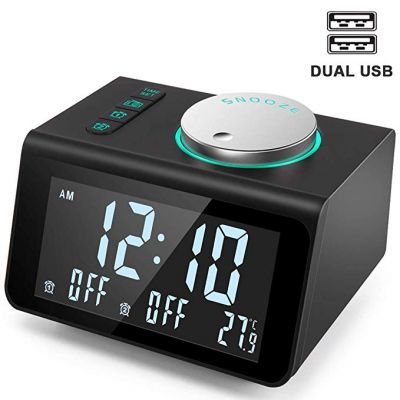 Ideal for travelers as a best alarm clock, this optioncomes with everything you need while you're away from home. It's also designed to be quite small, so it will easily fit into your luggage.
Our favorite features of the clock include:
FM Radio: Built with a loud and clear speaker, you can use the FM radio to wake you up in the morning or lull you to sleep at night. You can also choose from seven different alarm sounds ranging from the sound of rushing water to the typical alarm clock buzzer.
Adjustable Brightness: You can easily adjust the brightness of the display at 5 different levels, depending on your preference.
USB Charging: There are two USB charging ports located on the alarm clock so you can keep two devices charging overnight.
9. Hetyre Alarm Clock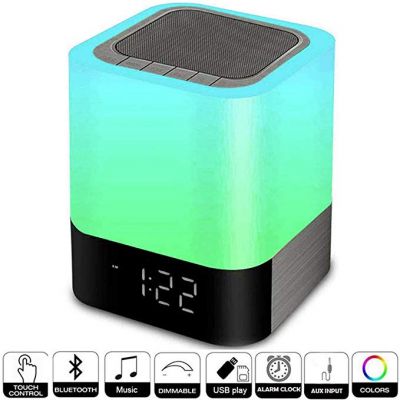 As another cool color changing alarm clock on this list, we found that this alarm clock was one of the coolest to look at and it certainly fits into all different décor styles.
The best features of the Hetyre Alarm Clock include:
Alarm Clock Functions: With the ability to display a calendar, alarm, and enable sleep mode, this clock comes with everything you'd expect including a snooze function.
Five-in-One: There are five different devices in this single alarm clock, including an MP3 player, a USB, and micro SD card input, AUX input, a touch sensor lamp, and a Bluetooth speaker.
Rechargeable Battery: Built with an internal rechargeable battery, you can bring the alarm clock with you anywhere and listen to music for up to 10 hours on maximum volume.
10. Yostyle Alarm Clock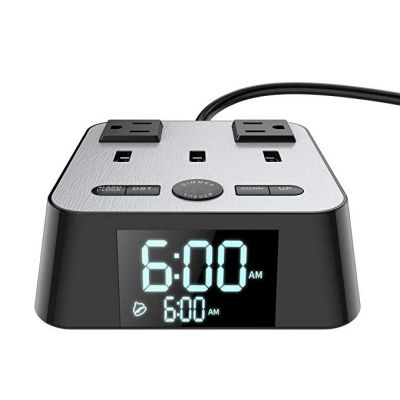 The last pick on this list is something that is highly recommended for offices and workshops, as it has a more utilitarian appearance and it's also the best alarm clock for heavy sleepers!
Some of its best features include:
Multiple Ports: There are 3 built-in USB charging ports and 2 AC ports so you can charge multiple types of devices all at the same time. There is also a built-in battery backup so that you're always prepared even without power.
Adjustable Features: The bright display can be dimmed at four different levels, including an entirely blacked-out appearance for a more peaceful night's rest.
Loud Alarm: Compared to other alarm clocks, we found this model had the loudest alarm which surely got us up and ready to start the day.
Final Thoughts
With the best alarm clock, you can have a functional device that also looks great in your bedroom.
These 10 are surely the favorites that we've come across.
Pin for later