This product is listed here: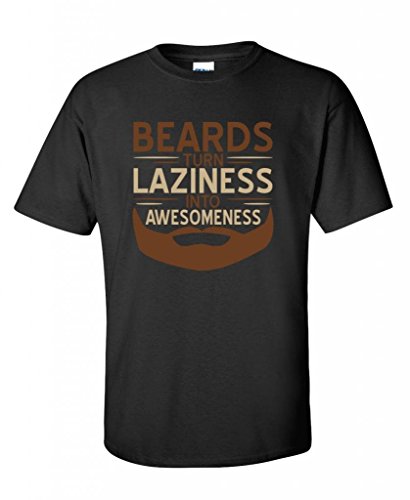 Feelin Good Tees – Beards Turn Laziness into Awesomeness!
With the variety of items we have on the market, it has become pretty easy to pick a gift for males. This can go to as complex gifts as electronics to simple items such as outfits and jewelry. On this note, how about choosing a t-shirt for the man in your life?
This particular one from Feelin Good Tees is designed with humor in mind. It is suitable as a gift for friends and family members and can be an everyday casual tee. Regardless of the occasion, this tee will impress that man and feel the appreciation.
Detailed information about Feelin Good Tees – Beards Turn Laziness into Awesomeness!
The shirt is made of 100 % preshrunk cotton with the exception of a few colors. The Ash Grey comes in 99 % cotton and 1 % polyester while the Sports Grey has 90 % cotton and 10 % polyester. The shirt is available in different sizes to suit even big guys. The stitching quality stands out and ensures the tee lasts a long time even with frequent wear.
The design of this shirt says it all. It has a fun print on the front grilling men that keep beards. It is hilarious and will have everyone laughing at the sight of it. The shirt is also easy to care for with a simple cold machine wash inside out. With the right care, the print can last a long time in perfect condition.