This product is listed here: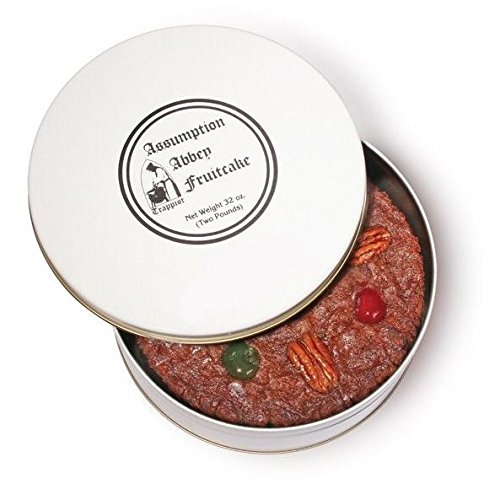 Assumption Abbey Fruit Cake in Traditional Tin
Nothing tastes quite like a rich dark fruit cake made with dried fruits, nuts and liquor. There are so many different versions of these from all over the civilised world (and even some from the uncivilised world), but each version has its own characteristic flavor and ingredients depending on what produce is traditionally used in that region.
The Assumption Abbey Fruitcake is made by a small community of Trappist monks in Ava Missouri. The recipe for the Assumption Abbey fruitcakes was sought from the world-class chef, Jean-Pierre Auge who at one time worked in the kitchens of the Duke and Duchess of Windsor. The chef provided the recipe and various ideas for production and taught the monks how to go about producing these wonderful and unique fruitcakes.
Detailed information about Assumption Abbey Fruit Cake in Traditional Tin
The fruitcakes are a traditional style of cake filled with dried fruit, nuts and heaps of brown sugar. The cakes are baked slowly and then aged under the supervision of the monks who do not run this as a commercial enterprise. They can, therefore, concentrate more fully on the quality of the ingredients and the final product rather than on how much profit they make. Assumption Abbey fruitcakes are not there for making a profit they are a way of life which, combined with the skill of the bakers is guaranteed to produce a consistently high-quality fruitcake that ranks amongst the country's finest.
Each cake weighs about 32oz (2 lbs) and serves about seven to eight people (depending on the size of the slice). Each cake is a perfect blend of cake, fruit, nuts and rum that will have your family coming back for another slice. Although cakes like this are often on sale around Christmas time, these fruitcakes are available throughout the year.
WHY WE LIKE IT?
This is a traditional style rich and dark fruitcake marinated in burgundy wine and rum
This cake will liven up any celebration meal and provide a welcome change from more modern cakes and desserts
The high quality of every cake is guaranteed
WHY WE dont LIKE IT?
None
What we love about this product
This is a lovely gift for the family at Christmas or other celebrations or if you can afford to buy it regularly, it is lovely to eat all the year around. As an idea, try eating this type of cake and other similar ones with slices of raw apple and a lump of hard cheese such as Cheddar.