This product is listed here: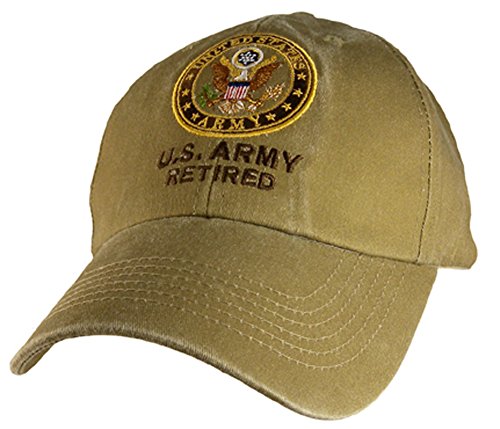 US Army Retired Cap in Khaki
The Veteran's Day is an exceptional day. Every year, Americans take a break from their busy schedule to honor, remember, celebrate, and commemorate all those who have served their nation.
They even give a special tribute to those who have passed away in the service. It feels more special if you have a loved one or a special friend who is a veteran.
Now, you have a reason to go an extra mile and honor them on this day with a veteran gift to show them you are proud of who they are.
In that case, we couldn't think of a better way for a veteran to show his national pride than with this US Army Retired Cap by Eagle Crest.
Detailed information about US Army Retired Cap in Khaki
This cap is quite remarkable. Even if he is retired, he will still be able able to walk around with pride.
He will feel great to know that someone acknowledges his veteran courage, dedication, boldness, and selflessness that led him to serve the country.
The cap is skillfully embroidered on the front with the American eagle flag and the national emblem. And that's not all.
Below the national emblem, there is embroidery with clear wordings that read US ARMY RETIRED.
This is enough to honor someone who dedicated his life to serving our nation, and he will always feel esteemed every time he adorns this cap.
You don't need to worry about the size when making an order. One size fits most.
In addition, the cap has an adjustable brass buckle strap on the back, which makes it pretty easy to adjust to a comfortable fit.
WHY WE LIKE IT?
Made of 100% washed/ brushed cotton material
One size fits all
Adjustable strap
An officially licensed product by the US Army
WHY WE dont LIKE IT?
None
What we love about this product
This is a quality khaki baseball cap made of 100% cotton material and eagle crest quality.
It is an officially licensed merchandise by the US army and by buying this cap, you will have contributed to the Military MWR Moral and the Welfare and Recreation funds.