This product is listed here: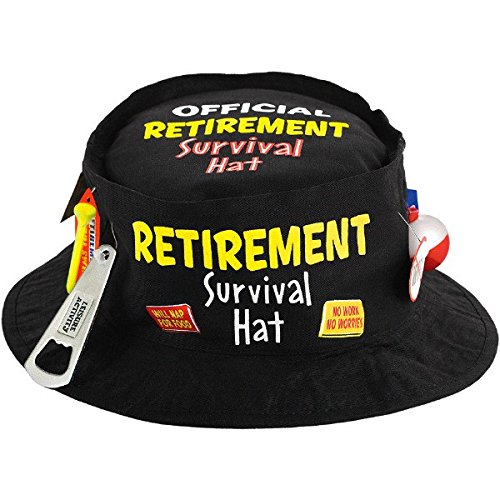 Amscan Fun-Filled Retirement Survival Hat
When someone concludes their long journey in their career, it calls for a celebration. Retirement time for any anyone is a momentous occasion that is not only a turning point in their life but also a major life milestone that should be celebrated in style. Whether you are saying goodbye to your boss, a colleague or wishing your dad, grandpa or grandma, or your mom, a good time after a long career service, there is always a nostalgic feeling about the retirement process. It could also be a goodbye to a long-serving colleague or your favorite boss.
Whichever the case, the retiree deserves something sentimental, or meaningful for this special occasion to appreciate their lifetime dedication. Some people might choose to gift a retiree with a something related to their career. But then again, normal is boring. Why not make a difference on this special, memorable moment for a retiree with this interesting Amscan Fun-Filled Retirement Survival Hat? This survival hat looks pretty cool, and it's a cheeky way of taunting a retiree humorously about their advancing years. The Amscan hat will undoubtedly suit the occasion perfectly and make your boss or grandpa rock their party in style.
Detailed information about Amscan Fun-Filled Retirement Survival Hat
This hat is definitely a good purchase for a retirement gift. The labeling which reads 'Retirement Survival Hat' is quite comical and an ideal retirement gift which secretly passes a message that the retiree now needs survival tactics in their new phase of life. This Amscan retirement hat is an ideal gift to give to a retiree who loves fishing as they can comfortably rock it when heading down for quiet fishing activity.
The fun-filled hat will also look good on a retiree if they rock it during their retirement party. It would be fun for everyone to spot the man of the day in a big part.  But apart from looking good, this particular hat is comfortable to wear. It's made of a fabric material which is soft to the skin. The hat measure about 3 5/8" x 11 ¼", good for an adult.
WHY WE LIKE IT?
The hat is made of fabric material
Its attached with symbolic retirement item
WHY WE dont LIKE IT?
Some parts of the hat are not properly sewn in
What we love about this product
The hat comes attached with retirement items that are meant to assist the retiree to live wonderfully after retirement.