This product is listed here: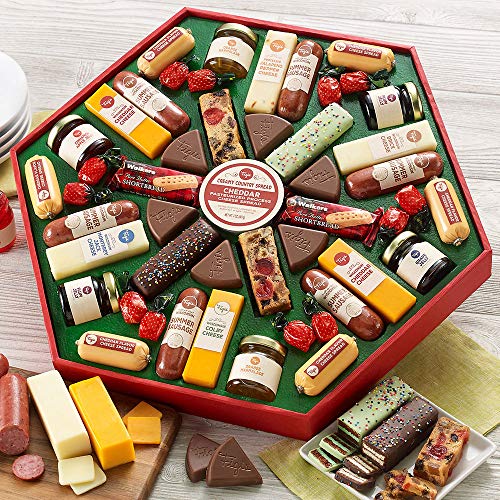 Figi's Holiday Feast Basket
You can never go wrong with a food gift because everyone loves to munch on something delicious and tasty. A food gift is always a hit during the holidays, and it's usually fun and memorable to have delicious snacks that will have everyone talking days or months after the holidays. If you are looking for a perfect food gift for someone special or a loved one for Christmas, then nothing beats the Figi's Holiday Feast.
If this beautiful assortment doesn't remind the receiver of their childhood and beautiful memories of Christmas, then nothing will! Everything in this in this package is tastefully delicious and will certainly leave the recipient yearning for more.
Detailed information about Figi's Holiday Feast Basket
A look at this fantastic treat reveals nothing but deliciousness. This tasty package contains 49 savory and sweet treats enough to feed a whole family! There is nothing not to love about this customer favorite treat. Everything is carefully selected to ensure that every bite is tasty and memorable. It contains the savory Wisconsin Cheeses, the ever-tasty mint Tortes, delicious smoked summer sausages, sweet milk chocolate and deliciously mouth melting chocolates among many other delicious and tasty snacks.
It is called a holiday feast for a reason. It contains everything that never goes out of style for all holidays. It's a perfect treat that will always be the talk among your friends and family. This indulgent feast box filled to the brim with sensational assortments will be a tempting gift for anyone who never gets enough of anything sweet, savory and chocolatey.
WHY WE LIKE IT?
Beautifully packaged in a lovely box
The box is filled with an assortment of sweet and savory snacks
WHY WE dont LIKE IT?
The package is smaller than expected
What we love about this product
The Figi's box is a complete snack treat. It has everyone's favorite snacks, and it will be utterly impossible to go wrong with this box. But even better, is the fact the treats are suitable for both kids and adults alike. It will delight everyone, and it will be an excellent gift for the people in your gift list.