This product is listed here: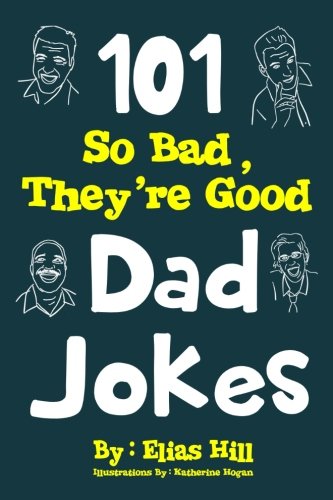 101 So Bad, They're Good Dad Jokes by Elias Hill
Everyone wants to see their dad enjoying a hearty laugh every time. When dads are out there dealing with daily struggles, the best way to ease them off such burdens would be to tease them up in the evenings and put a smile on their faces.
Those evening moments with family mean a lot to them and any chance they have to laugh together with the kids is worth the time. For this reason, why not get a funny dad's joke book that will have all of you cracking out loud laughs with your folks?
Detailed information about 101 So Bad, They're Good Dad Jokes by Elias Hill
This dad's joke book was compiled by Elias Hill, a father of 3 amazing kids. When coming up with the jokes, his aim was to create funny expressions of the usual things dads go through day after day. Also, he brings about humor in every situation that people would find serious all the time. The book has short, hilarious phrases that explain the life of dads but in a simplified, relatable way.
The book would be a suitable gift for father's day, dad's birthday, anniversaries, and retirement parties. The best part is that they can read it over and over without feeling the jokes are too common. If you dad loves sharing jokes, then this would be an appropriate gift for him. You will get to enjoy the moments together.