This product is listed here: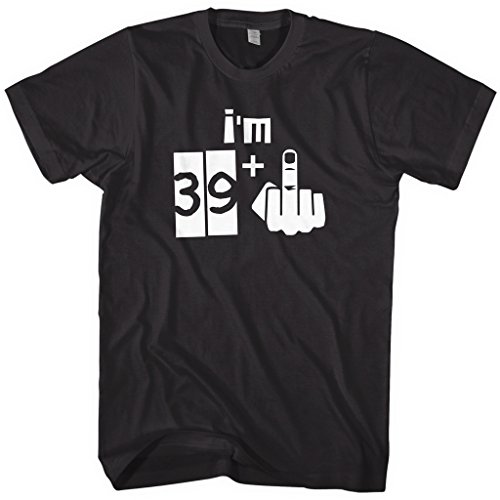 Men's I'm 39 Plus 1 – 40th Bday T-Shirt
Bring some humor to his 40th birthday with this men's T-shirt form Mixtbrand. This will for sure be a hit, and it will certainly make him laugh. It's a nice way to tell him that from this point onwards, his birthdays will forever remain to be the 39th plus. A perfect way to make to make him not to feel a little snarky since getting to the big Four-O can make one approach it with alarming thoughts and worry.
At this age, he has probably received all kinds of cliché gifts, but this funny T-shirt will be a little bit different with a hint of humor, which is exactly what he needs on this special day. After all, you are not looking for ways to send him into a full-blown midlife crisis. So, a bit of fun will endear him and make him enjoy this day with lots of laughter.
Detailed information about Men's I'm 39 Plus 1 – 40th Bday T-Shirt
It's made from 100% pre-shrunk cotton. As expected, it's soft and comfortable on the skin, suitable for all-day wear any time of the day or night. Its tailored with a taped neck and shoulder seams for added strength and durability. Also, the double stitching on the hemmed sleeves ensures that the bottom doesn't unravel which makes it a quality T-shirt and a worthy purchase.
What more, this cool tee is machine washable so no hassles when it comes to keeping it clean. And it makes a perfect gift choice for the new 40-year-old in your life. The T-shirt is available in different men's sizes ranging from Small, Medium, Large, X-Large to XX-Large.
WHY WE LIKE IT?
A stylish men's t-shirt made from cotton material
Available in different colors and sizes
It's a fun wearable
WHY WE dont LIKE IT?
None
What we love about this product
This T-shirt will certainly send out the right message. It's fun, its stylish and he will look fabulous with it. He can layer it with a button up shirt, or wear it with a pair of his favorite jeans or shorts. Whichever way, he will look amazing and stylish. To add to that, it's available in different 6 colors.