This product is listed here: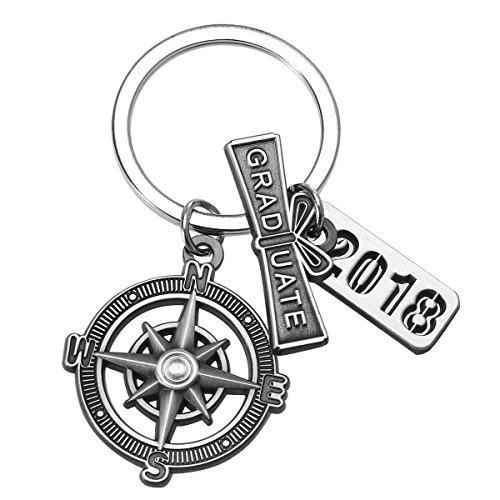 Graduation Keychain with Scroll, "2018" Charm and Compass
One best way of giving gifts is choosing something the recipient can relate to. For example, if buying something for someone's birthday, you can get one that matches the specific occasion. For graduations, there are many gifts you could choose, but the selection again depends on the style and preference of the recipient.
One of the simplest gift ideas is a keychain which comes in handy when you have to fix all your keys together. This one from UKCOCO is beautiful and has a unique design. Get one for someone who is about to graduate and appreciate them for making it this far.
Detailed information about Graduation Keychain with Scroll, "2018" Charm and Compass
The keychain has an exciting design that includes the years 2018, a graduate engraving pendant and a compass. All these charms come in high-quality zinc alloy. They have an antique silver look that does not tarnish even after using it for a long time. It is exclusively applicable to 2018 graduations although you can remove the charm if you wish.
There is no limit to how you can give this keychain. You can add it on to a charm bracelet or necklace to add more style and definition. Also, you can fix it in other items that have clasps to fit keychain to create a personalized gift for your loved one. You can also leave it as it is to be used with a bunch of keys.