This product is listed here: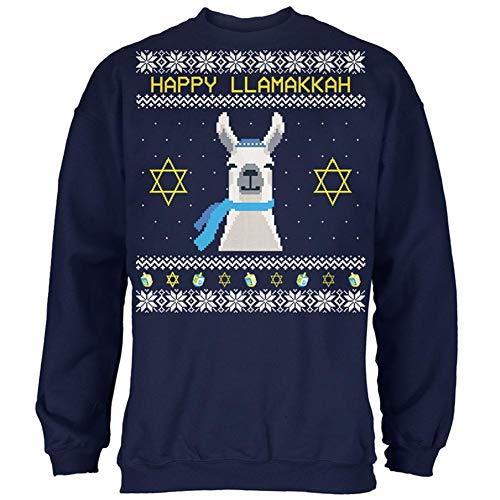 Old Glory Llama Llamakkah Ugly Hanukkah Sweater
It's kind of hard to think of this sweater as "ugly" because that llama is so darned cute, but for anyone who has reason to attend an ugly Hanukkah sweater holiday party or maybe a get together with coworkers or friends from temple, this adorable Happy Llamakkah sweater is sure to be the hands-down winner in the fun and adorable competition.
For anyone looking for a fun and creative sweater to show off for the Hanukkah season, look no further. How about the world's cutest llama wearing a yarmulke and telling the world to have a "Happy Llamakkah"?
Detailed information about Old Glory Llama Llamakkah Ugly Hanukkah Sweater
The sweatshirt offered by Old Glory is perfect for the man with a great (and maybe a little corny) sense of humor.
This adorable llama is seen sporting a light blue colored yarmulke and neck scarf.
The llama is pictured on a dark blue background with tiny white dots resembling falling snow, and he is flanked by a golden star of David on either side.
There are snowflakes and geometric designs above and below the llama, as well as dreidels and some smaller stars of David.
Over the top of this smiling camel is the caption "Happy Llamakkah". This sweatshirt is bound to get a smile every time.
WHY WE LIKE IT?
Quality material made from a blend of cotton and polyester
Printed design will hold up to washing and drying
Sized men's small through 4X
WHY WE dont LIKE IT?
None
What we love about this product
This sweatshirt is generously sized for men and comes in a large number of sizes, small through 4X, so there is a perfect size for anyone on the shopping list.